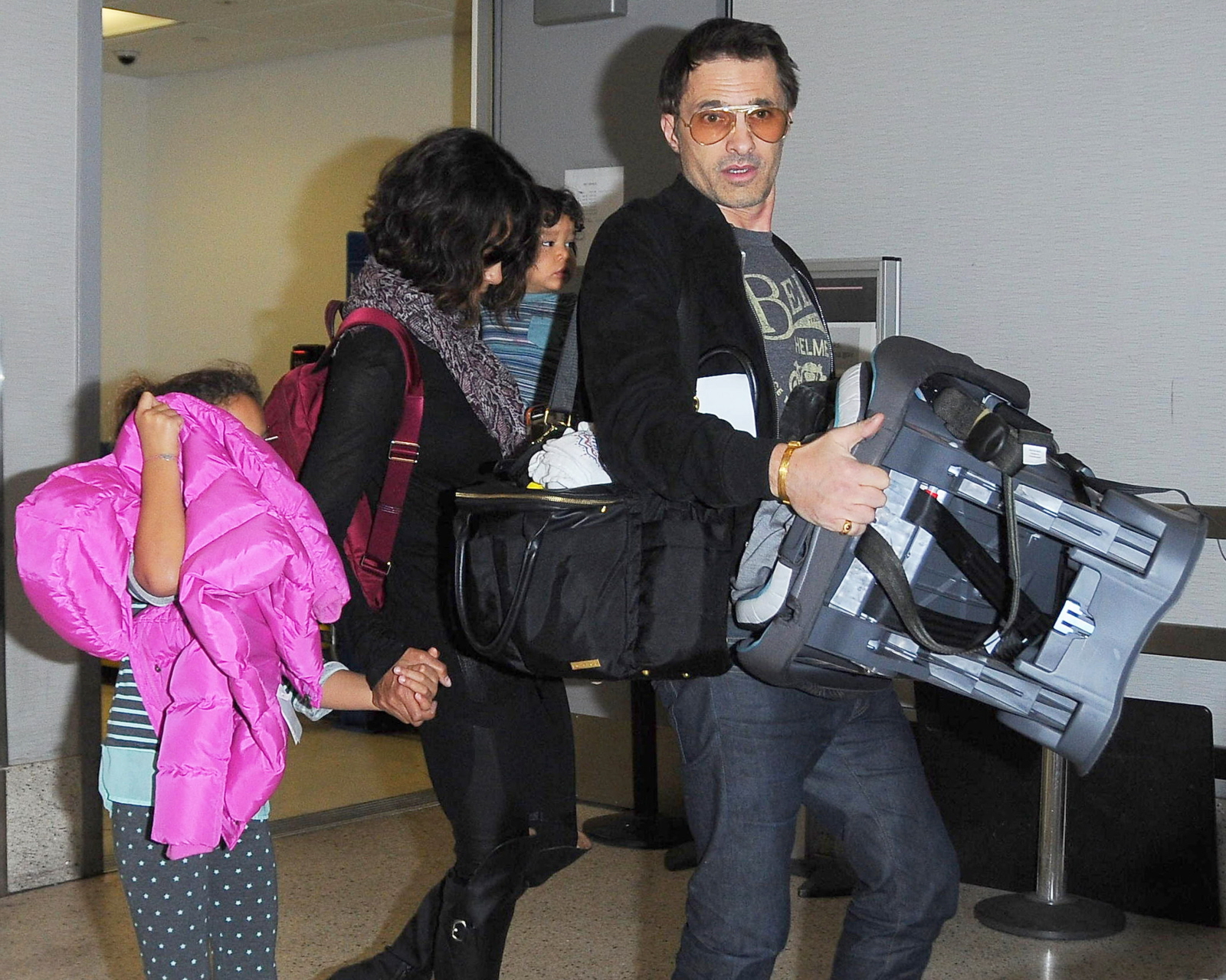 Halle Berry, Olivier Martinez, baby Maceo and Nahla Aubrey were at LAX last night. I don't know if they were flying out or flying in (Gossip Cop says they were flying out) and they were immediately swarmed by photographers. That happens a lot at LAX and it sucks. If you've ever seen videos of celebrities being harassed at LAX, it's really uncomfortable and creepy. As you can see from these photos, Halle was carrying the baby in one arm and holding Nahla's hand. Olivier walked ahead of them while carrying Maceo's baby carrier. Olivier seemed to be using the baby carrier as some kind of blocker or portable barricade, and when one guy seemingly got too close to Olivier, Olivier used the carrier to push the guy back. Well, bad news. The guy wasn't a photographer, he was an LAX employee. And now Olivier is being investigated for battery.
Olivier Martinez is now a battery suspect after being involved in a fight at LAX on Sunday. The actor, his wife Halle Berry, son Maceo, and her daughter Nahla were in the airport, heading out of Los Angeles, when the scuffle broke out, airport police confirm to Gossip Cop.

Here's what we know right now: At 1:45 p.m., Martinez, Berry, Maceo and Nahla were making their way through the airport when swarmed by paparazzi. According to the police, the family "required assistance from Los Angeles Airport Police after a crowd of photographers and a contract airport employee came too close to the family to take photos." Martinez, holding an empty child's car seat, then "shoved it against the contract airport employee causing him to fall backwards," say the police, adding, "The employee received treatment on scene and was transported to a local hospital for further medical care."

The person knocked to the ground later filed a battery report against Martinez, who continued on with his family's travel. It's believed the airport employee who got hit was allegedly taking photos of the celebrity couple as well, but that remains unconfirmed right now.

Berry and Martinez have had their problems in the past with the paparazzi. Berry famously cursed out photographers who harassed her and her daughter at the child's school in 2012. And last year, the Oscar winning-actress went ballistic on paparazzi who swarmed the family as they were making their way out of LAX. As the family got into a waiting car, Berry had to hold back Martinez, who whirled around and wanted to go after the aggressive shutterbugs.

Photographers have been such a problem for Martinez and Berry that she wanted to move to France, where they have stricter anti-paparazzi laws. She's even testified before California legislators, urging for laws to be enacted that would make it illegal for paparazzi to take pictures of children without the permission of a parent or guardian.
If this was just a one-off thing, I might be more willing to give Olivier a pass. As I said, I feel for the celebrities who get swarmed by paparazzi at LAX, especially when the celebrities are with their kids. But this is not a one-time thing for Olivier. He violently assaulted Gabriel Aubry over a custodial issue in 2012. Olivier also assaulted a paparazzo at LAX back in April 2013. It just seems like it's less about "Halle and Olivier want privacy" and more like "Olivier has a very short fuse and he solves his problems with violence."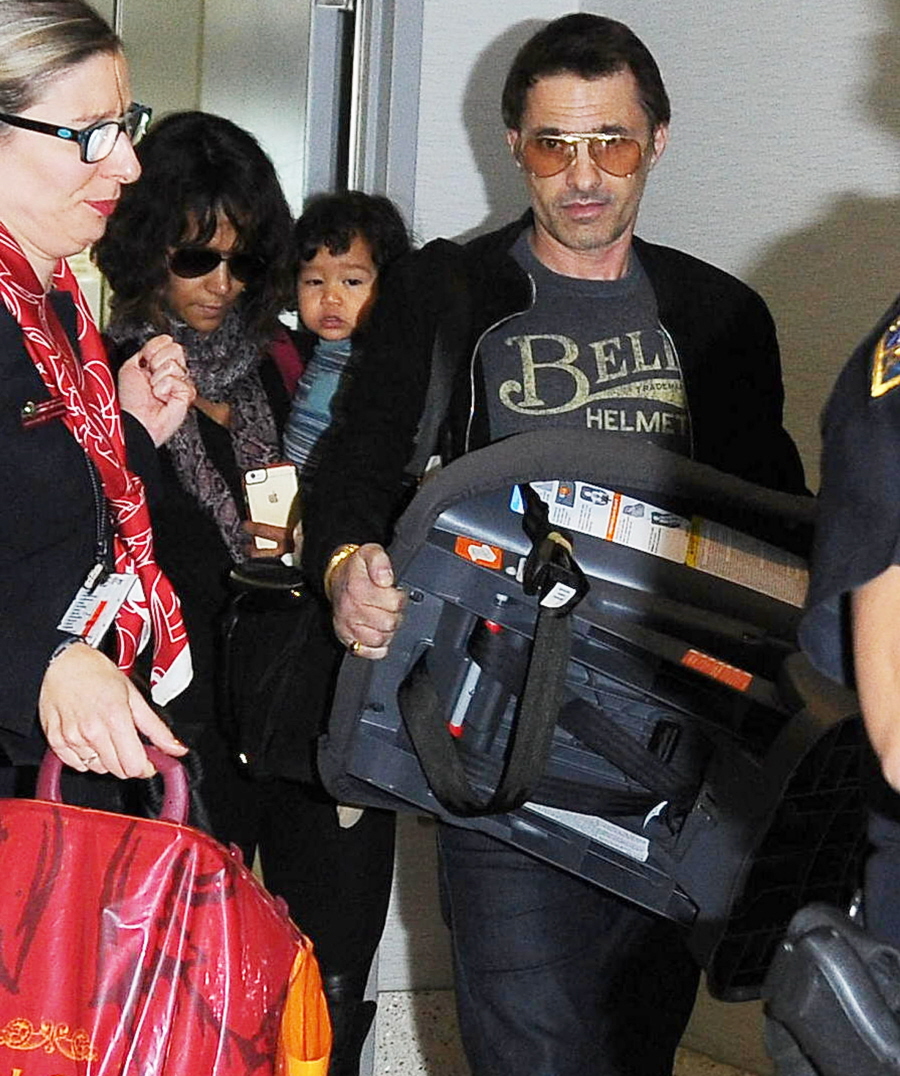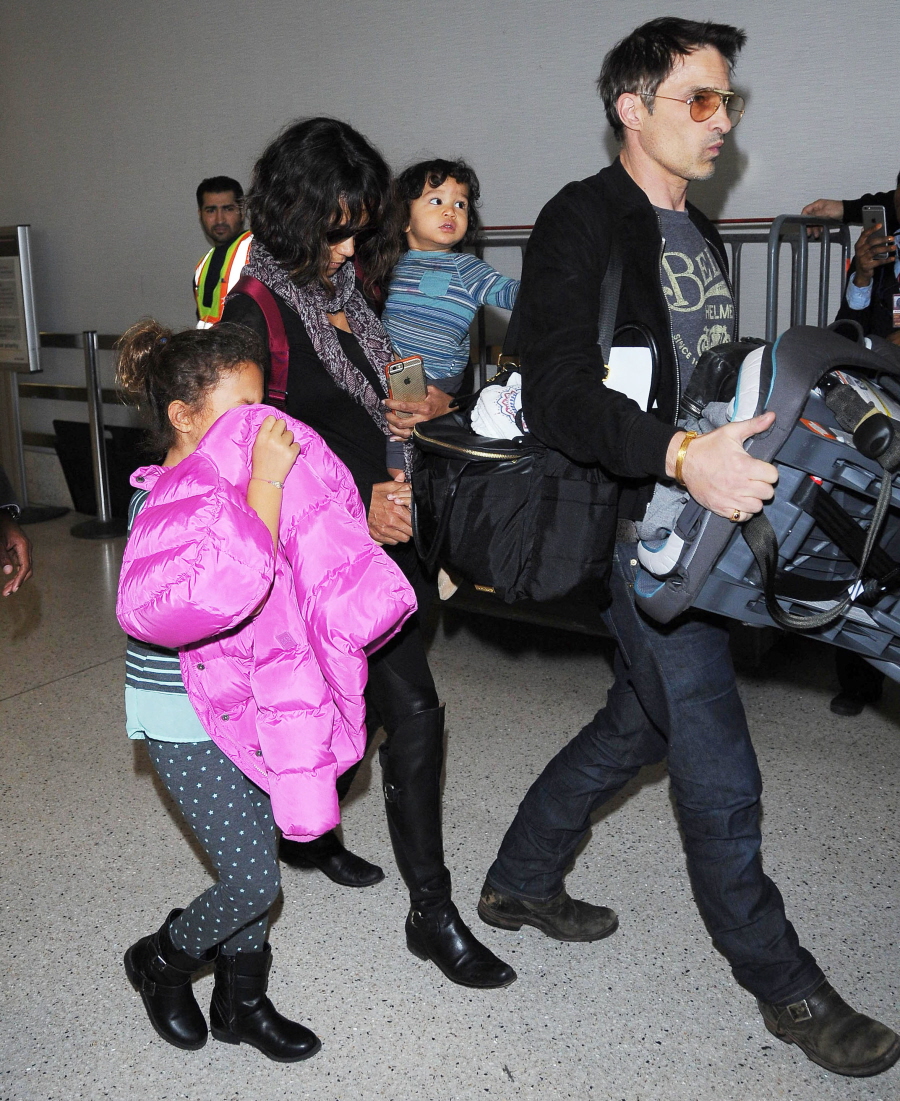 Photos courtesy of Fame/Flynet.