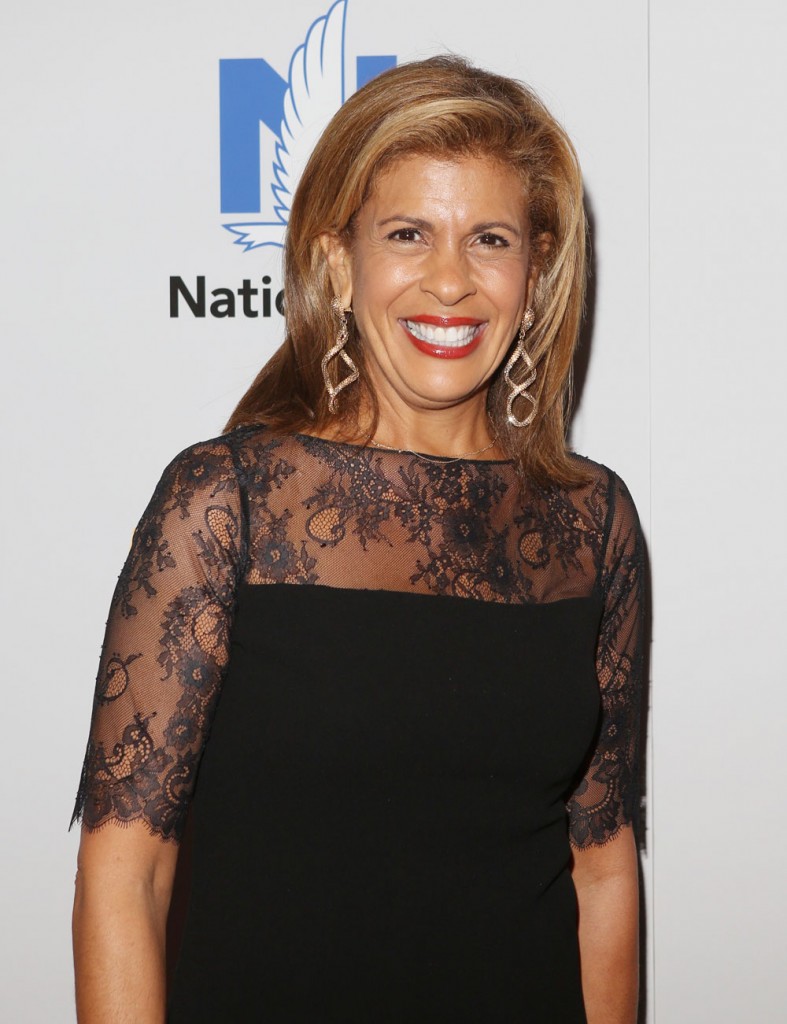 It's that time of year when people are trying to lose weight and make up for all the debauchery of the holidays. We've heard from so many celebrities who are promoting various paid diet programs, "detoxes," and sponsored weight loss products. It's nice to hear from someone who just wants to lose weight and doesn't have an agenda – yet. Hoda Kotb of The Today Show, 52, revealed on Instagram that she weighs 152 pounds and wants to lose weight in the new year. She later said on the Today Show that she's eating more than she realizes due to mindless snacking.
Here's what she said on Today. E! has a brief clip of this too which you can see on their site:
Kotb also shared her weight gain shocker on the Today show.

"So you know when you have a good night 'cause you don't eat much 'cause you're in front of your boyfriend and then you get up in the morning and you work out and you're like, 'Yes, yes, yes'?" she said. "I got on the scale and I took a picture of it and I weigh, I weight, I'm just gonna say it…152."

"And I was so ticked. You know when you look at something and you go, 'What happened?'" she added.

Kotb said Today show nutritionist Joy Bauer told her to start putting snacks inside of a plastic bag every time she moves to eat them. Kotb then took out a Ziploc plastic bag containing Life Savers mints and red grapes.

"This is in between meals," she said. "You don't realize how much grazing and eating weird things that you're doing and I was counting things and she said, 'Well how many of those do you eat?' And I said, 'Usually a handful.' So I threw a handful in. So all day long, I was supposed to put everything in between meals in this bag."
I really like that idea to put what you would eat into a bag! I just enter everything into an app, but that would work too. Other people write it down in a notepad. There's this show in England on Channel 4 called Secret Eaters which had a US version that never caught on here. (It's available on demand but only to UK residents.) I've seen a few episodes and it's absolutely fascinating to see people say that they don't eat much, that they eat "healthy," and then observe how much they really do eat. They know there are cameras throughout their house and yet many people sit and snack in front of the TV constantly. Some add excessive butter and oil to dishes and don't realize how fattening that is. That show helped me understand mindless eating and how I underestimated it.
Hoda is 5'9″ tall and a weight of 152 pounds puts her BMI at 22.4, which is right in the middle of the healthy range. I understand why she would want to lose weight in her profession, but she is by no means overweight nor does she need to lose weight by objective measures. She looks very fit.
As you get older your calorie requirements do decrease and it's easier to gain weight. My mom is on MyFitnessPal with me and I see what she eats every day, which is much less than I do frankly. She gets a lower calorie limit because she's in her 70s and can't exercise due to plantar fasciitis. (She just had the injection treatments, I hope that works for her.) My dad is also on MyFitnessPal with us, he's eating more than my mom and losing weight faster because he's a man and their TDEEs are higher. It sucks but that's the way it works.
Looking at these pictures of Hoda fills me with joy. She just looks so thrilled all the time! I just got a great idea for another new year's resolution – smile more.
photos credit: WENN, FameFlynet and Getty