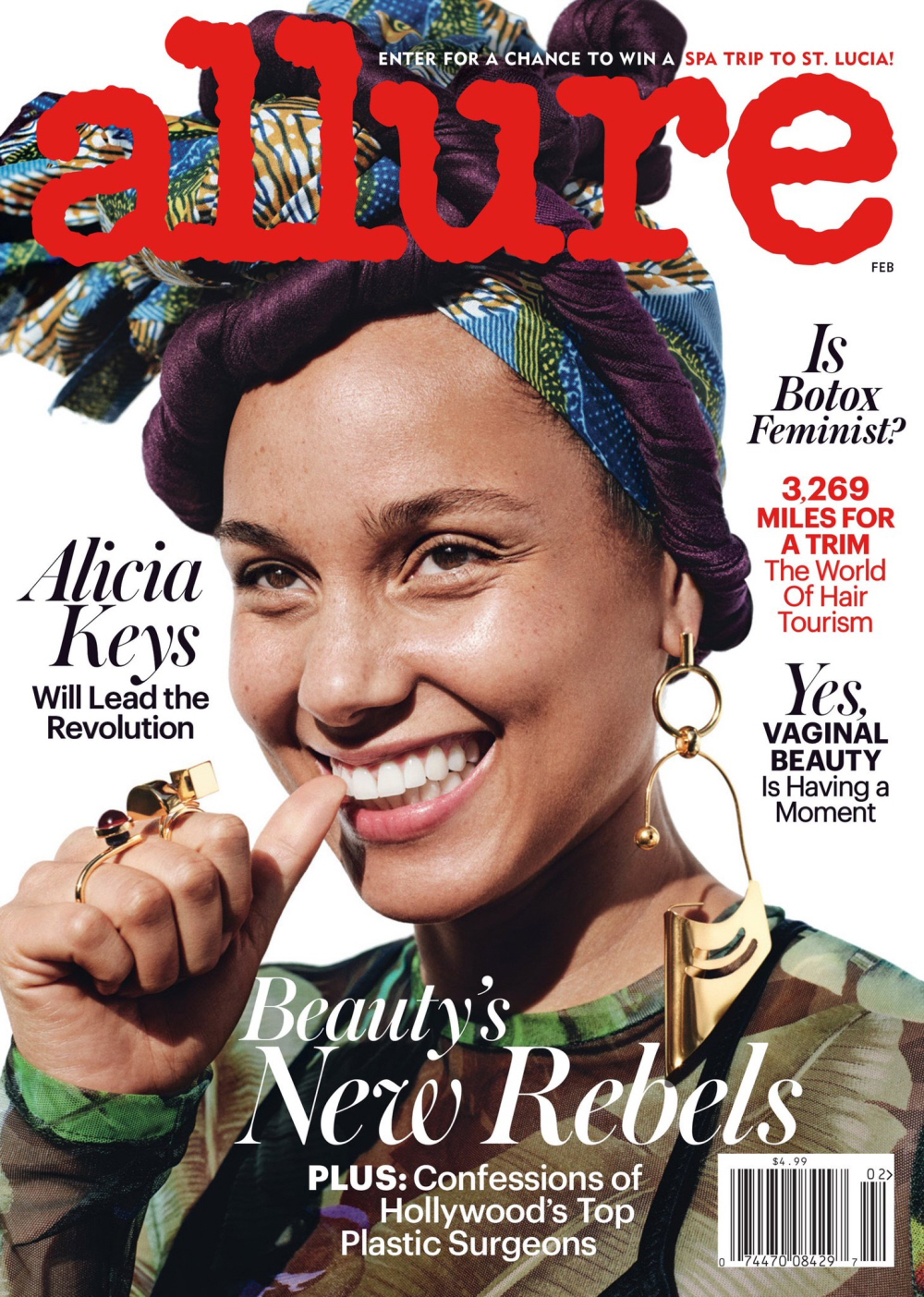 Alicia Keys covers the February issue of Allure. Shockingly, she's wearing makeup on the cover, although I think it was mostly done in the "no-makeup" makeup style, especially with her foundation and such. Allure claims this editorial was the first time she had worn makeup in "months," although Miley Cyrus claimed that Alicia has an on-call makeup artist on The Voice, so who do you believe? Alicia has been on a tear for months now about going makeup-free, but she seems to be reeling it in a little bit in this interview, trying to seem a bit more "do what's right for you" as opposed to "I'm so pretty, I don't even need makeup" vibes. You can read Alicia's full Allure interview here. Some highlights:
The No Makeup Movement: "I'm not a slave to makeup. I'm not a slave to not wearing makeup either. I get to choose at [any] given moment. That's my right. I think makeup can be self-expression. I have no intention to shame anyone at all [who chooses to wear it]. No one should be ashamed by the way you choose to express yourself. And that's exactly the point. However, if you want to do that for yourself, you should do that."

On President Trump: "The We Are Here Movement [a wide-ranging social-justice organization founded by Keys] will stand in support of Hispanics, refugees, people of color, Muslims, and anyone who feels afraid in the upcoming Trump era. I have a hope that President Trump, as a New Yorker, will have more liberal views than his campaign rhetoric suggests and that in the end our system of justice will prevail. But it does hurt that racism was not a deal breaker for millions in the election. However, as an artist, I expect to continue to use my voice for things that matter, as I have since the beginning of my career. That won't change. As an activist, I will continue to fight for what's right. That won't change, either. It's time for all of us to be engaged. As a mother, I am a lioness."

The claim that only someone with perfect skin would dare to go makeup-free: "I am all about a woman's right to choose. I think a woman should do anything she wants as it relates to her face, her body, her health. Whatever mode of expression that empowers you, that's what you should do. What I am not down for is this ridiculously high, unrealistic expectation about appearance that we as women are held to."

Her new album, Here: "It started with a list of things that I am sick of. One of the big ones is that I was so sick of the way women were forced to feel inadequate in many different circumstances or forced to feel insecure by the way we're portrayed or the way we look. Another one: I am so annoyed at the way we force boys to be fake strong—don't cry, don't be soft. Let a boy be able to dance! Let a boy paint his nails. So a boy wants to paint his nails. Who cares! All these strange, oppressive ideas."

She's done with unsolicited opinions: "You know what would be really cool? If we stopped offering our opinion unless asked. If nobody asked you, keep your mouth shut! Like with the Internet? That's just too much opinion. People are mean. It's a sickness."
The thing about unsolicited opinions… woo, boy, that just made me mad. Like, I have opinions for a living and I love my job. If Alicia was living an authentic life free from drama, then she might have a different take on people having opinions on the internet. But as it is, Alicia's husband is shady as f—k and yeah, the urban blogs called her out on her bulls—t for years. We covered a lot of it too. I think Alicia is less about people offering their unsolicited opinions and more like "stop judging my shady AF marital situation." And just FYI: Swizz Beatz's ex was the one writing open letters and giving interviews about Alicia's part in the breakdown of her marriage. A few of Swizz's sidepieces went to media outlets to tell their stories too. It's not just random opinion – there was actual reporting done on how many lives Alicia and Swizz destroyed on their way to a whitewashed union.
#ICYMI: @AliciaKeys is our February cover star! https://t.co/QVBmuSWCbv pic.twitter.com/yQI0ZJ6iV3

— Allure (@Allure_magazine) January 17, 2017
Photos courtesy of Allure.