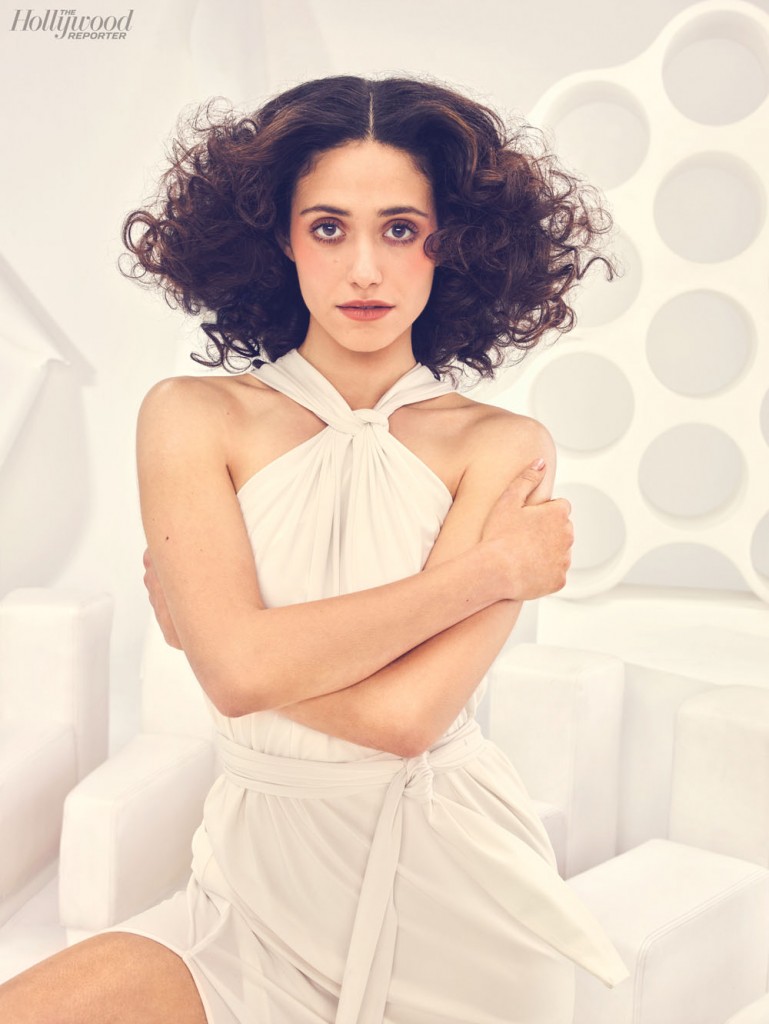 The Hollywood Reporter is really killing it with their roundtable interview series. Earlier this week we covered the reality roundtable, which featured RuPaul, Kris Jenner, Leah Remini, SallyAnn Salsano and W. Kamau Bell. Just getting all those people in a room is an accomplishment and there were so many excellent quotes that we covered them in three separate posts. We'll be talking about Emmy Rossum's portion of the comedy actress roundtable, and Corey covered Minnie Driver's quotes earlier today.
As you may remember, industry outlets reported that Emmy negotiated with Showtime for equitable pay on Shameless after around six seasons, when her character, Fiona, had become much more integral to the plot than William H. Macy's Frank. Emmy explained how those contract negotiations ohappened and it sounds like she just sat around and waited until her requirements were met. She also shared a disturbing story detailing how she was asked to audition for a part in a bikini.
On people confusing her with her Shameless character
People scream at me like, "F— you, Fiona, you overdosed that baby." They actually think you're that person.

On nudity on screen
I think we should be equal opportunity P and D. (Laughter.) But I only really want to see any nudity if there's a purpose for it. For me, I am OK to be as naked as you want me to be, within reason, if it applies to the story. If it serves the character.

On nudity vs. violence
I don't really have a problem with nudity. I have a problem about people's heads being f—ing bashed in and children watching that. I don't have any problem with children seeing a woman topless. I just don't.

On experiencing sexism while auditioning
Well, I've never been in a situation where somebody asked me to do something really obviously physical in exchange for [a job], like a pay-to-play kind of situation. But even as recently as a year ago, my agent called me and was like, "I'm so embarrassed to make this call, but there's a big movie and they're going to offer it to you. They really love your work on the show. But the director wants you to come into his office in a bikini. There's no audition. That's all you have to do."

He wanted to know if I was fat now. That was basically the question. And I actually had this moment like, "Well, how good is the part?" For a second, I was like, "Would I do it? Send me the script. Maybe the character is in a bikini in the movie."

Not naked in the movie. "We really love your work, but we just want to see how tight your ass is." Are you f—ing kidding me? Last time I checked, I'm not a f—ing model.

On negotiating for higher pay on Shameless
I wouldn't say it was acrimonious, but after a very, very long kind of stalemate negotiation, it became public.

I don't pretend to know anybody else's motivations, nor do I really care, because in the end, [everything turned] out just fine. But when we started the show, obviously Bill Macy was the green light for the show. It's Bill Macy. He's an Oscar nominee, and I was 22 years old. And then as the show started to really have legs …
The situation where Emmy was asked to audition in a bikini reminds me so much of Alison Brie's similar story where she asked to take her top off during an audition for Entourage. F-k any producer, director, casting agent or person in general who thinks that is ok. I don't have much more to say about that except that these are the stories the actresses are telling us. I imagine it's much worse behind the scenes.
As for how she negotiated with Showtime, I use that tactic often. When I'm trying to negotiate a price or payment from a new company and I don't like the terms I just wait it out. Then when I'm not so offended at how high it costs/how low they're offering to pay I'll come back with a counter offer and wait again. It helps when you truly do not give a sh-t and I try to adopt that attitude in general and be pragmatic about things. Also, I totally agree with her on nudity (when it's matter of fact) vs. violence on screen. There are so many reasons I like and admire Emmy and she just gave me more.
photos credit: THR and Getty