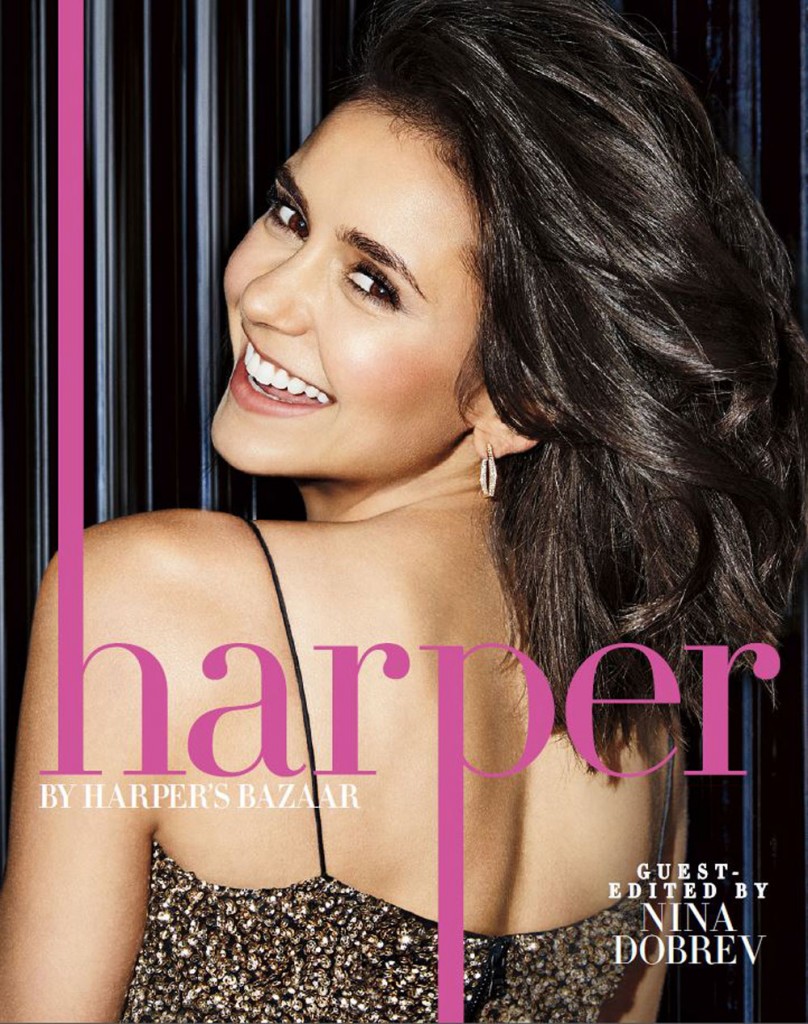 Nina Dobrev covers the September issue of Harper by Harper's Bazaar and is a guest editor, whatever that means. They dressed her like one of the Hadid sisters (I think Bella) with a mix of sporty styles and high fashion. I love that look so much and wish I was young enough to pull off a sports bra with jeans and a gorgeous coat. I would have been all over that look at their age. So she was well styled and they didn't do a cheesy theme shoot like you see too often in these editorials. Her interview is interesting in that she's somewhat candid, upbeat and political, probably because she brought her little dog, Maverick, a border collie–Australian shepherd mix, with her to the pub restaurant where they did the interview in NY. People are usually more chatty when they have their dogs with them. Nina went off on Trump at one point, which was nice to read. (Note: in an earlier version of this story I thought she was half-admitting that she didn't get a chance to vote, which is how she phrased it. Thanks to those of you who pointed out that she's Canadian and can't vote in the US elections, which was not mentioned in the story.)
She grew up poor and her mom called the local thrift shop "Versace"
"Eventually I got to go to an actual Versace fashion show and sit in the front row. And now I go to vintage stores on purpose. It's funny how your perspective changes."

She went backpacking alone in Europe and East Asia and she loves skydiving, bungee jumping, etc
"My rule of thumb is, I'll try anything once. I have a healthy—or possibly unhealthy—obsession with trying things for the first time. Nobody imagines me to be by myself backpacking, so they just think, 'It can't be her.'"

On her roles since Vampire Diaries
"The things I want to do aren't necessarily the things that are expected of me. I don't want to play a teenager anymore. I want to play adult roles and be challenged and work with great filmmakers and tell incredible stories, and that has meant being really picky."

She goes off on Trump and then half admits she didn't get a chance to vote
"Hopefully he'll get impeached. Or indicted. Or both. He just doesn't act like a president. He acts like a reality star on a terrible, horrible show that should never be aired. And he's responsible for incredibly important decisions for the country that I live in, so my opinion does matter whether or not I had a chance to vote. Whenever I did one of those posts [supporting Hillary], I was inundated with negative comments, some of the most horrific things I've ever seen written. But I'm entitled to my opinion, and if you don't want to see the things I'm saying, don't follow me."
It's kind of a no-brainer now to speak out against Trump, but there are still celebrities who refuse to say anything, who haven't taken a firm stand either way. Also, if you look at the photo below of Nina with Maverick, she looks totally different with less makeup, right? She said that people didn't recognize her when she was hiking around Europe and maybe that's why. She has a very "girl next door" look when she's not all made up.
Also, I'm reminded of the fact that Nina dated Ian Somerhalder, her costar on The Vampire Diaries, from 2011 to 2013. I wonder if she sees him all coupled-up with Nikki Reed with the two of them practically smothering each other on social media and feels relieved. That probably feels like a lifetime ago to her though, she's 28 and has dated a few guys since. The last we heard she was seeing Glen Powell, the hottie who played John Glenn on Hidden Figures.
Nina is next starring in the Flatliners remake, out on September 29th.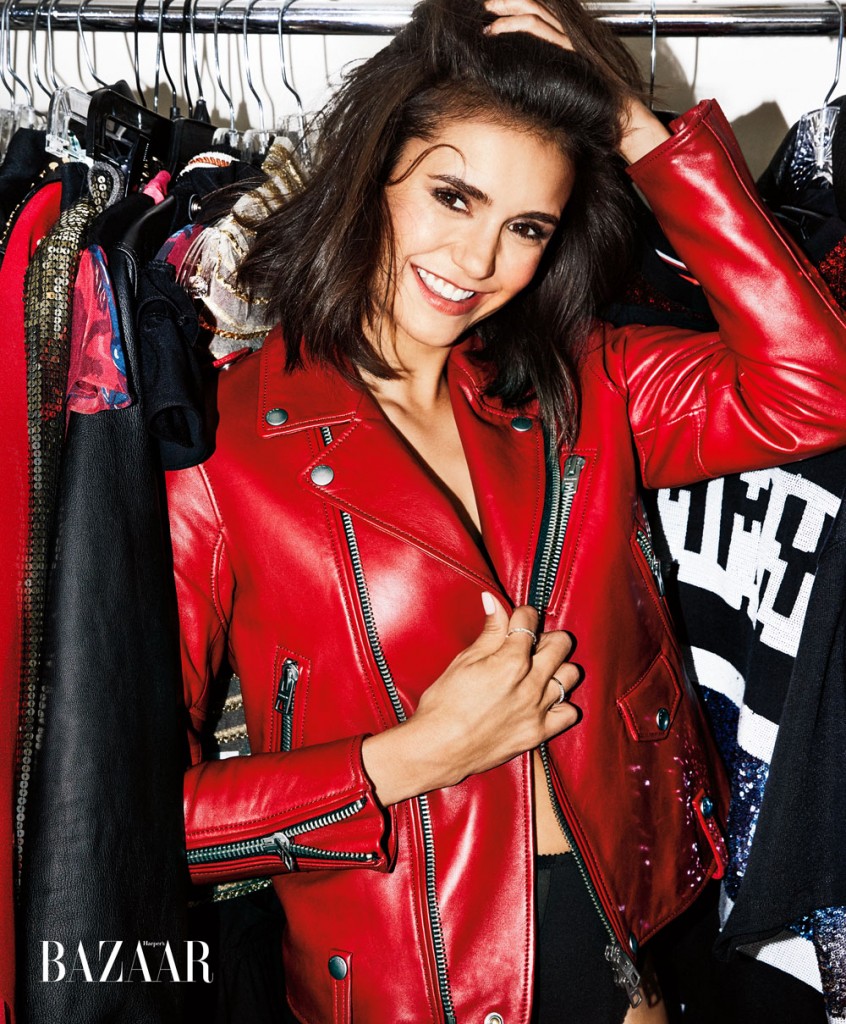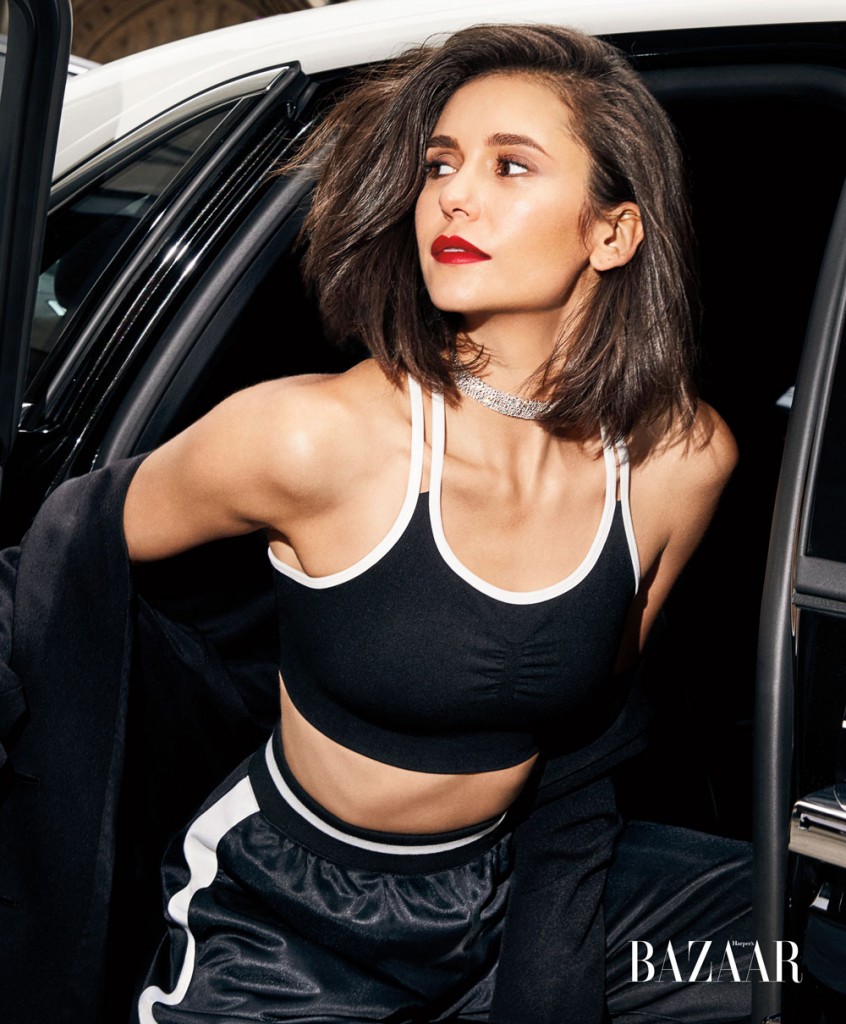 photos credit: Jennifer Livingston for Harper