So far, I've only really focused on the Kardashian-Jenner family side of Kylie Jenner's controversial pregnancy. By that I mean that I still want to know when Kris Jenner was told about Kylie's pregnancy and what her real reaction was. I want to know if the older sisters are not completely on board. I want to know if Kylie is going to get bored and forget about lip kits. What I haven't focused on are the conspiracies about the baby-daddy, and whether the baby-daddy is Travis Scott (as claimed) or if the daddy is actually Tyga.
Most people are putting the date of conception around May of this year, because sources claim Kylie is due in February and that she's about five months pregnant now. Those same sources claim that Kylie was finally done for good with Tyga in April, and she immediately began seeing Travis. So, what do you think? Could Tyga be the father? I mean, anything goes, right? But I'm giving Kylie the benefit of the doubt here – for all of her hyper-sexualized posing, I don't actually think she's all that sexually adventurous. Call me crazy, but I think she dates one guy at a time, and Tyga was her first and when she was done with him, she moved on with Travis and Travis is the father, for sure. But again, no one really knows for sure. I even hate the fact that we're supposed to take it on faith that Tyga and Kylie were done for good in April! Anyway, People Mag has another interesting scoop: the family was really worried that Kylie was going to get pregnant when she was with Tyga:
Kylie Jenner's famous family is trying to be as supportive as possible about her unexpected pregnancy, but not so long ago it was their "nightmare" that the 20-year-old reality star would get pregnant — with Tyga.

"It was such a bad relationship. Her family would beg her to protect herself. They were very concerned," a Keeping Up with the Kardashians source tells PEOPLE exclusively about Kylie and her rapper ex, 27. Kylie and Tyga split in April after more than two tumultuous years together shortly before she was spotted getting cozy with Travis Scott, 25, with whom she's expecting a baby girl in February.

"Whenever things were good with Tyga, Kylie said she wanted a baby. Between spending lots of time with her nieces and nephews and being around Tyga's son, she claimed she was ready," the source says. While the KarJenners — including mom Kris Jenner, 61, and older sisters Kourtney, 38, Kim, 36, Khloé, 33, and Kendall, 21 — are still worried about Kylie being a young mother, they are relieved she is expecting with Scott rather than Tyga. Another source tells PEOPLE, "all the sisters are concerned she's not prepared, but she seems to be taking it on board that her life will completely change."

And a third source says the Kardashian sisters "are all really happy for Kylie."

"Kylie has always talked about being a mom at some point sooner rather than later, and aside from being cautiously optimistic because of the situation with Travis — since they've only been together a short time — they're being supportive," the source explains.

On Friday, multiple sources confirmed to PEOPLE Kylie and Scott were "excited" about her surprise pregnancy and opening up to friends about their baby news.

"People around her are really surprised. It happened really fast, but for Kylie, being with Travis is so different than with anyone else," one insider previously said. "She's so in love with him. She's really excited."
So, basically, the Kardashians are cautiously optimistic that this won't be a total sh-tshow because hey, at least Tyga wasn't the one who knocked her up. It was that guy she had only been dating for a matter of weeks who knocked her up. Score! Anyway, given Khloe Kardashian's late-breaking pregnancy news (a separate post is devoted to that), I have to say that I'm still believing in the conspiracy theory that Kylie didn't tell her family about the pregnancy before she announced it to the world last Friday.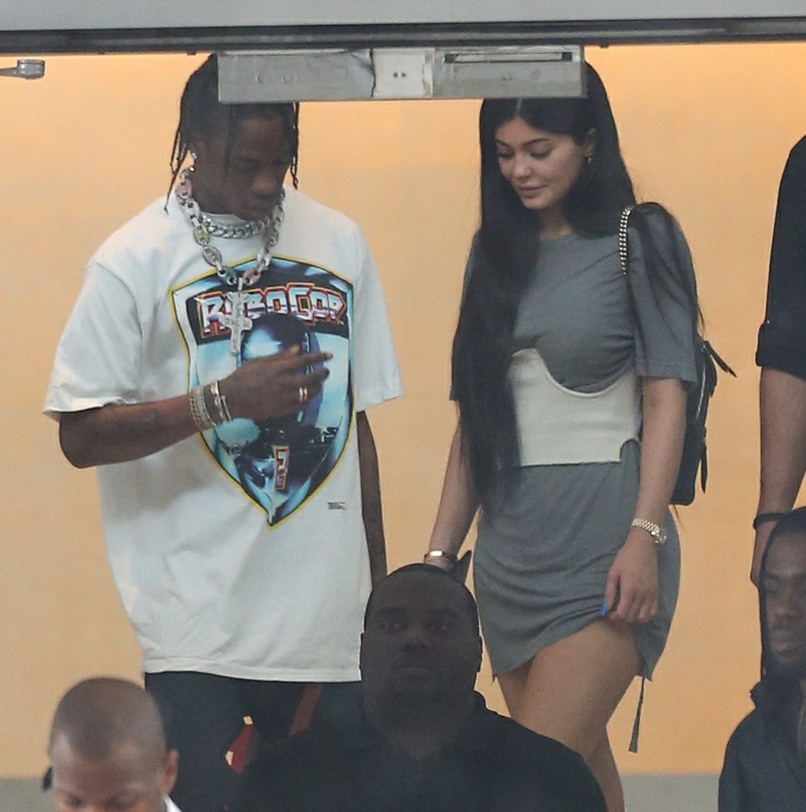 Photos courtesy of Pacific Coast News.