In "pretty people getting married" news, Sports Illustrated model (I'd add actress, but…The Other Woman. 'Nuff said) Kate Upton married Houston Astros pitcher Justin Verlander on Saturday. The 25-year-old bride and her 34-year-old beau, fresh off winning the World Series, exchanged their vows on Saturday, surrounded by family and friends, in an intimate ceremony at the Rosewood Castiglion Del Bosco resort in Tuscany, Italy.
The bride looked radiant in a classic white Valentino gown with long lace sleeves, topping her long, wavy locks with a simple veil. Justin also went traditional in a black tuxedo. The bridesmaids wore blush-hued dresses (and, like most bridesmaids dresses, they were slightly unflattering). You can see the pics on People and US Magazine.
Back in May, when discussing the wedding plans, specifically choosing a gown, Kate gushed to PEOPLE that "Justin is so supportive and I don't think that he would honestly have a strong opinion in that way. He's a lover, not a judger." She called her fiancé "my perfect partner," adding, "Our relationship is my favorite thing about my life right now."
Kate told Martha Stewart Weddings that as far as her ceremonial blooms, "I don't know what [kind or florals] I'll have for the wedding day yet. I just know I want a lot of flowers. And I know I want the petals already down by the time my niece, who will be my flower girl, walks down the aisle." Kate decided on a bouquet of rustic flowers, despite the fact that, as she put it, "Justin has terrible allergies. He'll have to take an allergy pill." Looking at the photos from the ceremony, it looked like Justin survived without having to inhale an antihistamine, so that's good.
The happy couple got engaged last year after dating for quite a while. They were on again/off again for three years before staying "on" after reuniting in January of 2014. Kate let the world know she was engaged by debuting her sparkling engagement ring at the 2016 Met Gala. And, as much of a supporter she is of her now-husband's career, her rule of not sleeping with her now-hubby before his games may have contributed to his World Series win. Talk about a good luck charm.
I never really had much of an opinion about Kate (and I'm a Braves fan, so I feel the same way about Justin), but weddings always make me happy. They look happy, I like her gown (she does make a lovely bride) and I hope they have a happy life. Congrats!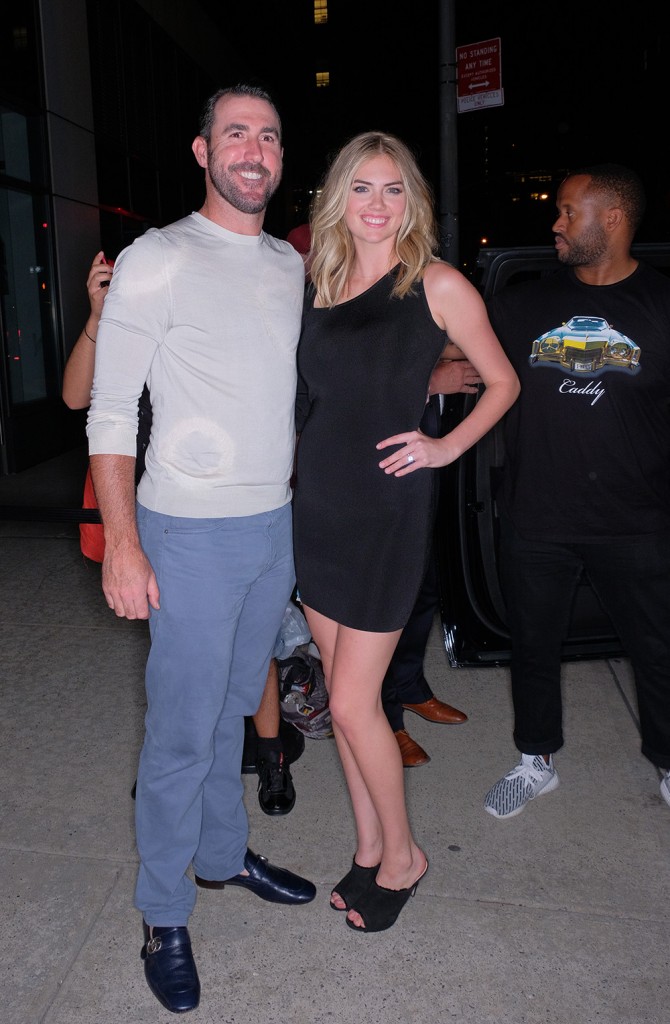 Photos: WENN.com, Getty Images