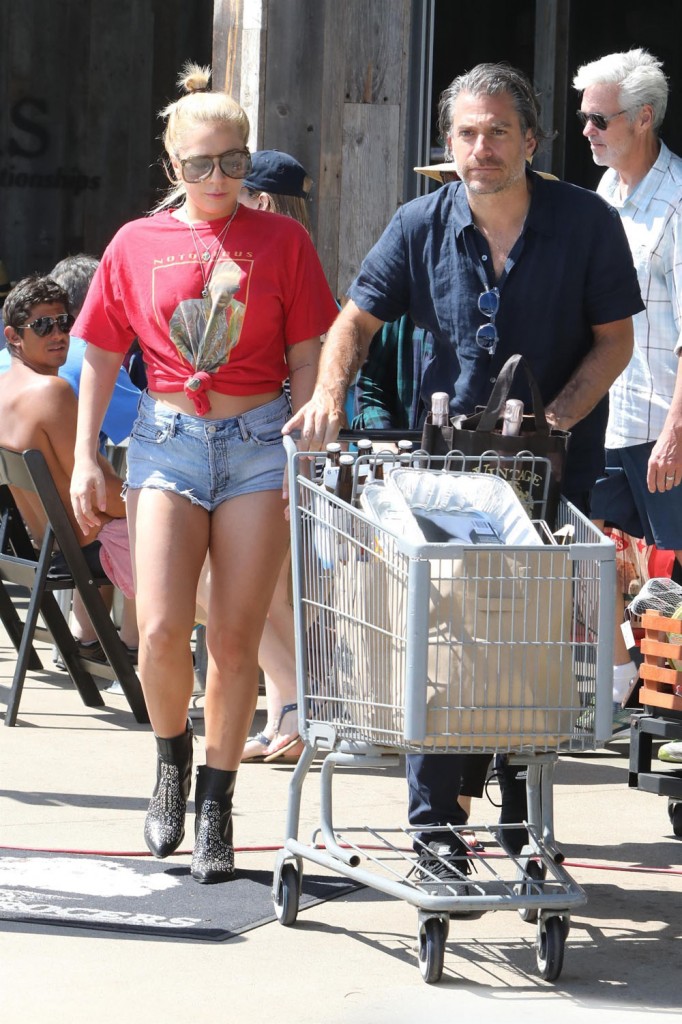 For some reason I love stories about celebrity couples getting tattoos for each other. I like to think that it's not so much schadenfreude (they're so going to regret that) as it is admiration for their belief that the first flush of love/lust will last forever. Sure there are those couples who were high school sweethearts and stay together until death, but how often are they celebrities? Some of my favorite "they got tattoos for each other" stories are, in no particular order:
Nick Cannon got Mariah's name as a huge tattoo across his back while she got a tiny butterfly symbol for him. (They did stay together for six years. Nick eventually got his tattoo covered up.)
I'm sure there are more that I'm forgetting, and more recent examples, but those are my favorites. So that's why I'm reporting on this story that Lady Gaga's fiance, CAA talent agent Christian Carino, has a big tattoo of her face on his arm. On one side that's really sweet. Like how idealistic do you have to be to get someone's face (who isn't your kid) tattooed on you? On the other hand, how stupid is that? We only heard about them together earlier this year, they probably haven't been together a year yet. Here's US's story.
Inked up! Lady Gaga's fiancé, Christian Carino, has a big tattoo of the "Born This Way" singer on his arm, Us Weekly can confirm.

Celebrity Engagement Rings of 2017: See the Bling!
Carino's tattoo is just under his shoulder and is a picture of Gaga's face with high, long pigtails. A source confirms to Us Weekly that the tattoo, which went viral on a Gaga fan account, is real.

Us exclusively revealed on November 1 that the six-time Grammy winner, 31, is engaged to the CAA talent agent, 48. A source told Us that Carino popped the question over the summer after he asked for Gaga's father's permission.

The source adds that due to Gaga's current health, the duo is focused on her recovery and don't have any wedding plans yet.
I'm not a big tattoo person, I only have a couple, so I wonder about the implications of these things. Surely there are very mellow people who are totally fine with having a giant tattoo of their ex on their arm. There's always lasers and dermablend for those who aren't. I'm also sure there are people who get tattoos for lovers and then end up staying with them for decades and not regretting the tattoo either. I always wondered though, does a tattoo of a person make you more willing to work out problems and issues? Like is that some kind of insurance against breaking up, where you're thinking "Well I have that tattoo, we better talk it out?" When it comes to your partner/spouse unexpectedly getting a tattoo for you, how much pressure is there for you to reciprocate? It would depend on the person of course.
Also, how cute are Lady Gaga and Christian Carino together? (I'm referring to US's header photo of them.) They look sympatico to me, I love seeing couples like that.
Hopefully Gaga is on the mend now. She had to postpone her tour due to health problems from fibromyalgia, which can be debilitating, although she's since resumed performances. She put on a great performance at the AMAs and she looked healthy. You never can tell though and people with fibromyalgia have good and bad days.
Lady Gaga's new boyfriend Christian has a tattoo of her on his arm. pic.twitter.com/ZjGNZCC4Bi

— Gaga Daily (@gagadaily) November 17, 2017
Here's Gaga at the AMAs. She was in Alaïa and I love the geometric detailing on that LBD.
Photos credit: Backgrid, Twitter and Instagram/Lady Gaga