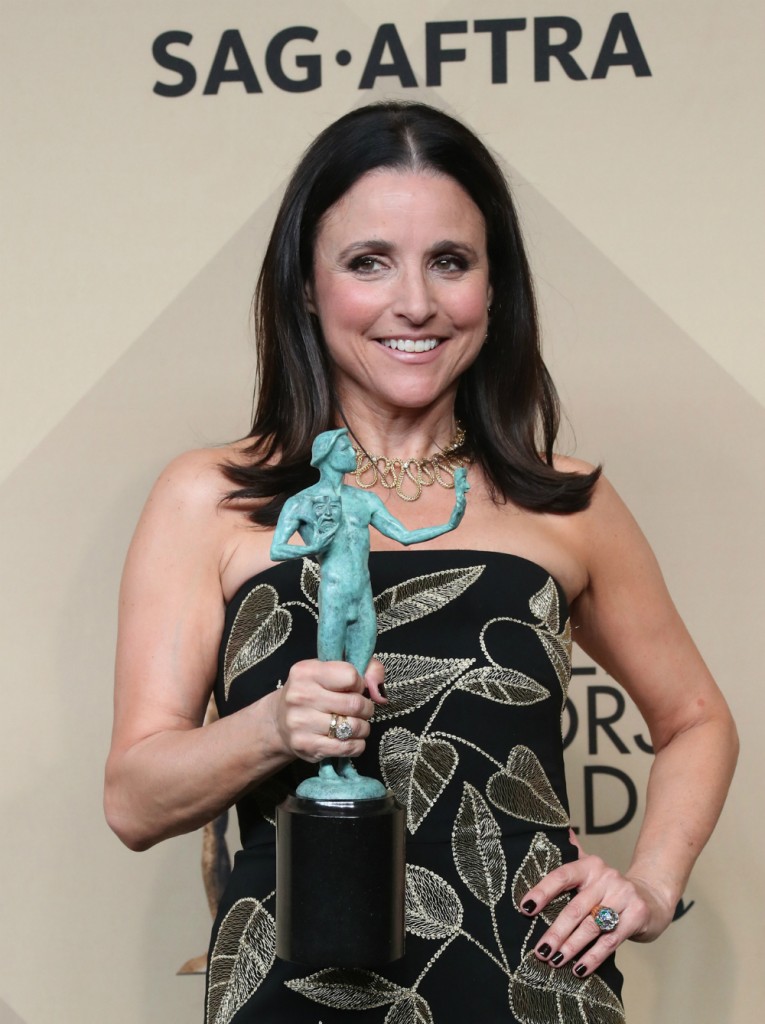 Julia Louis-Dreyfus has just finished chemotherapy for breast cancer that was diagnosed back in September. Sunday, her show VEEP won the SAG award for both Female Actor in a Comedy Series (Julia) and Ensemble in a Comedy Series (VEEP). Almost the entire cast was there to celebrate the victory. Notably absent was Anna Chlumsky, who is in New York appearing in the play Cardinal with Adam Pally and of course Julia, who is still recovering. She was missed by all of us but the VEEP team let everyone know she was in great spirits and doing really well.
Although Julia-Louis Dreyfus watched the 2018 Screen Actors Guild Awards from home as she continues fighting her battle with breast cancer, the actress' Veep castmates Tony Hale and Timothy Simons still had her front of mind on Sunday.

"Whoever's number one of the call sheet tends to set the tone and she has just set a tone for everybody," Hale, 47, told reporters in the 2018 SAG Awards press room at The Shrine Auditorium in Los Angeles. "We're all a part of a team. Nobody's walking on eggshells. Everybody can throw in jokes."

He continued, adding that the highly decorated actress has "no arrogance" and "no entitlement."

"We miss her greatly," he added. "We wish she were here. Big time."

Simons, who plays Jonah Ryan on the HBO show, also revealed that although the cast hadn't been able to call her yet – "the cell service in this thing is actually pretty terrible" – Louis-Dreyfus has been "incredibly strong" throughout her battle with breast cancer.

"She's generally been in good spirits when we've seen her. She has a good sense of humor, which I think it does wonders when you're going through something like this. She's incredibly strong. She's uniquely able to combat something like this. She's incredible," he added.
Even though she wasn't there, Julia reached out to fans and the cast on Twitter right after their win:
I wish I could have been @SAGawards tonight but have to admit it's pretty fun to watch in my pj's. So honored to win. So proud to be a union member. So happy for my @VeepHBO bozos for winning ensemble award. Miss being at the table with you all. How was the chicken?

— Julia Louis-Dreyfus (@OfficialJLD) January 22, 2018
If you missed the cast acceptance speech, you can watch it here. Matt Walsh, who plays former White House Communications Director Mike McClintock, gave the speech in character and it's pretty funny. I wonder if people who don't watch the show just thought he was an airhead. Generally I am not a fan of one show or actor getting the same award year after year – I prefer they spread the wealth. However, when a show is as consistently good as VEEP, I understand why they continue to reward it. With these two awards, Julia now holds the title of Most SAG Awards for a Single Actor. Julia has nine in total: 4 for VEEP and 5 for Seinfeld. If they are going to keep voting for the same person repeatedly, I'm glad it's someone like Julia. As I've mentioned, I shared a flight with her and her family years ago. I witnessed her clearing up a seating issue that had separated her from the rest of her family and I can attest to what Tony Hale said: no arrogance and no entitlement. She's lovely inside and out.
In other good news, her costars said Julia will be back to film the seventh season of VEEP in August and that she is already participating in table reads. Julia also sat out the women's March this past weekend but found a way to support it, as she always does:
Julis spent Christmas with her family and saod "goodbye" to 2017 with the same thought I think most of us had. Here's to a better and healthy 2018 for all.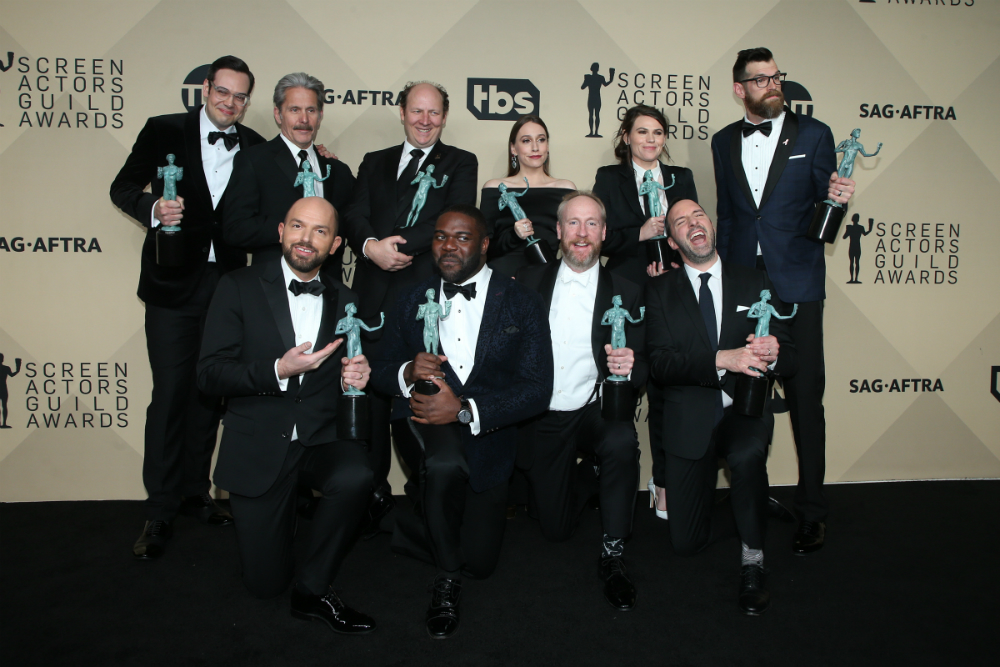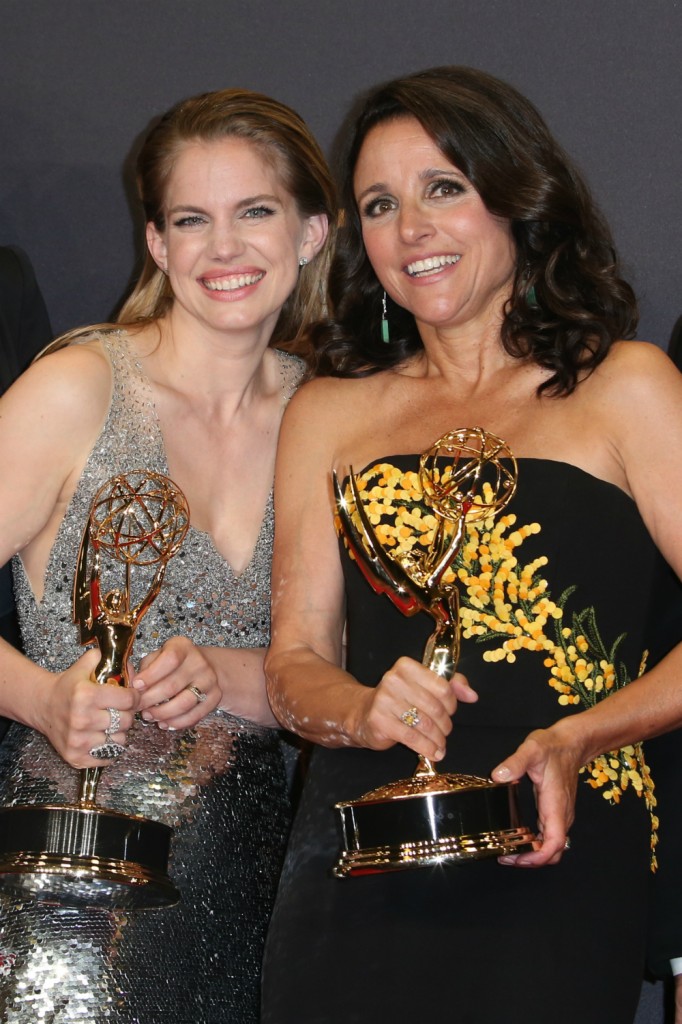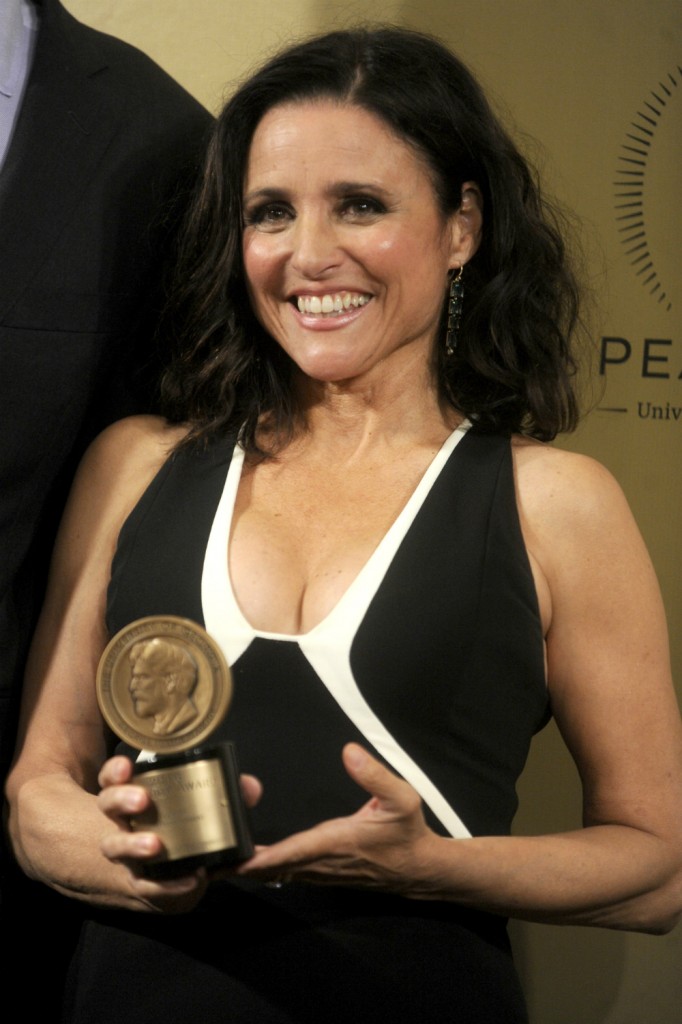 Photo credit: WENN Photos, Twitter and Instagram