This picture of Dakota Johnson sneaking a glance at Angelina Jolie while Jennifer Aniston presents needs to be put in the Met. pic.twitter.com/e9wnSb5H8S

— mary arndt (@MaryPerson) January 8, 2018
Dakota Johnson is trying to take all the fun out of Award Season. One of the big stories from the Golden Globes was the header photo of Dakota seemingly trying to gauge Angelina Jolie's reaction to Jennifer Aniston as she presented with Carole Burnett. It was a hilarious shot because in that moment, Dakota was all of us. Everyone knew both Angelina and Jennifer were conscious to the whole world scrutinizing them and that they would be perfectly professional and courteous. But that didn't stop me from being glued to the TV, just in case.
Well, now Dakota is setting the record straight that she doesn't think she was even looking at Angelina in that moment. While on The Tonight Show, she told Jimmy Fallon that what she was really doing was videoing the Stranger Things kids and a possibly sleeping Ridley Scott. Phooey.
Dakota Johnson instantly became the subject of a viral meme after she appeared to glance over at Angelina Jolie during Jennifer Aniston's speech at the 2018 Golden Globes earlier this month – but the Fifty Shades Darker actress insists she wasn't being shady.

"Truthfully, I don't think that I was really looking at her," Johnson, 28, said on The Tonight Show Starring Jimmy Fallon on Monday, January 29. "If you look really closely at the angle of my eyes, they're kind of, like, over here … [looking at] the Stranger Things table. And I really love Stranger Things."

"The thing that I hate the most is when people are in restaurants or whatever, when they try to take a sneaky picture of you. … So, I did that at the Golden Globes," Johnson said with a laugh. "Everybody there is a famous person. I was, like, trying to take a video of these kids – but they're children, I know! I was, like, zooming in and zooming in, but then I also accidentally caught … Ridley Scott was asleep. I think maybe he was just looking at his phone, but it looked like he was asleep."

In Johnson's defense, she wasn't the only person who initially appeared to stare at Jolie, 42, as Aniston, 48, took the stage with Carol Burnett to present the award for Best Performance by an Actress in a Television Series – Musical or Comedy. The 21 Jump Street actress pointed out, "I'm not the only one. [Armie Hammer's wife] Elizabeth [Chambers] is, like, very blatantly looking at her."
You can watch a clip of Dakota's interview here. Dakota doesn't say outright that she wasn't looking at Angelina, just that she doesn't think so. She went to the effort of drawing an imaginary line of her gaze's trajectory to prove she was looking elsewhere and then threw Elizabeth Chambers and Ridley Scott under the bus to deflect. All that proves – Dakota was totally sneaking a peek at Angelina's reaction. I think she's missing an opportunity here to troll everyone. She should own this and say something completely misleading like, "yeah, I turned to Angelina after she made that comment," and then never tell anyone what the comment was. It would drive people crazy, especially when paired with Chris Hemsworth's expression in the same shot.
This brings up another point, why didn't Hemsworth get any questions about this moment? Everyone was so quick to partner him up with Angelina or at the very least, cast him as a match-maker, why didn't anyone ask him what is going on with that face he was making?
Dakota was on Fallon to promote 50 Shades Freed, which opens February 9th. I only read the first book and haven't seen any of the films, but everyone just seems so over it on this promotional round. I'm glad they finally get to put this trilogy to bed (yes, that pun was intentional).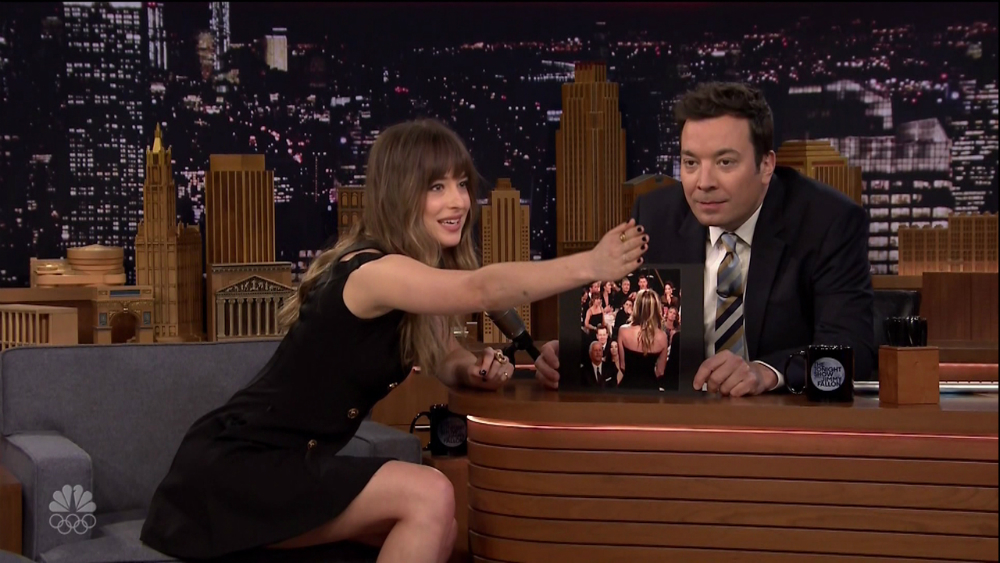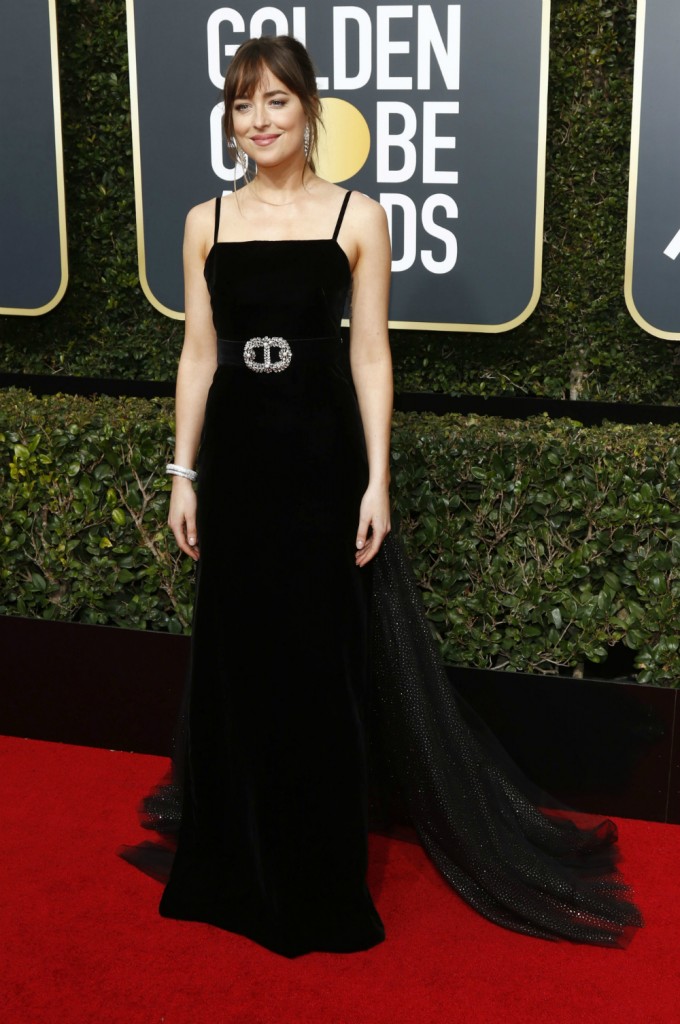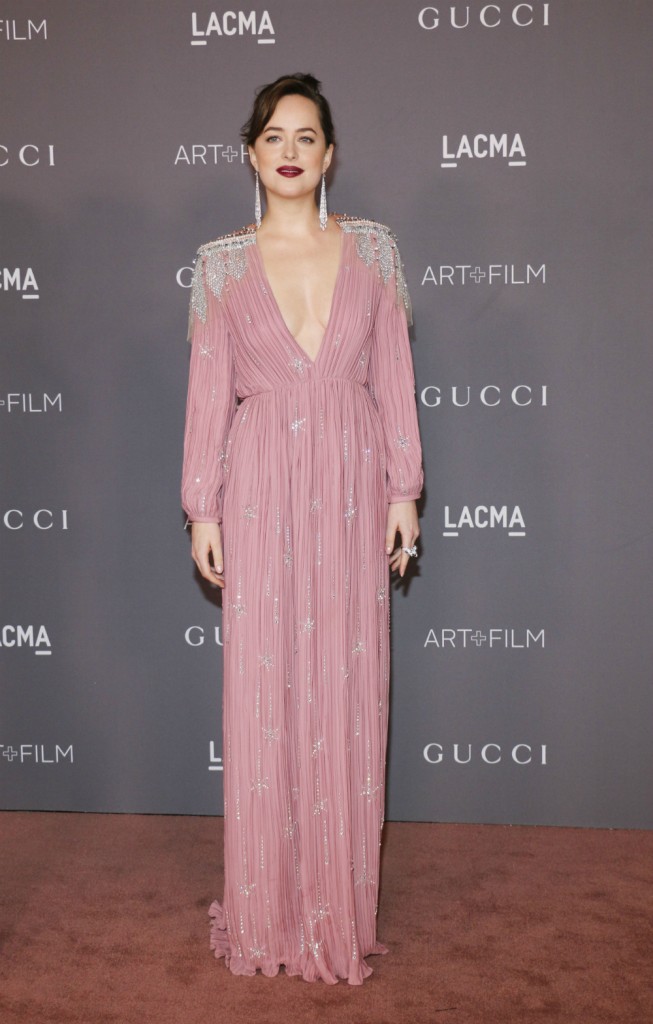 Photo credit: Twitter and WENN Photos