Melania Trump checked into the hospital on May 14th, a Monday. She stayed there for six days, allegedly returning to the White House on Saturday, May 19th, where her husband celebrated her return by calling her "Melanie" on Twitter. Allegedly, Mel had some kind of kidney procedure, except that absolutely NO ONE believes that. No one believes that a benign issue with her kidneys would lead to a six-day hospitalization. No one believes that Melania is quietly recuperating in the White House and doing work behind the scenes either. So it's become Melania Watch: How Many Days Since We've Seen the FLOTUS?
First Lady Melania Trump has been completely unseen in public since returning home from the hospital last Saturday — but her husband insists she still remains "right there." The 48-year-old has not been spotted since Thursday, May 10, when she stood next to her husband to welcome home three Americans at Joint Base Andrews, according to the Washington Post. Four days later, her office made the surprise announcement that the first lady had undergone a "successful" kidney procedure, but would remain hospitalized for the remainder of the week.

She returned home May 19, but was completely out of the spotlight this week, which the Post notes is an "unusually long absence" for even the most private presidential spouses. But her time away from the public did not seem to perturb her husband, President Donald Trump, who instead appeared to insist that she was quite close to gathered reporters at the White House Friday morning as he prepared to board Marine One and travel to Annapolis, Maryland, for the U.S. Naval Academy graduation ceremony.

When a reporter asked about the first lady's health, he pointed up toward the second floor of the White House from the south entrance and replied, "She's doing great. Right there. She's doing great. She's looking at us, right there." But as reporters turned to follow his outstretched figure, they saw no sign of his wife, reports the Post.

The first lady's spokeswoman, Stephanie Grisham, tells PEOPLE that Melania Trump "is doing very well and has been participating in several internal meetings with her staff to plan upcoming events." But her return to public life remains a mystery — Grisham did not specifically say when she would be seen again — as does the first lady's unusually long hospital stay for a "successful" kidney embolization.
GHOST MELANIA. Ghost Melania is haunting the White House. The real Melania has been replaced by her surprisingly accurate wax figure and no one has realized it yet. It's almost like the plot of some kind of dumb farce with a punched-up script by Aaron Sorkin. Except it is real. Also shady: Melania's personal Twitter account has her "location" set to New York City. Is this happening? Was the hospitalization just a cover story for Melania leaving that giant orange dinosaur ass?
Here are your options:
A. Melania is fine, recuperating in the White House and quietly working following a routine kidney procedure.
B. Melania had bad plastic surgery and she will be in hiding until she gets it fixed
C. Melania died at some point in May and now her ghost haunts the West Wing of the White House
D. Melania is a pod person now
E. Melania was always a robot and they provided Donald Trump with an upgrade they call Melanie
F. Melania has escaped to Canada and the "New York" line on her Twitter is an attempt to throw people off
G. The Secret Service sent Melania to Gitmo after she went after her husband with a Manolo
H. Melania used the "sinkhole" on the White House lawn as a cover story to Shawshank her way out of there
Also, there's this:
Friend who just retired from Secret Service has confirmed that Melania Trump has moved back to New York for the "foreseeable future" and will now cost us millions in additional protection daily.

He said that the agents assigned to her detail have been told to prepare.

— Pesach 'Pace' Lattin 🔴 (@pacelattin) May 28, 2018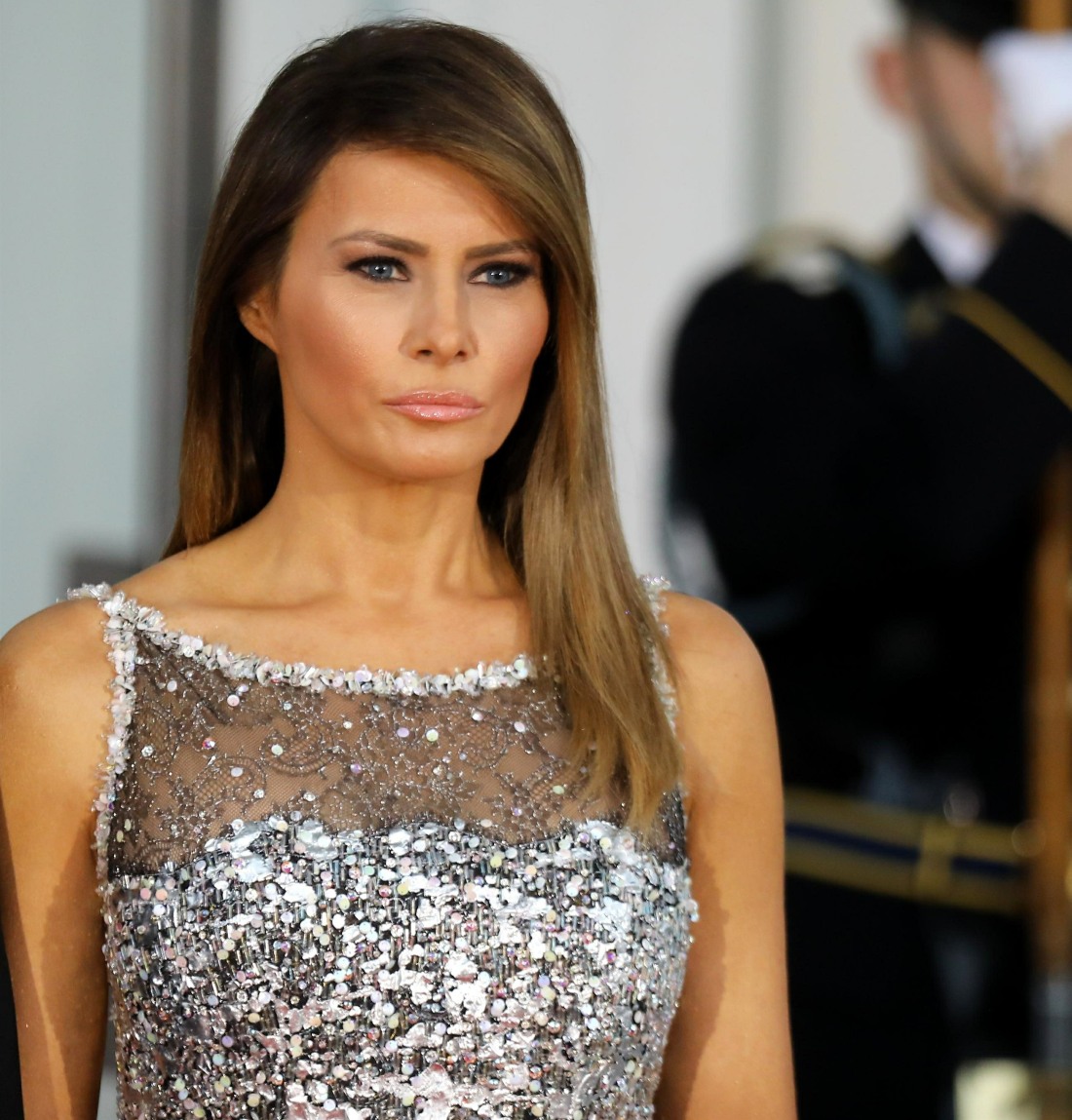 Photos courtesy of Backgrid.