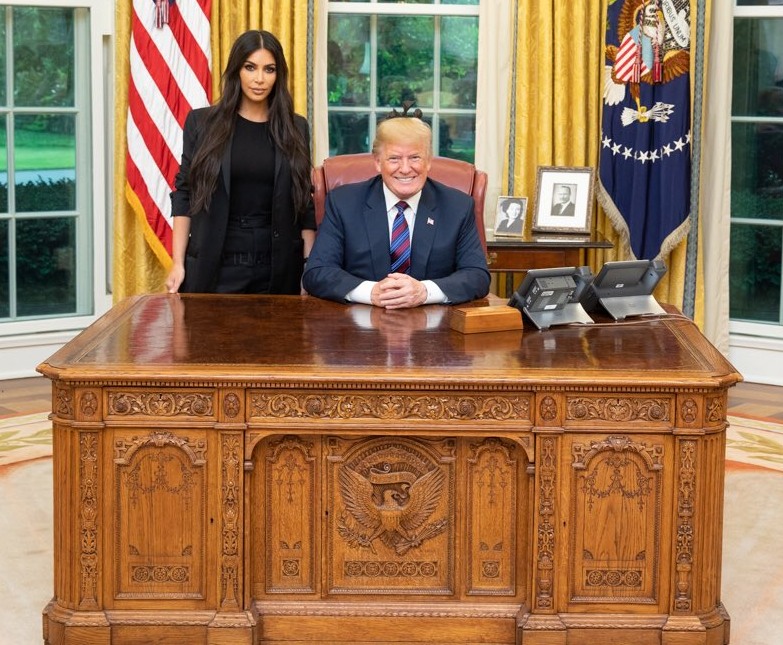 Donald Trump posted a photo from his "meeting" with Kim Kardashian on his Twitter account with the message "Great meeting with @KimKardashian today, talked about prison reform and sentencing." We knew Kim was going to the White House yesterday, after she had many conversations with Jared Kushner about prison and sentencing reform, which is one of Jared's "issues." Kim has become something of a low-key reform advocate as well, using her celebrity and clout to draw attention to a handful of inmates who should be pardoned. I asked yesterday if the ends would justify the means, if Trump did end up pardoning Alice Marie Johnson or anyone else on Kim's radar. As of yet, Trump didn't pardon Alice Marie. But he did get his photo-op. Kim also tweeted her thanks to the white supremacist:
I would like to thank President Trump for his time this afternoon. It is our hope that the President will grant clemency to Ms. Alice Marie Johnson who is serving a life sentence for a first-time, non-violent drug offense.

— Kim Kardashian West (@KimKardashian) May 31, 2018
We are optimistic about Ms. Johnson's future and hopeful that she —and so many like her—will get a second chance at life.

— Kim Kardashian West (@KimKardashian) May 31, 2018
Obviously, I have mixed feelings about this. Kim is not a single-issue advocate, and she's raising mixed-race children in America. In a perfect world, of course she should have absolutely nothing to do with a fascist or a white supremacist or a misogynistic sexual assailant. Obviously, Trump just wanted the photo-op and HE was using HER. This hurts her brand more than anything else, and I'm disgusted with her that she stupidly allowed herself to be used as a prop in the sh-tshow of this presidency.
…Now all that being said, I find it extremely annoying how people are mocking Kim like she's just a dumb bimbo who can't understand anything vaguely political or social. She's not an expert at any of this, and she would be the first to admit that. But I find the coverage and the mockery of Kim to be rather sexist and gross too. She has every right to try to use her celebrity for good, and to raise awareness of the social and political issues she cares about. She's trying, however imperfectly.
(I did laugh at "Big Ass Summit" though.)
An overrated reality TV star met with Kim Kardashian https://t.co/aFly7MJdnU

Here's a look at Thursday's front… pic.twitter.com/3bAQo8ezDE

— New York Daily News (@NYDailyNews) May 31, 2018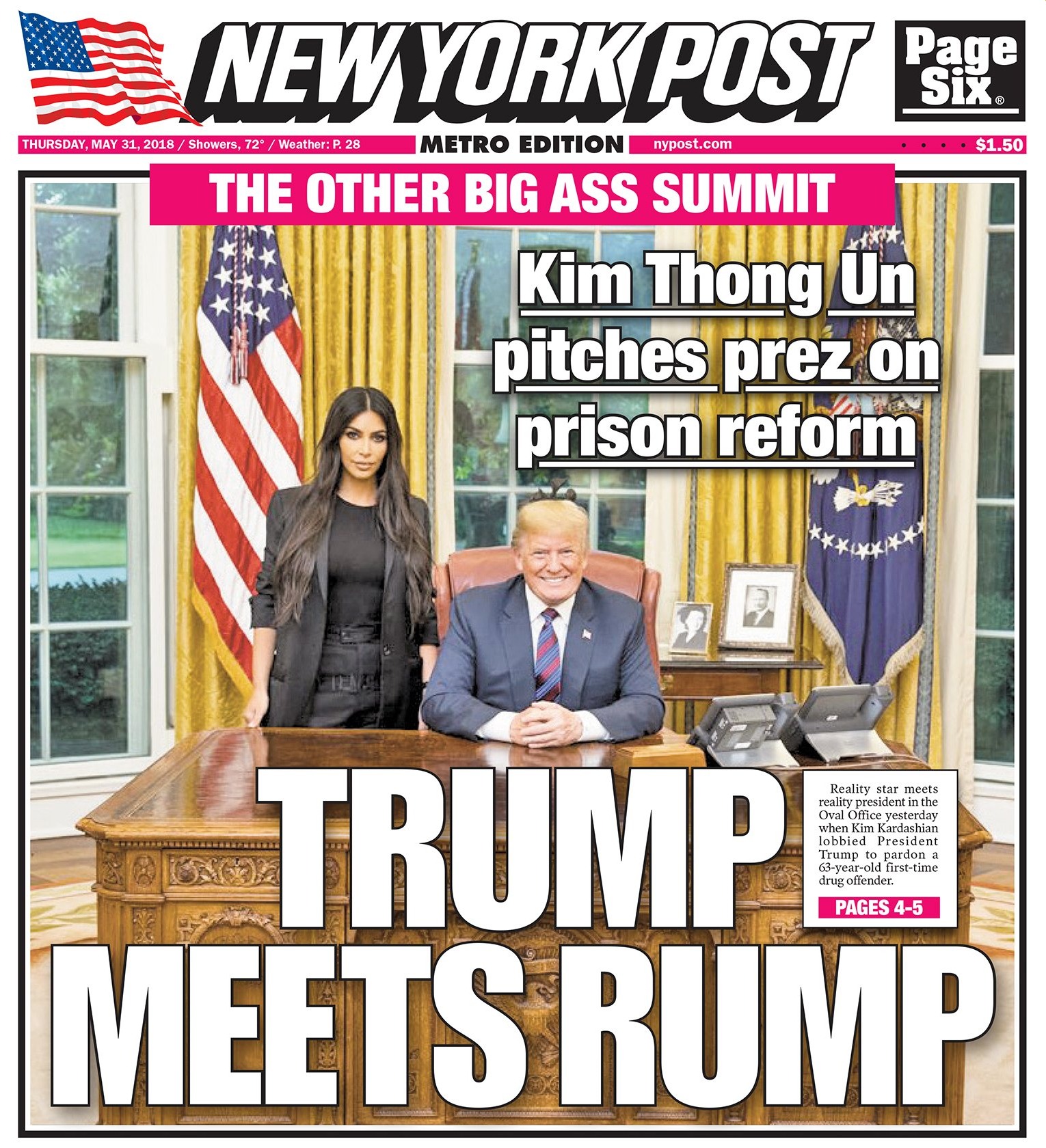 Photos courtesy of Twitter, the NYDN, the NY Post and Backgrid.