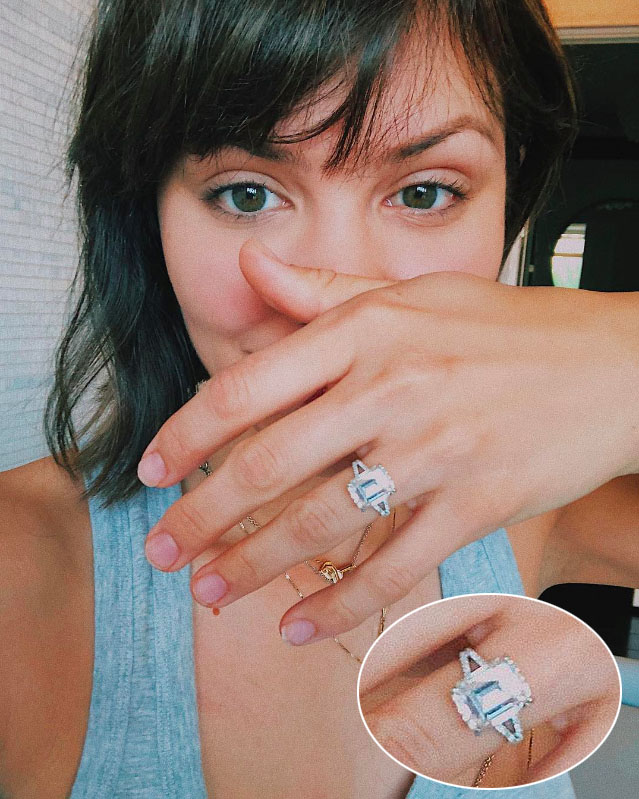 Katharine McPhee and David Foster announced their engagement earlier this month. She's 34, which is exactly half his age. As I like to mention in these stories three out of four of his adult children are older than she is. David's daughters are reportedly fine with their dad's engagement and are close to Katharine. Also, Katharine and David plan to marry soon because they want children.
Katharine sadly lost her father last week. She was able to visit him in the hospital before he passed and to share the news of her engagement, along with showing him her engagement ring. She posted the photo above to Instagram (I added an inset with a bigger picture of the ring so you could see the details). She included a caption about the significance of the ring, which was the last thing she showed her father. This is the first time we're seeing a close up photo of the ring and it's quite big.
Here's what she wrote about it.
It's been a hard week. Lots of tears but I want to thank my friends and family for all the love and support. My dad was so happy for me. My ring was the last thing I showed my dad before he passed and makes me smile when I look at this as a reminder of our last conversation. And now I'm ready to share with all of you what has been my sunshine amongst this painful loss. My love wisely said to me the other day that "death is the only thing that is 100 percent inevitable and the thing we are least prepared for." So today we're celebrating life and not forgetting love. &heart;
That was a bittersweet message and you can tell she adores David. Everyone processes grief differently and has specific memories they cherish from their loved ones. This is a significant milestone for Katharine and she's probably so happy that she was able to share the engagement news with her dad before he passed. That said, this seems off to me somehow, as if she feels conflicted about showing her giant ring in the wake of her dad's death. She's probably feeling so many different emotions, like she's so sad and so in love at the same time and doesn't know how to process it.
As for the ring, it's not my style as it's so huge but I do admire an emerald cut (although that may be radiant cut). I also like the open v-style with the rows of diamonds flanking the center stone. That's a gorgeous ring and it's likely worth well over seven figures. It's the type of ring you would expect to see given the circumstances and I'll leave it at that.
Below are photos of Katharine and David. You can see photos of her with her dad on Instagram.
Photos credit: Getty and Instagram/Katharine McPhee