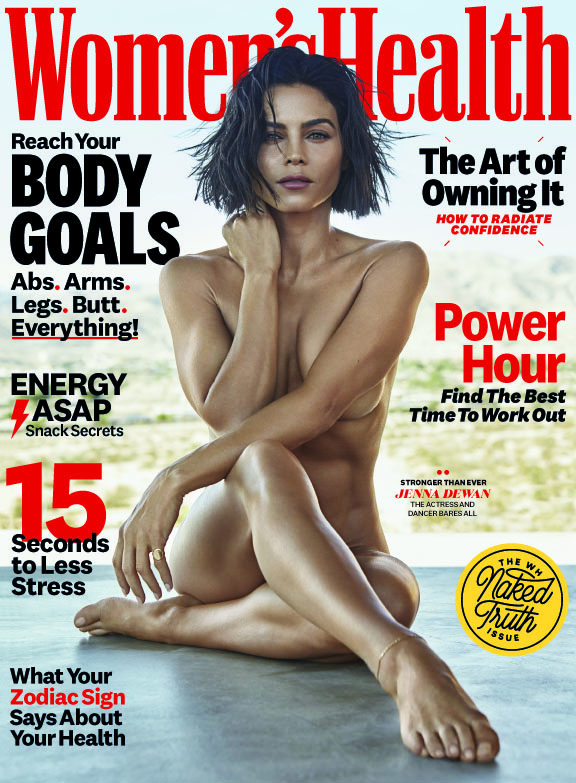 Jenna Dewan is strategically nude on the cover of Women's Health and in the editorial. I've turned off the ads in this post because advertisers don't like that, but it obviously sells print copies, as does talking about sex and sexuality. If you want to see Jenna's gorgeous booty you're in luck because they have a faraway photo of her from behind on their site. (Sidenote: Her trainer is JJ Dancer, who some awesome workout videos through Popsugar Fitness. Maybe if I did them more consistently my ass wouldn't be so flat.) Anyway Jenna is talking about her divorce from Channing Tatum and about the fact that she gets mom shamed on Instagram. This seems to be inevitable for anyone famous who posts there, especially when kids are involved, but it also dovetails nicely with what I assume is her new image. She's single, sexy, empowered, she has a goddess circle and a message about women being self actualized and supportive of each other:
On nudity:
"I've been a dancer my entire life, so I'm used to little clothing. You lose a sense of modesty."

On her past year, post-split from Channing Tatum:
"It's been a journey, and it's been a transformation of myself – my needs and wants as a woman. I think everyone wants to hold on to what's in front of them, but when you open your mind saying, 'I want what's best for myself and my daughter,' you have to be okay with however that looks. I feel like I've been on a wave of growth. It does look different; it's a new normal, and I really think we'll get used to that."

On admitting her split has been far from painless:
"It's always challenging to go through a big change and have the whole world have an opinion about it…It's okay for a relationship to change into a new form that is actually better for both people involved, and I think maybe that's what shocked everyone so much – that it can be a positive thing. That was ultimately what happened with us."

On how she's changed:
"I did a lot of work healing from the inside out, becoming more in touch with my womanly power. It was always 'I'm a dancer,' or 'I'm married,' or 'I'm an actress.' Over the last couple of years, it became about learning about myself."

On critics mom-shaming her photos on Instagram:
"Apparently, when you become a mother, you're supposed to leave your sexuality at the door, and I never understood that. I think there's nothing sexier than becoming a mother. You give life. It's everything. And you don't change who you are inside just because you have a kid."

On her goals at the gym:
"I really like to feel strong, and I like to feel curvy. And when I say 'curvy,' I mean 'muscular.' In the gym, I add more weight rather than increasing my reps because I want to build muscle, so I can pick up my daughter. Before, it used to be like, 'I wanna get long, lean muscles.' Now, I'm just like, 'I wanna feel strong and good."

On parenting 5-year-old daughter, Everly:
"I'm cautious not to always say 'You're beautiful' or 'You look pretty.' I say those things, but I follow it up with, 'You're smart, you're strong, you're opinionated.'"

On wanting her daughter to appreciate sexuality:
"I want my daughter to see that and be like, 'Wow, my mother was a fully actualized, sensual woman."

On uniting as women:
"Women are so much stronger and more powerful, living in our goddess energy, when we come together to lift each other up rather than tear each other down."
[From Women's Health received via e-mail]
It seems premature that she wants her five year-old daughter to see her sexy photos some day and appreciate what she was trying to do, but I think I get it. She wants Everly to know that nudity and sexuality aren't shameful and are a normal part of being a woman. When my kid was five I was just trying to convince him that kindergarten was awesome and that he should keep going. This kind of reminds me of Olivia Munn's talking point for a couple of years when she kept saying variations of "you can be sexy and smart." I don't think many people were telling her she couldn't be those things at the same time, I just think she wanted to portray that image and was mentioning it repeatedly. So Jenna is a sexy mom. Got it.
Women's Health photos by Dennis Leupold received from Hearst promotions. Other photos via Instagram/Jenna Dewan