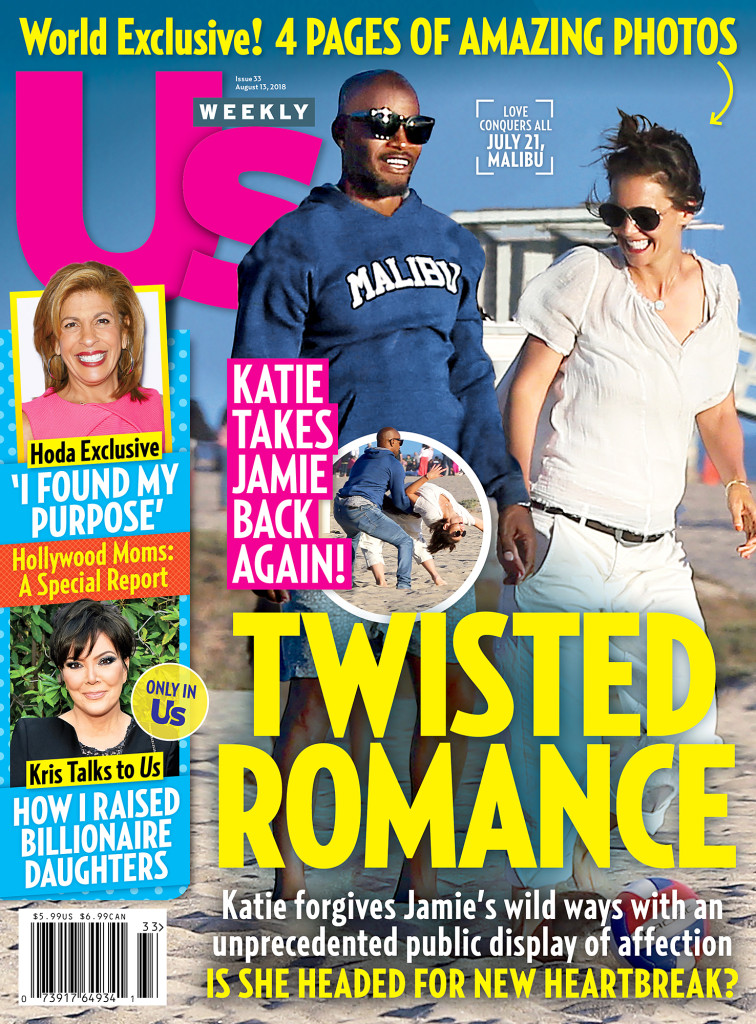 At some point I was really interested in Katie Holmes and Jamie Foxx's nearly five year long relationship. I was rooting for them and hoping they'd go the next step and go public if they wanted. Although we'd get occasional sightings of them it seemed like they were cooling off, trying to keep the relationship quiet or both. US Magazine featured Katie on the cover last month with an accompanying story quoting a source who claimed that Katie "won't let go of Jamie" and that "No one understands why Katie loves a man who can't seem to commit or why he's publicly humiliating her like this." A few weeks later they have the cover above, with exclusive photos of Katie and Jamie holding hands on the beach. Remember when they did this last year? Us had a story in the spring of 2017 that they were about to go public as a couple and then they were photographed in September holding hands on the beach.
So now we have a magazine cover and more quotes about Katie loving a noncommittal guy. The last time anyone brought up Katie Holmes in an interview, Jamie bolted. He's ok with getting his photo taken with her but he's not really acknowledging her either. Here's US's story, which sounds just like their last one except for these new photos, which were taken on July 21st.
"They were totally engaged with each other," reveals a beachgoer in the new issue of Us Weekly. "They were never on their phones. She had this incredible smile on her face. She looked smitten."

The evening ended with a toast. In between makeouts, they finished off a bottle of champagne on their blanket. Then, adds the onlooker, "they watched the sun set."

That carefree attitude is a welcome change for the couple who once rented out an entire restaurant to avoid prying eyes on a date night. "Katie and Jamie care about each other a lot and they tried to stay as quiet as possible because they didn't want to ruin that," reveals a source close to the mom of Suri, 12. "They knew the second they stepped out together, it would open the gates for criticism."

For nearly five years behind closed doors, they were able to grow at their own pace, explains a second insider: "They got to know each other and see where they were headed."

But now that Holmes, 39, is done hiding her romance with the affable actor, 50, pals are warning her to guard her heart. "No one can understand why Katie loves a man who can't seem to commit," adds the Holmes confidant. "Everyone wants Katie to take care of herself."
So Katie went from a controlling cult leader who was probably emotionally abusive and gave her zero space to a guy who is very good to her, treats her well and lets her be herself, but is distant and won't take that next step. It's understandable why she's still with him, but I want more for her, especially after all these years. US is claiming she wants that too, but maybe Suri is just her priority now and she doesn't want a long term live-in relationship either. These photos seem like Jamie's way of saying he's with her, but given the narrative and the fact that this is the second year in a row we're seeing photos like this, I don't think we'll get much more information.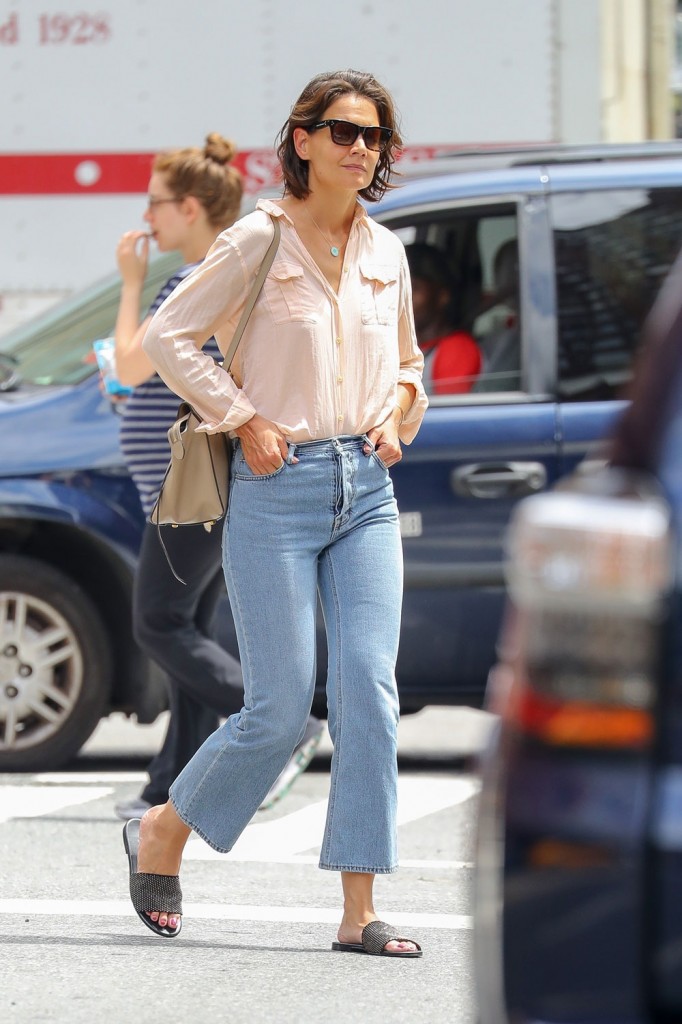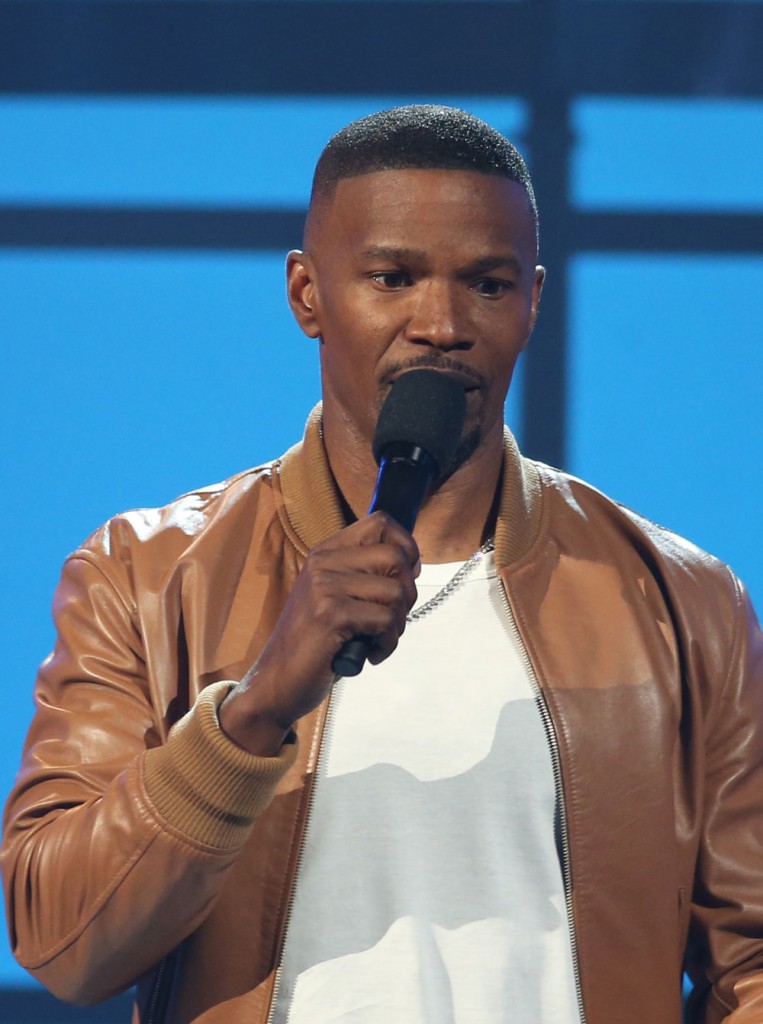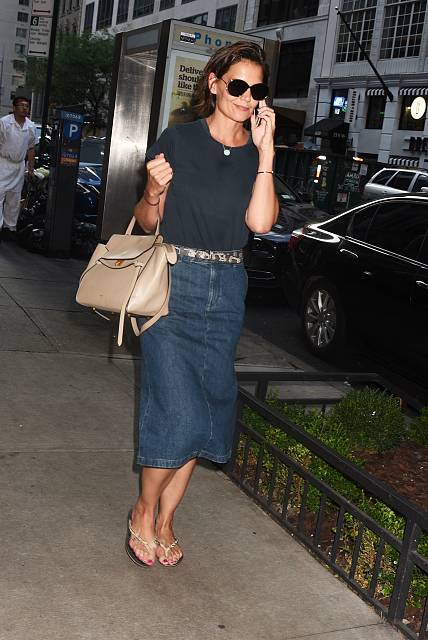 Photos credit: US Magazine, Avalon.red and WENN