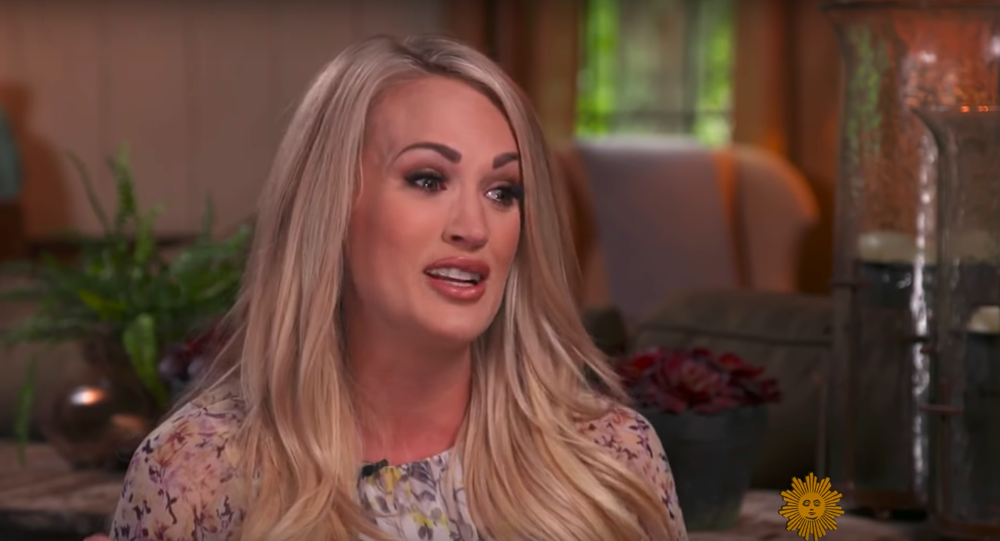 Carrie Underwood was on CBS Sunday Morning yesterday, where she was promoting her new album, Cry Pretty. Carrie, 35, is expecting her second child with her husband of eight years, hockey player Mike Fisher. Carrie drew some criticism last month for an interview she gave prior to announcing her pregnancy. She said that "I'm 35, so we may have missed our chance to have a big family." It turns out that Carrie had suffered three miscarriages prior to that, which puts her statement into perspective. In her CBS interview, Carrie went to her hometown of Checotah, Oklahoma, where she opened up about her childhood and about her difficult past couple of years.
She had two miscarriages in 2017 and one earlier this year
[Gets choked up] 2017 just wasn't how I imagined it. I planned that 2017 was going to be the year that I work on the music and I had a baby. We got pregnant early 2017 and it didn't work out. It happens and that was the thing in the beginning. It was like 'Ok, God we know this just wasn't your timing and that is alright. We will bounce back.' Got pregnant again in the spring. Didn't work out. Got pregnant again early 2018. Didn't work out.

At that point it was just kind of like. 'Ok, what's the deal? What is all of this?' Throughout the whole process, I'm writing. Like literally right after I would find out that I would lose a baby I'd have a writing session. I can't just sit around thinking about this. I would literally have these horrible things going on in my life and then have to go smile and do some interviews or do a photoshoot or something, you know?

She was afraid to be angry about it because her life is great otherwise
I've always been afraid to be angry because we're so blessed. My son, Isaiah [3], is the sweetest thing and he's the best thing in the world. I'm like 'if we can never have any other kids, that's ok because he's amazing.' I have this amazing life. Really what can I complain about? I can't. Can I be mad? No. I got mad.

She prayed for help
I was just sobbing. [I prayed] 'Why do I keep getting pregnant if I can't have a kid? What is this? Do something. Shut the door or let me have a kid.' For the first time I feel like I actually told God how I felt. I feel like we're supposed to do that. That was a Saturday and the Monday I went to the doctor to confirm another miscarriage and they told me everything was great. I was like 'you heard me.'
[From CBS This Morning]
I got choked up watching this. I can't imagine how horrible and heartbreaking that must have been for her. Plus she had that accident in the fall after two miscarriages and then had another miscarriage after that. She was dealing with such tragedy in her personal life and yet she was trying to hold it together. No wonder she went quiet for such a long time. All this time we thought she was upset about her facial scar but it was so much worse than that for her and her family. She said "it sucked so much, but things are looking better."
Here's Carrie's interview. The sad part starts at 5:15.