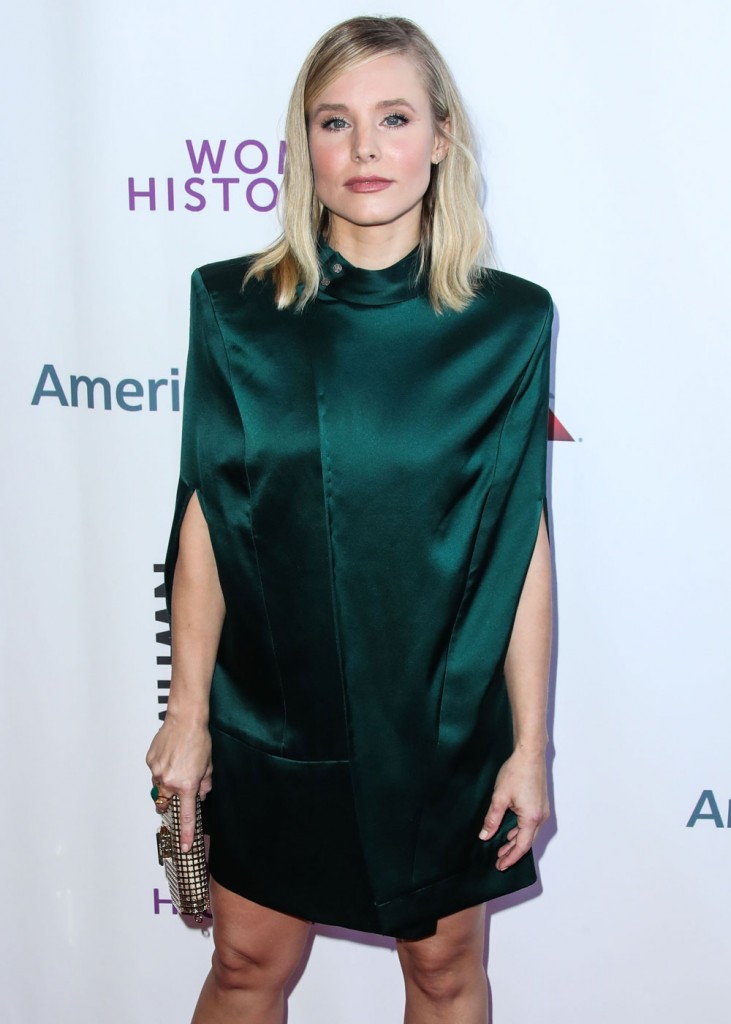 A lot of outlets are reporting on Kristen Bell's recent admission, on Marc Maron's podcast, that she vapes pot about once a week. Kristen's husband, Dax Shepard, has been sober for 14 years after battling addiction. Marc is sober too so they talked about that, along with the fact that Dax doesn't seem to mind it when people do drugs around him. A lot of celebrities smoke pot and are open about it but it's somewhat surprising to me that Kristen does too. She seems too straight edge for that. Some headlines are focusing on Kristen doing this around Dax, which doesn't strike me as odd or a threat to his sobriety or anything. They may be just reporting what she said though.
In a new interview with Marc Maron on his podcast WTF, [Kristen Bell], 38, shared that even though her husband [Dax] Shepard, 43, is sober, they often talk about drugs. But it doesn't stop there! Bell also revealed that she occasionally partakes in them even though her husband, who's been sober for 14 years, does not.

"I like my vape pen quite a bit. I smoke around my husband and it doesn't seem to bother him," Bell began. "Weed rules. Weed is my drug of choice, for sure."

When Maron, a recovering addict himself, asked her how she decides when it's appropriate to smoke, she responded, "Like once a week if I'm exhausted and we're about to sit down and watch 60 minutes, why not?"

The Good Place star also said that it's not as hard for her husband to watch her smoke weed as one might think. "He likes drugs and alcohol," Bell explained. "He's just aware that he lost his privilege with them because he can't handle it. His brain does not have the chemistry to handle it."

In fact, Shepard is such a fan of drugs that he firmly believes "you shouldn't leave earth without trying ecstasy or mushrooms," Bell said, and he's encouraging his wife and friends to have "an ecstasy party."

"He wants to have… everyone get an overnight babysitter that we trust, put all the kids together, then come to our house, check your keys… and then just give us all really good ecstasy and have us all braid each other's hair or something," Bell shared, adding that he'd be the "sober guide."
I don't drink but I don't mind when people drink around me as long as they're not pressuring me to take shots or whatever. So it doesn't seem like a big deal that Kristen smokes around Dax, especially if he doesn't care. Pot is legal for recreational use in California too. I don't see how it's that much different than drinking. (Even if she was in a state where it wasn't legal, it wouldn't be a big deal.) The story about Dax wanting people to do ecstasy around him is a little weird to me, as if he wants to get a vicarious high. I find it annoying to be around people who are completely blotto, but I'm also one of those people who shows up late to parties and leaves early.
As an aside, do you remember Kristen's amazing Emmy's look? InStyle sent out a promotional email with the exact white dress she wore. That beautiful column gown is available for around $530. (The name is awful though.) That's about $450 more than ever spend on a dress but it's accessible for some people. She probably got compensated for wearing it, which is smart actually. You know she's growing on me again. I've been watching The Good Place and chica can act.
This is Kristen at the 7th Annual Women Making History Awards on 9-15. You know what this dress reminds me of? (That link is NSFW due to language.) Photos credit: Backgrid and WENN