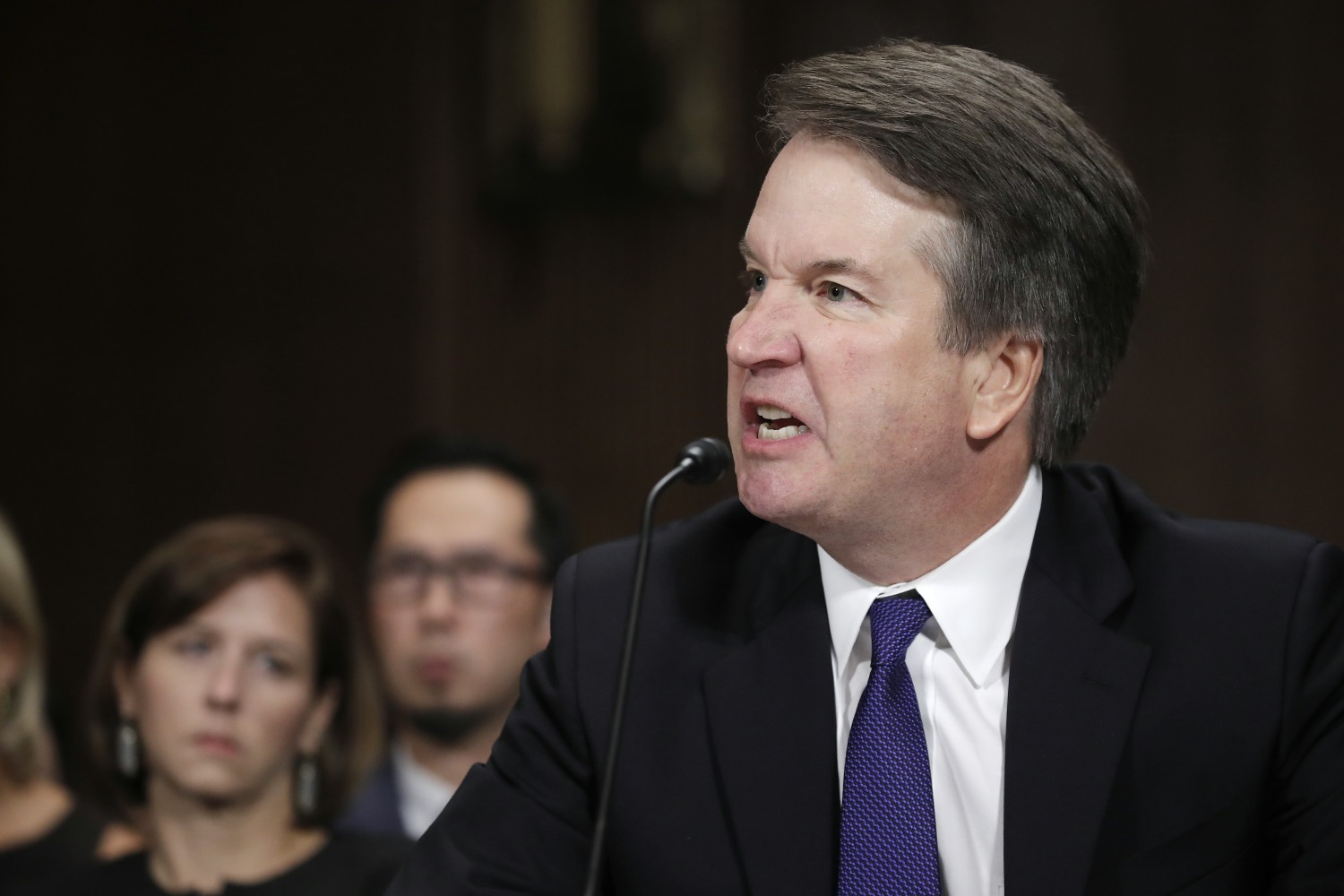 To recap, Supreme Court nominee – and current federal judge – Brett Kavanaugh threw a massive tantrum, an unhinged hissy fit during his hearing on Thursday. He was full of rage, white rage, the rage of a privileged douchebag who has never been questioned or second-guessed, never had to answer for anything. He's spent his whole life being insulated from consequences, insulated by his white skin and by "boys will be boys" and by his family connections and his own connections within the upper-crust worlds of Washington and the Ivy League. He couldn't believe that one of his victims would want to hold him accountable, and he was disgusted that his bros on the Senate Judiciary would have the audacity to listen to Dr. Ford. His bros were full of apologies for it, but still, Brett Kavanaugh rage-stroked and beer-testified his way through it.
Any sentient human being could see that his bluster and rage was part of an increasingly thin facade of lies. He lied about everything. It didn't matter – the Senate Judiciary voted on party lines to move his nomination out of committee, and onto the Senate floor for a vote. Senator Jeff Flake had announced his plan to vote for Kavanaugh before he attended the Judiciary Committee's hearing. It was on his way to that hearing that protesters shamed him. Flake was shook, justifiably so. Those old men thought Kavanaugh's rage was something heroic – wait until they see all of us and how angry we are.
Anyway, as I said, Flake was shamed. He went into a small sidebar conference with Sen. Coons, and afterwards, Flake announced that while he was voting for Kavanaugh to come out of committee, Kavanaugh would not have his vote on the floor unless the Republican senators and the White House authorized a more extensive FBI investigation and delayed the floor vote for a week to allow for the FBI's investigation. It actually worked. Sort of. The senators agreed with Flake's plan, and the White House was put on the spot. Finally, Trump authorized the FBI to investigate. With a catch:
The White House is limiting the scope of the FBI's investigation into the sexual misconduct allegations against Supreme Court nominee Brett Kavanaugh, multiple people briefed on the matter told NBC News. While the FBI will examine the allegations of Christine Blasey Ford and Deborah Ramirez, the bureau has not been permitted to investigate the claims of Julie Swetnick, who has accused Kavanaugh of engaging in sexual misconduct at parties while he was a student at Georgetown Preparatory School in the 1980s, those people familiar with the investigation told NBC News. A White House official confirmed that Swetnick's claims will not be pursued as part of the reopened background investigation into Kavanaugh.

Instead of investigating Swetnick's claims, the White House counsel's office has given the FBI a list of witnesses they are permitted to interview, according to several people who discussed the parameters on the condition of anonymity. They characterized the White House instructions as a significant constraint on the FBI investigation and caution that such a limited scope, while not unusual in normal circumstances, may make it difficult to pursue additional leads in a case in which a Supreme Court nominee has been accused of sexual assault.

The limited scope seems to be at odds with what some members of the Senate judiciary seemed to expect when they agreed to give the FBI as much as a week to investigate allegations against Kavanaugh, a federal judge who grew up in the Washington DC area and attended an elite all-boys high school before going on to Yale.

President Donald Trump said on Saturday that the FBI has "free reign" in the investigation. "They're going to do whatever they have to do," he said. "Whatever it is they do, they'll be doing — things that we never even thought of. And hopefully at the conclusion everything will be fine."
Many legal experts and political-watchers don't even believe the White House forcing a "limited scope" is about any concern that Julie Swetnick's story has some merit. The theory going around is that Trump just loathes Michael Avenatti, Swetnick's attorney, and that's why Trump wanted to limit the FBI's investigation. Of course, there are other theories: Kavanaugh has been in constant contact with White House counsel Don McGahn, and some are wondering if Kavanaugh told McGahn that an investigation into Swetnick's claims could end up turning over some nasty stuff, and McGahn could have easily been the one pulling the strings on the "limited scope."
What I don't understand is this: if the FBI conducts their limited scope investigation and they happen to turn over new leads, new witnesses, new claims of assault and rape and abuse, are they not allowed to logically follow those leads?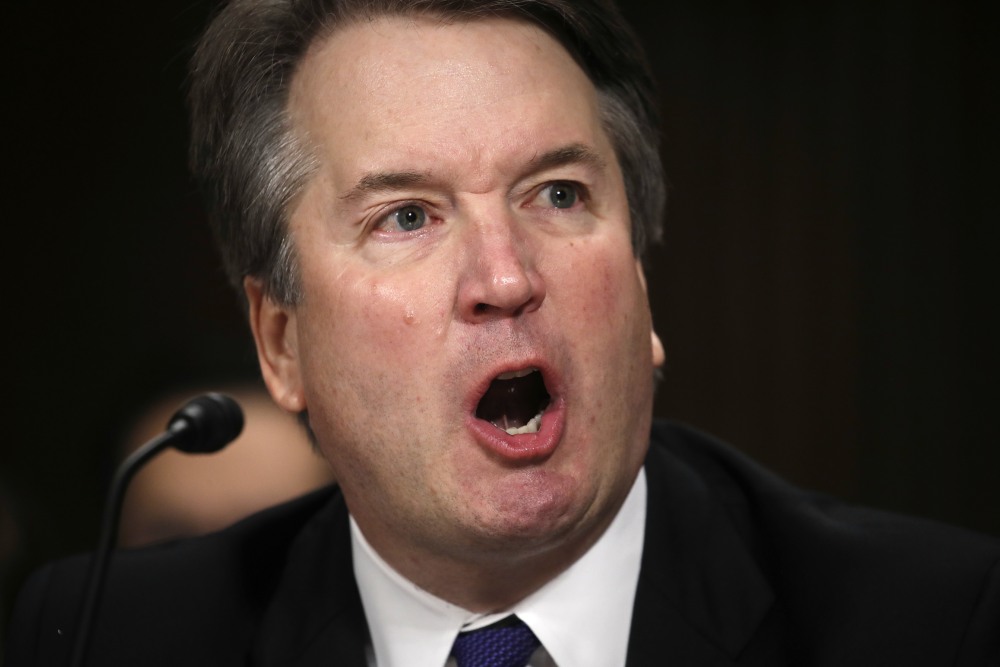 Photos courtesy of Avalon Red.