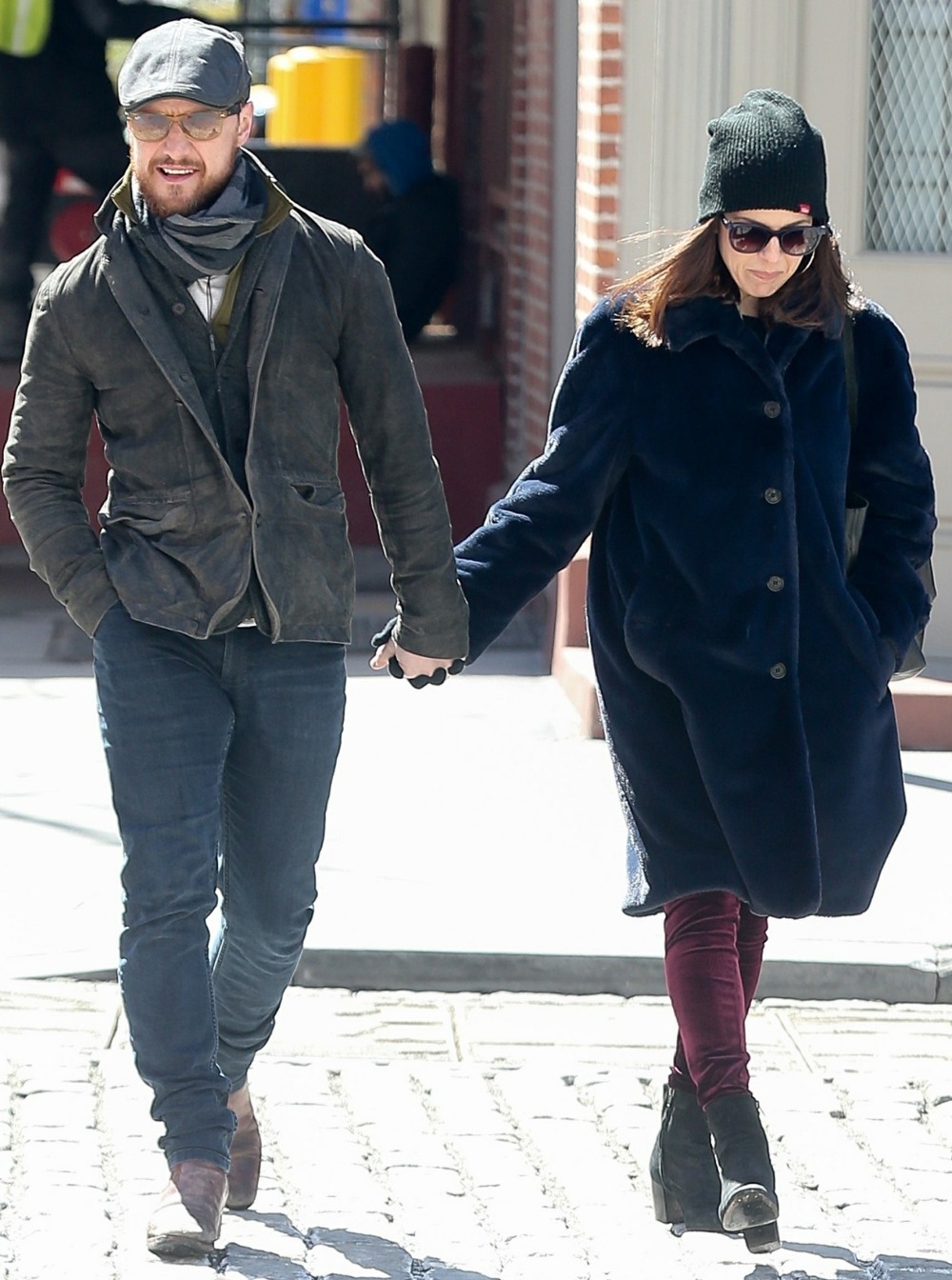 James McAvoy and Anne-Marie Duff announced their divorce in 2016. It was depressing, because they had been together for so long (married for nine years) and because they had a young son. They were a great couple, and there were rumors, but no one made a big deal about those rumors and so I felt like an a–hole whenever I was like "so what is REALLY going on here?" James moved on… quickly. He started dating Lisa Liberati, whom he met while working with M. Night Shyamalan (Lisa was Night's assistant). So… James and Lisa have been together about three-and-a-half years by most accounts. And now it looks like they got secretly married?
Hollywood actor James McAvoy is believed to have married his girlfriend Lisa Liberati in secret after she was spotted wearing a wedding ring. The X Men hunk is reported to have been calling Lisa his "wife" and told how they got hitched just "recently", according to Mail Online. The publication reports how James, 40, who met Lisa, also 40, during his split with ex wife Anne-Marie Duff, had seemingly given the inside track to director Jamie Lloyd, who was overheard saying Lisa visits him in rehearsals. He referred to her as James' wife – apparently letting slip the secret.

Images have additionally shown the Starter For 10 actor standing close to Lisa, who can be seen holding her left hand behind her back with a shimmering ring on her wedding finger. The silver band glistened on her finger as they paid a visit to the film set for Dispatches From Elsewhere. The cute couple were first linked in 2016 when James was shooting Split in Lisa's native Philadelphia.
Let's be real… James McAvoy isn't a tabloid fixture and we can truly go months and months without hearing from him or hearing any gossip about him. It seems on-brand for him to "secretly marry" someone he's been quietly dating for years. So in that sense, I'm not surprised. But I was still like "whoa, he got REMARRIED?" Maybe it's coming out at the moment because James is promoting HBO's His Dark Materials.
Also: James has an Instagram and he posted this Halloween photo of himself and Lisa doing a couple-costume. Hm.
Photos courtesy of WENN, Instagram and Backgrid.