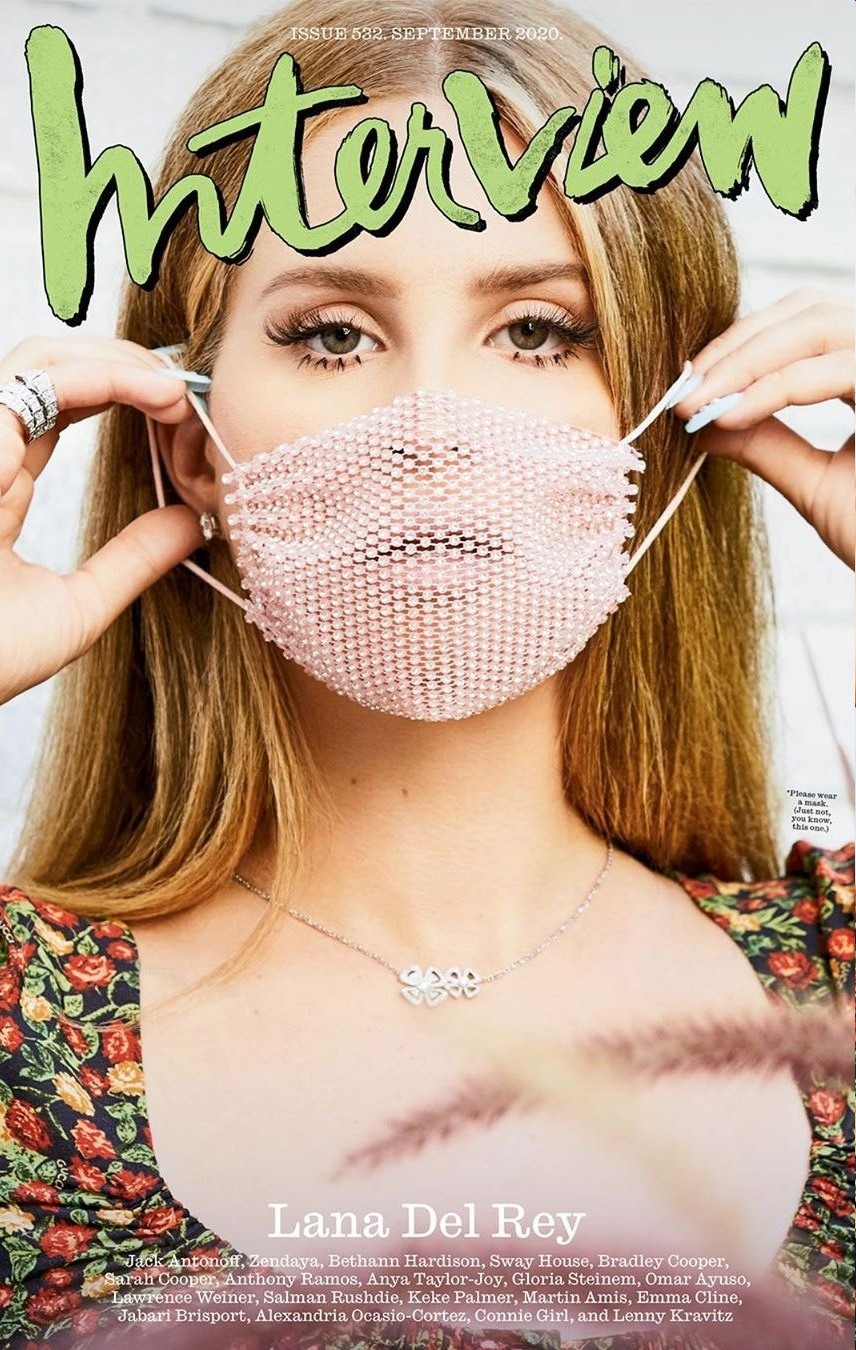 It was back in May when Lana del Rey, arguably a pretty lowkey "celebrity," decided to sow chaos in like seven different fanbases, and then she tried to clean up the mess she created entirely on her own by issuing terrible statement after terrible statement. The point of it, at the end, was that Lana wants to be treated like a delicate white woman and that white fragility needs to be protected at all costs or something. It was a mess, as I said. Thankfully, Lana did go away for a few months after that and I'm not even sure people will really remember it or understand how problematic she was for about one full week. Now she's back with her new album, Chemtrails Over the Country Club, and a new poetry collection, Violet Bent Backwards Over the Grass. To promote both, Lana chatted with Jack Antonoff for Interview Magazine (he produced Chemtrails). You can read the full piece here. Some highlights:
Whether she'll ever leave LA: "I guess I can't because I have all the animals and I have my family. I don't know if I'll do this drive again in a hot minute. The fact that you can be in Kansas in two hours by plane is amazing.

Whether Chemtrails feels more country-folk: "It's funny, the record was Midwestern-sounding before I even went to the Midwest. What's interesting about having a true muse—and it sounds kind of ridiculous—is that you're at the whim of it. When I'm singing about Arkansas, even I'm wondering why. The one way I would describe the Midwest, Oklahoma in particular, is that it's not cooked or oversaturated, and there's still space to catch that white lightning.

The people in her life know her mental health struggles: "They do. Every ex I have, every girlfriend I have, every family member I have, even the ones I don't speak to—they know the ins and outs of why I sometimes catch sheer panic out…. I'll say, "Today was a bad day and it's because of you, and I don't even know you anymore." I don't necessarily think there's much value in doing that—it's just what's true. I don't ever feel bad for saying to someone, "I'm having a panic attack because of what you've done." That's black-belt life, like 3.0. What's insane is that the pandemic has brought up all of these mental health crises and domestic crises that were always there, that I always sang about, that people had so much to say about in terms of, "She's just feigning emotional fragility." And it's like, "Well, not really. You're feigning emotional togetherness despite the fact that you're a wack-job Monday through Friday."

The micro/macrocosm: "I subscribe to the idea that what's going on in the macrocosm, whether it be in the presidency or a virus that keeps us isolated, is a reflection of what's going on in the individual home and inside bedrooms and what people intimately talk about. I think there's been existential panic for a long time, but people haven't been paying attention to it because they've been too busy buying shoes. And shoes are cute. I love shoes. But now that you can't go shopping, you have to look at your partner and be like, "I've lived with you for 20 years, but do I even know you?" You realize maybe you've only ever allowed yourself to scratch the surface of yourself because if you went any deeper, you might have a mild meltdown for no reason, just out of the blue, and no amount of talking could explain why. It's just a part of your genetic makeup. You could just be prone to panic. I think a lot of people are that way. I got a lot of s–t for not only talking about it, but talking about lots of other things for a super long time. I don't feel justified in it, because I'm not the kind of artist who's ever going to get justified. I will die an underdog and that's cool with me. But I was right to ask, "Why are we here? Where did we come from? What are we doing? What happens if this insane, crazy, sci-fi crisis happens, and then you're stuck with yourself, and you're stuck with your partner who doesn't pay attention to you?" I'm not saying it's more relevant than ever, but my concern for myself, the country, the world— I knew we weren't prepared for something like this, mentally. I also think it's a really good thing that we've gotten to this point where we have to bump up against ourselves, because it's not going to be the same when the Beverly Center reopens.
Okay, I know some of us are still mad at Lana and we have our reasons, but I actually found that whole last section really profound? It does feel like we've been skirting around that idea for the past four years, the realization that all of this – imagine me waving my arms around – has been happening at the micro level for years and Trump and the pandemic and the racial justice movement has brought everything to the macro level. That the existential panic inside so many of us was realized and fostered and amplified. Whew. I guess I have to stan?
Cover and IG courtesy of Interview Magazine.