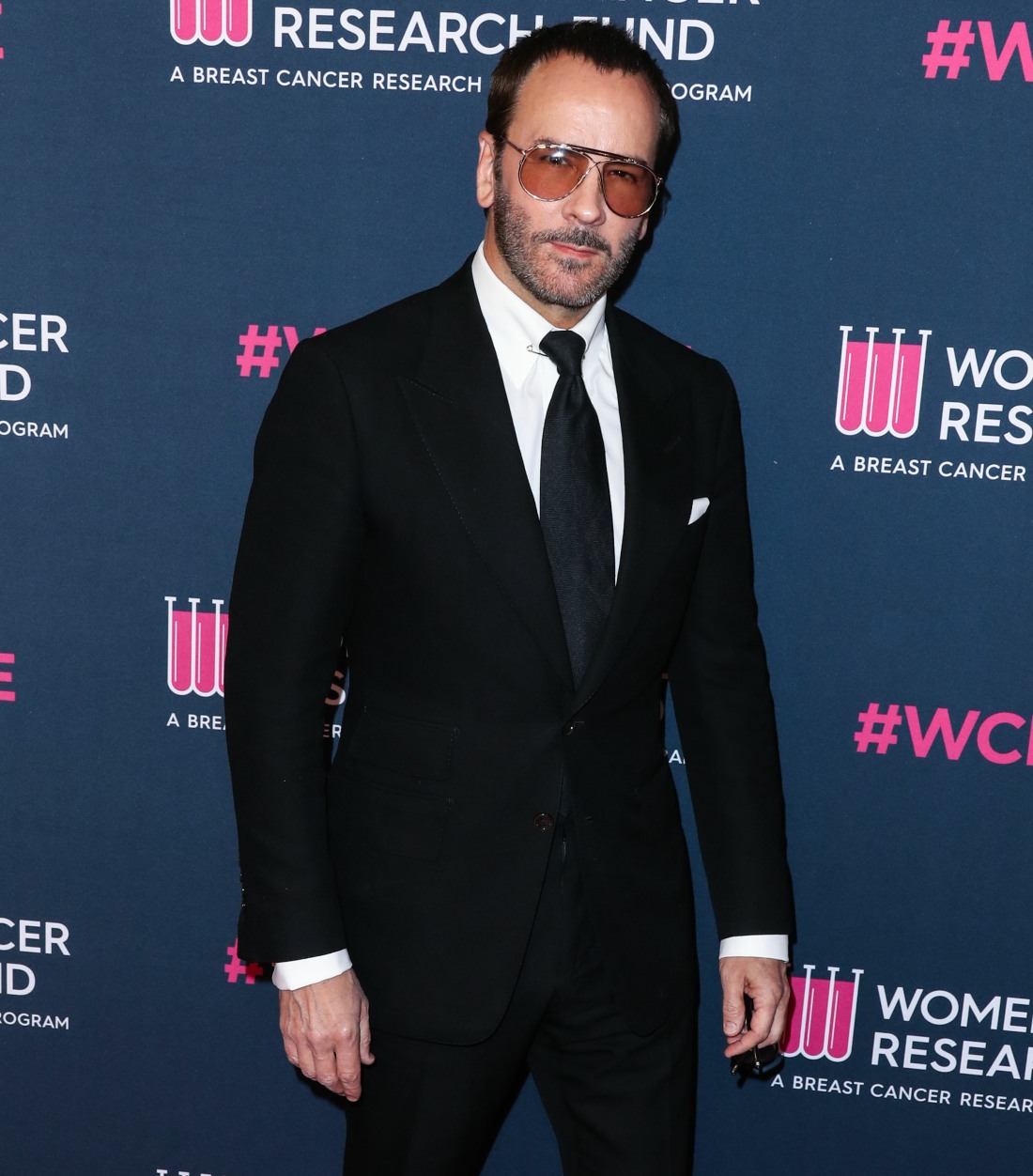 For many, many years, Tom Ford has been one of those fashion people who eschews comfort for himself and other people. I actually think Ford is a brilliant designer and image-maker, but I have to laugh at his persnickety idea of what is and is not tacky? Tacky: flip-flops, children's dinosaur shoes, and Melania Trump. Not tacky: paying $10K for a caftan. But like so many fashion people, the pandemic threw Tom Ford for a loop. He was deeply depressed and feeling like his work didn't mean much in the scope of a global health crisis. He explained in his notes for his latest (spring/summer 2021) collection.
Coronavirus depression almost derailed Tom Ford's latest collection, as the designer thought that introducing new fashions would be 'frivolous' and needless during a worldwide pandemic. In his show notes for his Spring/Summer 2021 collection, Ford, 59, explained that he started working on it when Los Angeles was in 'strict lockdown,' and he was plagued by an attitude of, 'who needs new clothes?'

'When I began working on this collection, we were under strict lockdown. The coronavirus pandemic was in full swing. Social unrest was filling the news every day. I had been wearing the same dirty jeans, jeans shirt, T-shirt, and trainers for weeks. I had not left the house in months. I was irritated when I had a Zoom meeting because it meant washing my hair and perhaps trimming my beard. At the time, the thought of designing a collection seemed frivolous when so many important and disturbing things were happening in our world. Our stores were all closed and fashion itself just seemed like an extravagance. It was hard to focus, to concentrate, to be inspired.'

With his sample rooms in Italy and LA closed, he 'wasn't sure if I could make a collection even if I felt inspired to do so. As this all dragged from spring into the summer and as I think we could all feel a global depression (both financial and psychological) worsening, I thought about skipping the season altogether. After all, when no one can go out of their house, who needs new clothes? If you can't go to the office, why do you need a new suit? If there is not a dinner or a party to go to, why would you need a new dress? And heels seemed absurd altogether. I mean, why would one walk around their apartment in a new pair of heels or sit and homeschool their kids in a pair of jeweled platforms? I feel that honestly fashion should simply go into hibernation for a year.'

But his perspective changed when lockdown started to ease a bit in LA, and he was able to have a couple friends over at a time for an outdoor, socially-distanced meal.

'I think that months and months of looking at people on Zoom with no makeup, dirty hair, and bad lighting have made me long for the indulgence of fill-on makeup,' he wrote. So when styling his models in the new collection, he picked bright, vivid makeup like hot pink lipstick and blue eyeshadow. 'It does, of course, look great on Zoom,' he added. But sadly, Ford concluded, even now the world looks similar to how it did months ago, with the pandemic 'waiting to pounce' and social unrest 'worse than ever.'

'I can only hope that by the time these clothes reach the stores in spring '21, that it will be a more optimistic time. A time when we can all perhaps breathe a sigh of relief and begin to return to our lives as we knew them,' he wrote. 'The global zeitgeist always affects fashion and for me this longing for a hopeful spring translates into somewhat classic, relaxed clothes that make me smile. Clothes to have a bit of fun in.'
I think we tend to think of public figures as relatively unchanging, and even now, six/seven months into the pandemic, we expect athletes and fashion designers and celebrities to just get on with it and adjust and be the same as ever. But the corona-depression is real, and it's okay to just be sad, and to not know how to feel, and to grieve over the hundreds of thousands of lives lost and more. It's okay to let this year change who you are. I just didn't expect it to happen to Tom Ford. That being said, who really is going to buy this stuff right now?
Photos courtesy of WENN.