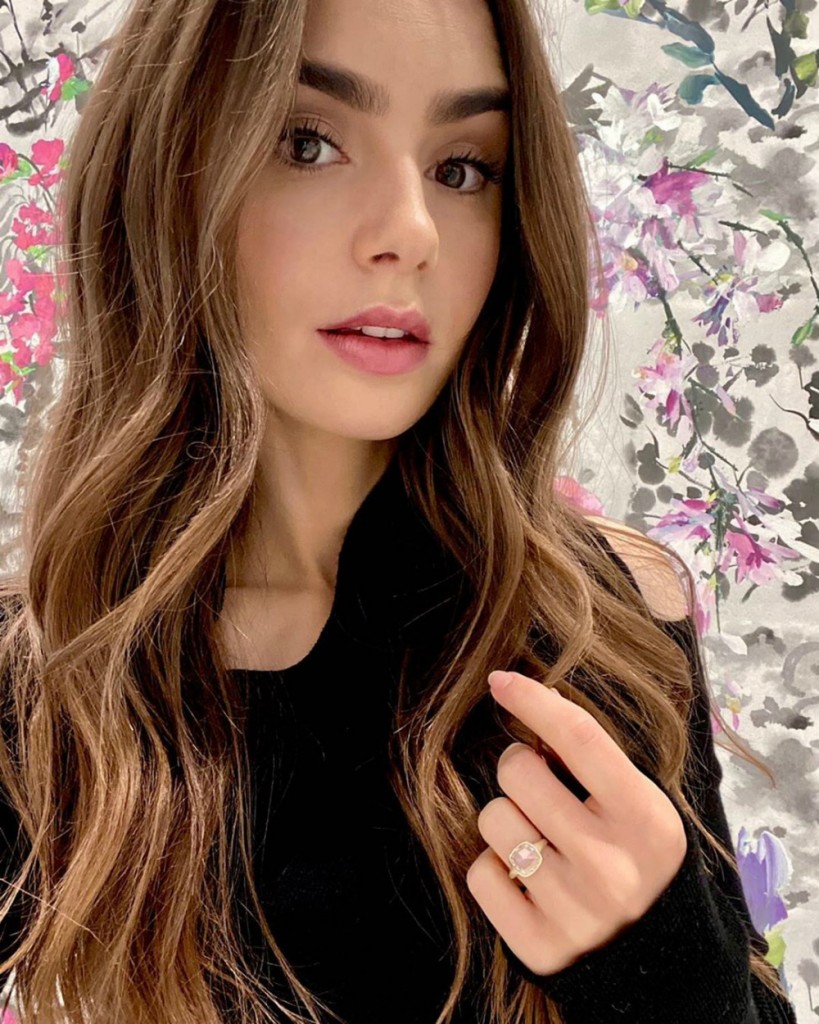 Newly engaged actress Lily Collins is promoting her latest project, Darren Star's Emily in Paris for Netflix. It appears to be a cross between Sex in the City and a fish out of water story – so it's Sexy Fish Out of Water in The City of Lights. It looks cute with flairs of fabulous and very little depth so it might be a good turn off your brain indulgence for quarantine. Quarantine is actually the reason we're discussing Lily today because in her promo for EiP, Lily discussed how she's handling her anxiety during lockdown. Lily has spoken openly about her struggles with anorexia and addressed her complex relationship with her father, musician Phil Collins. However, Lily has grown quite a bit since hitting it in Hollywood and it sounds like she's done a lot of work on herself. Part of that work is reaching out to others to talk about the fact that sometimes, everything is not okay and sharing how she's dealing with it.
(Lily Collins) self-care consists of "a hot bath, a good cup of tea and podcasts," she says. "It's definitely been a series of highs and lows. But if I can be in a room with no distractions with the people that I love and have a moment when I can laugh, that's when I'm happiest."

She's also come to terms with any anxiety she's felt. ″As a human being I'm constantly evolving and growing and I'm going to have insecurities,″ says Collins. ″We're being thrown these unprecedented situations as a global experience that if we just stay open and willing to embrace what's happening and embrace our emotions and express them and share with other people, I think we'll all feel less alone in our struggles.″

Collins routinely shares her own journey with her social media followers. ″Even as someone who has written about it, I still experience moments of course where I'm going, 'Oh my God, I have so much anxiety. I'm really stressed,' ″ says the actress, whose 2017 book Unfiltered: No Shame, No Regrets, Just Me, revealed her battle with an eating disorder.

″The second I have a conversation about how I'm feeling and someone else goes, 'Oh, God. Yeah. I was feeling that way as well.' Even if the situation is different but the emotions are the same, you can connect as humans and go, 'Okay, we're all going through this and therefore I can learn and grow from the situation and feel supported and support someone else in it and it's not as scary as it may seem,″ she says. ″I just think to encourage that is so powerful."
My parents came from the school of keep your problems at home, so that's how I was raised, I guess. We talk to each other openly, but if anyone outside the family asks, we are always "fine." Most of the time, I don't actually want to talk about it, but sometimes, I just don't want to bother the people asking, which I realize is totally on me. However, like Lily, I've become much more honest during quarantine with my friends. Every time I say where my head is, they respond in kind. It's great that Lily is taking this topic public on social media. She's going to reach someone going through the same thing, like she said. And I think everyone could use some virtual hand-holding during this experience.
Like Lily, I am trying to be better about self-care. About a month ago, I promised CB I would try to work more meditation into my routine. She helped me find a few ways that worked with my mindset that I've been trying, with some success too. It hasn't erased my quarantine anxiety, but when I get overwhelmed, I have new tools to help me calm down or restore my breathing. Oya's Saturday yoga sessions have helped with that too. Again, it all came about because we talked about where we were emotionally and physically in this bizarre period of history. So speak up if things are getting to you right now because we really are all going through this together.
Here's the trailer for Emily in Paris: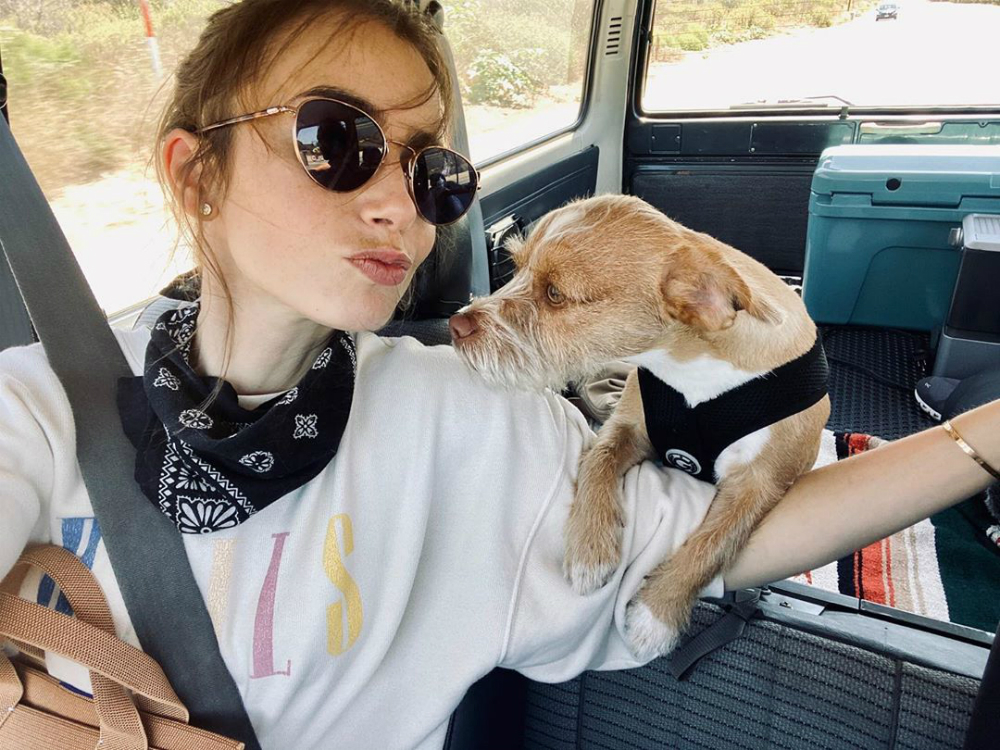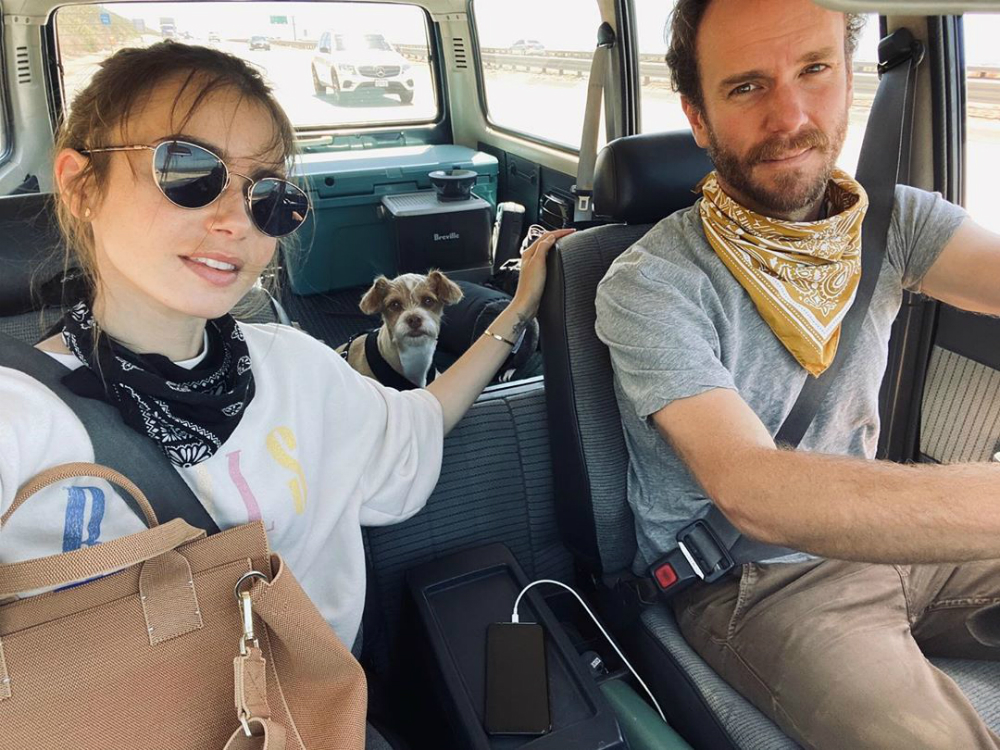 Photo credit: Instagram