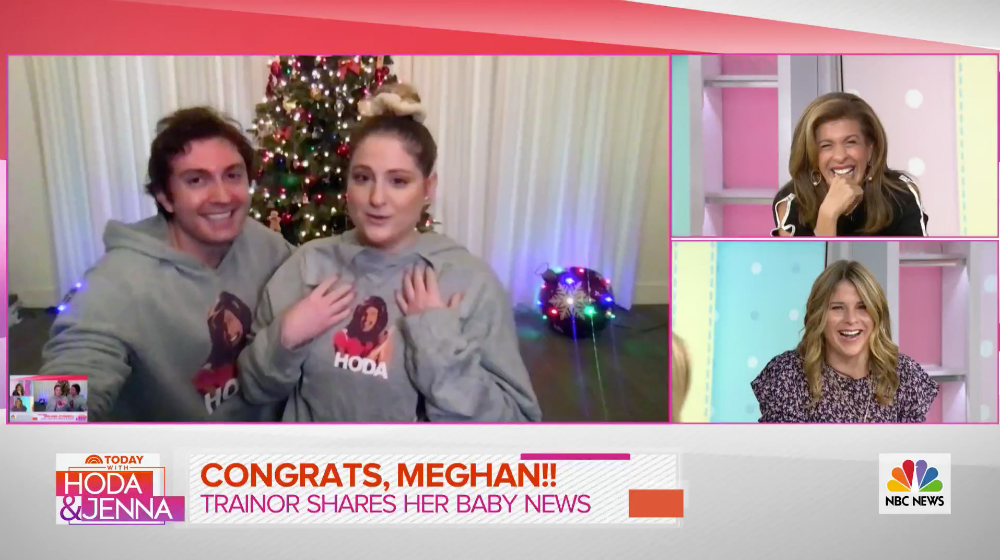 How about some happy news to kick off our Thursday? Singer Meghan Trainor is pregnant! During the fourth hour of Today, Hoda and Jenna got a phone call that they claimed was a surprise. I apologize, I can never get my act together enough to watch morning TV – is this a new thing for Hoda and Jenna, the surprise call in? It's pretty cute if so. Anyway, the phone rang and when they answered it, Meghan appeared on the video dressed in a Hoda sweatshirt her manager designed, with a Christmas tree and oversized ornaments behind her. Obviously Meghan is promoting her new Christmas album, A Very Trainor Christmas that drops October 30th. However, before getting into full album promo, Meghan had some bigger news she could not wait to announce – she's expecting her first baby with husband Daryl Sabara. Meghan and Daryl have been together for four years, married since 2018. Meghan has been talking about wanting tons of kids since she was 19 (according to her) and now that she is finally having one, she and Daryl are absolutely besides themselves.
All about that baby!

Meghan Trainor and Daryl Sabara are expecting their first child together, the couple announced Wednesday during an appearance on the Today show.

"I'm very good as you can tell — it's all Christmas here," the mom-to-be teased, adding, "But there's other news that I'm dying to tell you and my heart's pounding out of my chest."

As Trainor says, "Hit it, Daryl," her husband proudly reveals, "We're pregnant!"

"We're so excited we couldn't sleep," says Trainor. "We've been waiting for so long. I was thinking about who do we tell first and I've told Hoda since I was 19, going to the Today show, 'I will have the most babies in the world.' "

She adds, "Every time I see you, I'm like, it's going to happen — and it finally happened!".
[From People via Just Jared]
You can watch Meghan's segment on Today here – it's very sweet to see how over the moon they are about the baby. It's was just the right dose of optimism I needed when I watched it. Meghan told Hoda she was just over "halfway done," so she's probably due in February. That works out well because her Christmas album push will be over, and she can spend a full two months nesting and focusing on the baby. I'm curious, when last we checked in with Meghan, she and Daryl were living with her brothers. I wonder if that will change once the baby comes. On the one hand, free-babysitting, should we ever get out of quarantine. On the other hand, that is a lot of activity for a new mom. Her family is so close, though, I'm sure they'll find a way to make it work.
After Meghan made her big announcement on Today, she posted an announcement to her IG, and once again, tied it is with her Christmas album (Meghan told Hoda and Jenna her favorite things were "a baby, my husband and Christmas – my family"). I love how excited she and Daryl are and lord knows I understand how exciting baby announcements are. If I am being honest, ultrasound photos – as magical as they are – freak me out a little. I'm happy for them, but I just don't know how to feel about this one Photoshopped onto a Christmas tree. Although, since the album comes out the day before Halloween, maybe this is just the right note? Again, Congratulations to everyone, this is lovely news!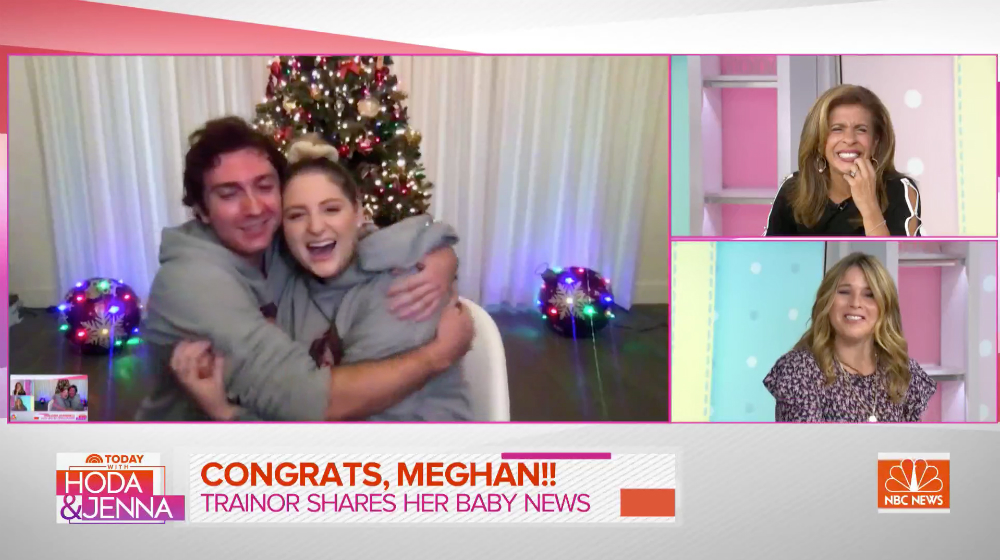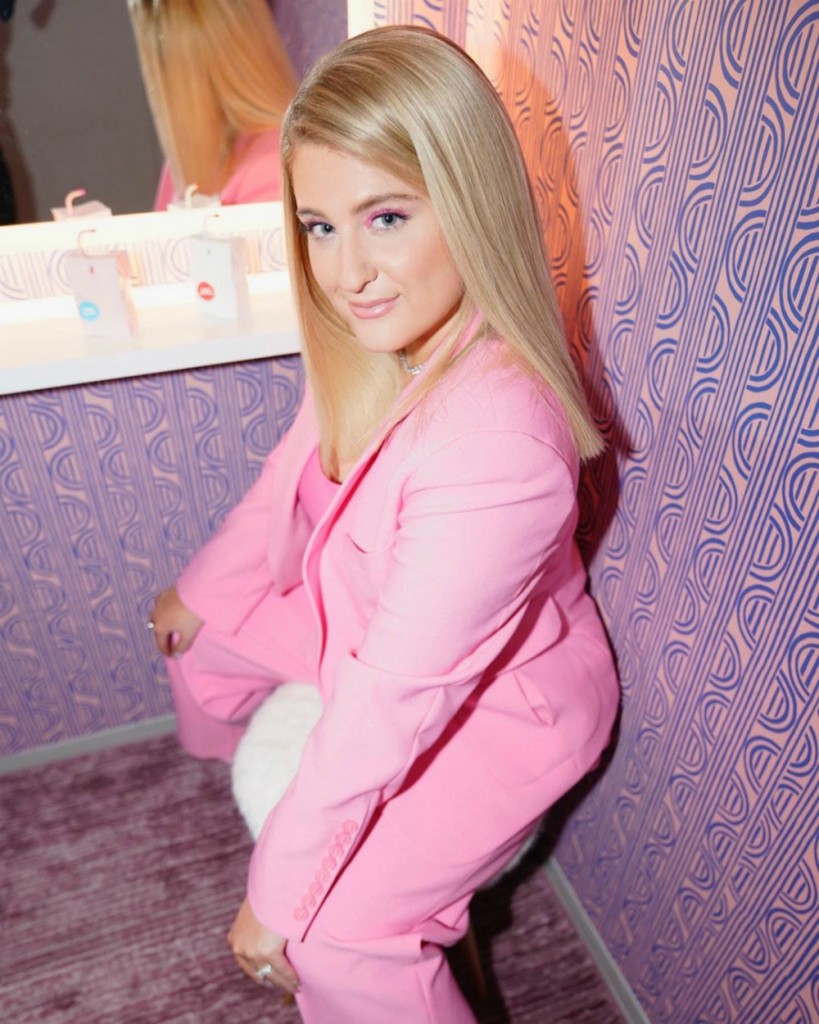 Photo credit: Instagram and Today