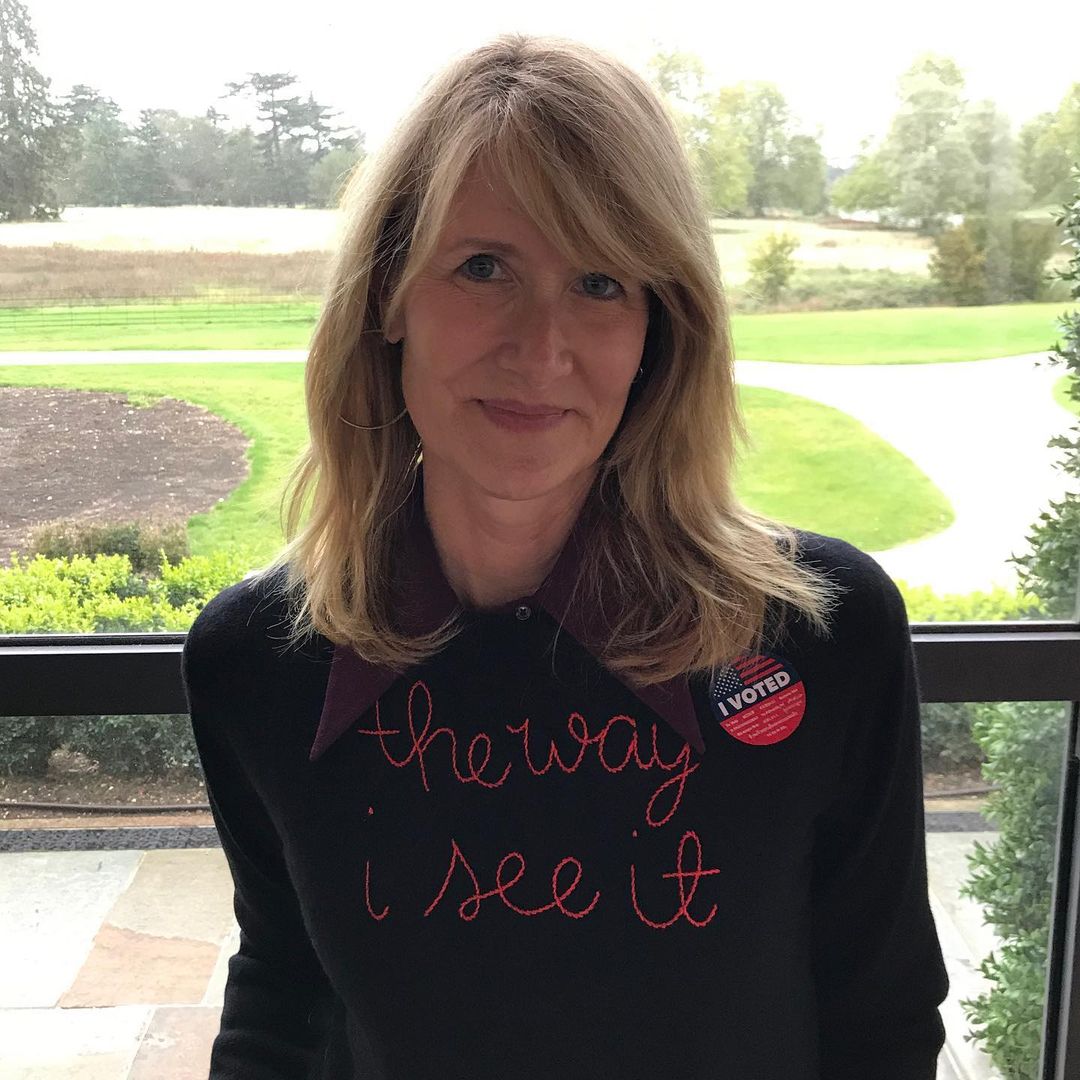 Last month, I covered a story about Jessica Chastain representing an at-home mail-in coronavirus test from a company called Let's Get Checked. (Sidenote Ava on Netflix sucks.) It's a swab test, the less invasive lower nasal kind, and they mail you a kit so you can send in a sample to get tested. I ordered one after having mild symptoms. (They did not give me an incentive or contact me about it.) We were able to get free community testing instead. My son and I were both negative thank goodness, so the test is still sitting in my closet. At $119, it's not something I can afford to get regularly, but celebrities can and some are probably getting them for free along with being paid to endorse them. Laura Dern is one of those people. She said she and her kids are tested regularly so they can visit Laura's elderly parents Bruce, 84, and Diane, 85. Bruce and Diane split in 1969 and both have remarried other people. Laura has son Ellory, 19, and daughter Jaya, 16, from her marriage to Ben Harper. I'm giving all this background because there are a lot of people involved, including young people, which makes more chances for infection. Laura told People that she takes covid very seriously because she's known people who had to be hospitalized and that she lost a friend to it.
After losing a friend to the virus and seeing others people become severely sick, the Oscar-winning actress takes COVID-19 "very seriously."

"I've had friends who are on ventilators, who pulled through. I've known people of all ages who've been very sick. And we had one beautiful friend and artist who, who lost his life to it," Dern, 53, tells PEOPLE. "So we certainly take it very seriously as, I pray at this point, everyone globally does."

Dern is urging people to follow "essential" health precautions to prevent the spread of COVID-19, from mask-wearing to social distancing to regular testing.

"These are all essential," she says, "but a mask really matters. It has really saved lives."

Those precautions have helped Dern ease her anxiety about staying healthy, particularly as she continues to care for her mother, actress Diane Ladd, who is now 85 and particularly high-risk due to a lung condition. Dern and her two kids, daughter Jaya Harper, 16, and son Ellery Harper, 19, regularly get tested for COVID-19 so they can visit Ladd and Dern's father Bruce, who both live nearby her home in Los Angeles.

"Testing has been vital, so that I can check on them and bring them food and give them community," she says. "People still need community. I feel blessed that I have people that need me to take care of them. I think that serves us and makes us stronger somehow, that we need to be strong for others."

Dern has been using LetsGetChecked, an FDA-approved, at-home COVID-19 testing kit that she learned about when Jurassic World: Dominion resumed filming this summer and she needed to be tested regularly. Now a spokesperson for the brand, Dern believes that this and the other at-home medical options that have cropped up since the start of the virus, like telemedicine visits, will stick around after the pandemic.
I used this company for a thyroid test and a female hormone test, which were not covered by insurance. They had a sale on Cyber Monday making the cost similar to seeing my doctor and getting these tests with insurance. It's not comfortable, you have to prick your finger and squeeze enough blood to fill a small vial. (Again, this is not the process for a covid test, that's an easier swab.) The thyroid test took a full week to get back to me after it was marked as received, but they claim they give covid results in 24 to 72 hours. (My thyroid is fine, who knows why my hair is falling out.) I haven't gotten the hormone test back because I had to take it during my cycle. These tests are good in theory, but nothing replaces social distancing and mask wearing, even around family. So much can happen in a few days, and given my experience with this company I'm skeptical of their supposed turnaround time. Results from my two covid tests, at urgent care and community testing, each took three days total. Even if I could afford it I would not use testing to decide whether to visit people unmasked. Doctors emphasize that testing is just a moment in time and that you may have the virus at undetectable levels or you may get it in the window before you get a result.
Soon we'll be able to test ourselves at home and receive results in minutes.Three different rapid at-home coronavirus tests, similar to pregnancy tests, have received emergency FDA approval. One, by Lurica, will require a prescription, is expected to be around $50 and won't be available until the spring. Another, by Ellume, is around $30, doesn't require a prescription, and will start being available in limited quantities in January. Abbott's BinaxNOW is getting the most buzz because they will be able to ship millions to consumers soon. Some schools and nursing homes have already been using them. They're $25 for the average consumer and $5 per test for schools and nursing homes. To order one you have to have a prescription and use an app. These are all antigen tests, which are less reliable than PCR tests from a lab. I got most of this information from this Washington Post article, which has more about expected insurance reimbursement.
It's complicated but thankfully we're about to get a lot more options for testing. What's clear is that until you and the people you're seeing are vaccinated, there is absolutely no substitute for mask wearing and social distancing. I worry that these tests give people the idea that they can be reckless. It only takes one person and a few minutes of time.
Laura recorded this video announcing her partnership. That dress and brown turtleneck combo are quite fug.