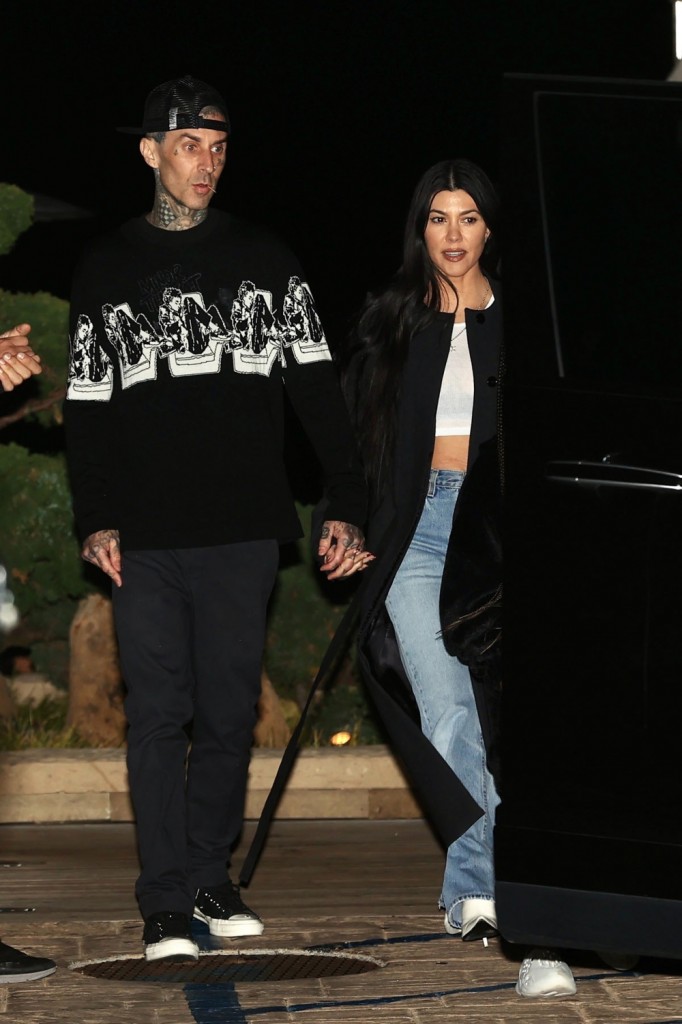 Happy belated Mother's Day to anyone who acknowledges it out there. As will surprise no one, the Kardashians like to make a big deal about Mother's Day. They make a big deal about everything so why should Mother's Day be an exception? In this case, it's a little odd. Travis Barker, as you may remember, bought his girlfriend, Kourtney Kardashian, a monument of flowers for her birthday last month. Kourtney had everyone come by and see it, including sister Kim. They all dutifully posted it to social media so everyone could see how much Travis lurved Kourtney. Since it worked so well the first time, Travis did the same thing for Mother's Day, only this time with colorful roses and peonies. He ordered two large displays rather than gardenias "falling" from the roof. But Kourtney is not Travis' mother. Nor is she the mother of his kids.
Kourtney Kardashian is feeling the Mother's Day love thanks to her boyfriend Travis Barker.

On Sunday, the Keeping Up with the Kardashians star, 42, celebrated with her three children — sons Reign Aston, 6, and Mason Dash, 11, and daughter Penelope Scotland, 8½ — whom she shares with ex Scott Disick.

And Barker wanted to make sure his girlfriend felt extra special on the holiday. Kardashian shared clips of the multiple bouquets of multi-colored roses and peonies she received from the drummer.

Posting the massive floral displays on her Instagram Story, the mom of three walked around an area of her house to show off all the flowers she was gifted.
Don't get me wrong, there are no rules on who can get whom a Mother's or Father's Day gift. I'm commenting more on how ostentatious this is for a M-Day gift. Especially considering both his ex and the mother of his children, Shanna Moakler, and Kourtney's ex and the father of her kids, Scott Disick, supposedly are having a hard time adjusting to this relationship. All I'm saying is I think the gift was more to show off than with any real sentiment behind it. Kourtney posted a shot of herself and Kris Jenner as her M-Day post on Instagram. On her IG stories, she posted some pics of herself and her kids as babies, followed by the glamour shots of Travis' floral displays. Nothing about the kids' gifts or cards. Maybe they were too special to share, but this it's the Kardashians we're talking about. They share everything. I have this image of poor Reign walking out with some pockmarked clay bowl he made in art class and a hand painted card when he sees this flower edifice in the front foyer. Of course it'd be worse if one of the kids spent the morning collecting wildflowers in a jelly jar.
I suggest you take my word about what is an is not on Kourt's Instagram because if you wander over there, you'll see a lot more than you bargained for. Kourt and Travis have been broadcasting their love for all to see. The latest entry is a desert trip they took that involved several breaks for them to pause and make out. I can't post those shots because they were barely dressed in most of them. I am dying to know who the poor bastard is that had to follow them around and photograph these impromptu loved-up moments. If they're happy, great. But all these flowers and kiss-cam moments seem more for our benefit than theirs.
Photo credit: Instagram and Backgrid