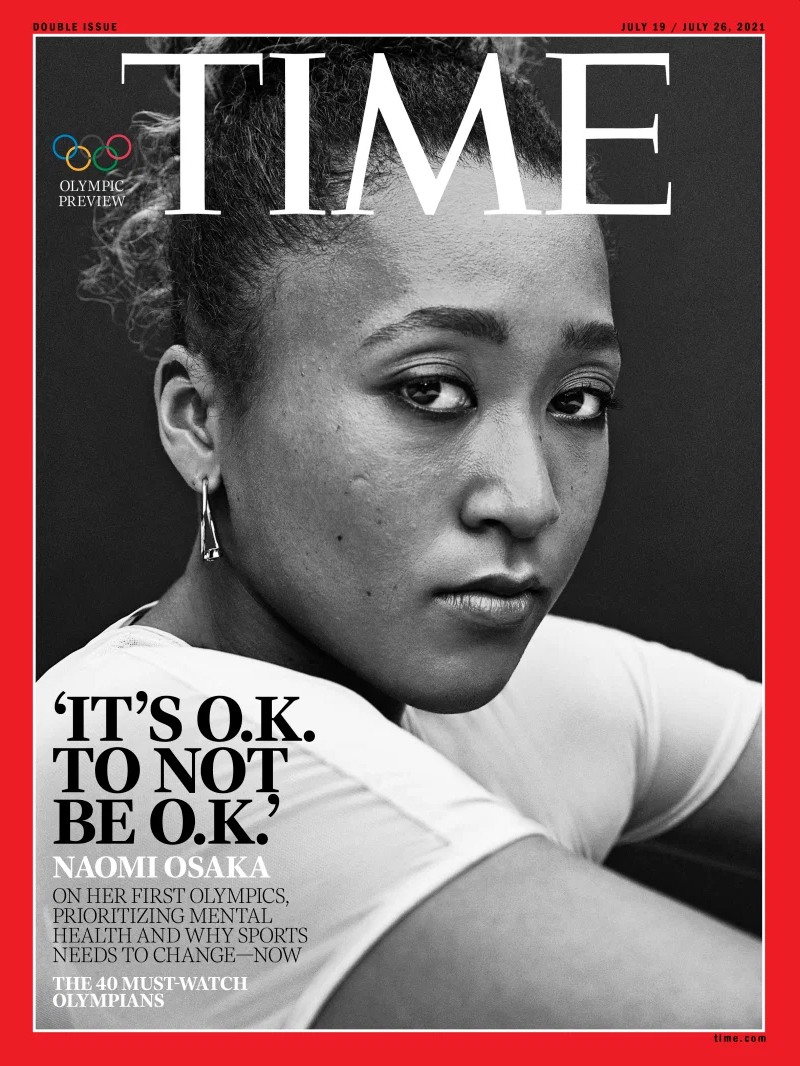 Naomi Osaka covers the latest issue of Time Magazine and she's written a personal essay about sports and mental health. In May, a few days before the start of the French Open, Osaka announced on her social media that she would not participate in the press conferences which are mandatory for players (especially top players) at tennis tournaments. In her first statement, she said that "people have no regard for athletes' mental health and this rings true whenever I see a press conference or partake in one…We're often sat there and asked questions that we've been asked multiple times before or asked questions that bring doubt into our minds and I am not going to subject myself to people who doubt me." She said she would pay whatever fines the tournament gave her for missing the mandatory pressers but she hoped the money would go to a mental health charity.
To say that Osaka's first statement set off a firestorm would be an understatement. Osaka played her first match at the French then didn't do her first-round press conference. The French Open fined her, and the four majors released a joint statement basically saying "these are the rules, and if you or any player continues to disregard the rules, you could be disqualified from the tournament or suspended from the tour." In response, Naomi's sister Mari Osaka wrote a Reddit post which absolutely made it sound like the Osaka family was conflating mental health with "don't ask me questions about why I'm bad on clay." And after all of that, Naomi withdrew from the French Open, claimed she would never trivialize mental health, and she said she has a history of depression. A few weeks later she withdrew from Wimbledon as well. She plans to play the Tokyo Olympics, and this Time cover is sort of an Olympic preview. You can read Osaka's full essay here. Some highlights:
The first lesson she's learned: "You can never please everyone. The world is as divided now as I can remember in my short 23 years. Issues that are so obvious to me at face value, like wearing a mask in a pandemic or kneeling to show support for anti-racism, are ferociously contested. I mean, wow. So, when I said I needed to miss French Open press conferences to take care of myself mentally, I should have been prepared for what unfolded.

Second lesson: "It has become apparent to me that literally everyone either suffers from issues related to their mental health or knows someone who does. The number of messages I received from such a vast cross section of people confirms that. I think we can almost universally agree that each of us is a human being and subject to feelings and emotions. Perhaps my actions were confusing to some because there are two slightly different issues at play. In my mind they overlap, and that's why I spoke about them together, but let's separate them for the sake of discussion.

She hates press conferences: "This was never about the press, but rather the traditional format of the press conference. I'll say it again for those at the back: I love the press; I do not love all press conferences. I have always enjoyed an amazing relationship with the media and have given numerous in-depth, one-on-one interviews. Other than those super-stars who have been around much longer than I (Novak, Roger, Rafa, Serena), I'd estimate that I've given more time to the press than many other players over recent years. I always try to answer genuinely and from the heart. I've never been media-trained, so what you see is what you get. The way I see it, the reliance and respect from athlete to press is reciprocal.

She wants sports media to be "Less subject vs. object; more peer to peer." "Upon reflection, it appears to me that the majority of tennis writers do not agree. For most of them, the traditional press conference is sacred and not to be questioned. One of their main concerns was that I might set a dangerous precedent, but to my knowledge, no one in tennis has missed a press conference since. The intention was never to inspire revolt, but rather to look critically at our workplace and ask if we can do better.

A personal day: "I communicated that I wanted to skip press conferences at Roland Garros to exercise self-care and preservation of my mental health. I stand by that. Athletes are humans. Tennis is our privileged profession, and of course there are commitments off the court that coincide. But I can't imagine another profession where a consistent attendance record (I have missed one press conference in my seven years on tour) would be so harshly scrutinized. Perhaps we should give athletes the right to take a mental break from media scrutiny on a rare occasion without being subject to strict sanctions. In any other line of work, you would be forgiven for taking a personal day here and there, so long as it's not habitual. You wouldn't have to divulge your most personal symptoms to your employer; there would likely be HR measures protecting at least some level of privacy.

Under pressure to disclose: "In my case, I felt under a great amount of pressure to disclose my symptoms—frankly because the press and the tournament did not believe me. I do not wish that on anyone and hope that we can enact measures to protect athletes, especially the fragile ones. I also do not want to have to engage in a scrutiny of my personal medical history ever again. So I ask the press for some level of privacy and empathy next time we meet.
I absolutely agree that no one should be pressured to disclose their medical or psychological issues to the media or their employers. That being said, the issue of feeling like she was under pressure to disclose is a bit more complicated than she admits. She was the one who made the initial public statement about her mental health, on her social media. When the French Open officials tried to speak to Osaka privately, they were (by their account) blocked from doing so. She chose to make all of this a public issue from the beginning, even when there were a lot of different options for her, many of them private. You can't start a public conversation about your personal mental health and the role and function of the sports media and then expect people to not talk about it, or ask you any for any specifics, or any clarification, or literally any follow-up questions?
Naomi also thanks a number of people for getting in touch with her before and after she withdrew from the French, including Michael Phelps and the Duchess of Sussex. There was this really awful moment where Piers Morgan was attacking Naomi (because he wanted attention) and a lot of people were bringing up his treatment of Meghan.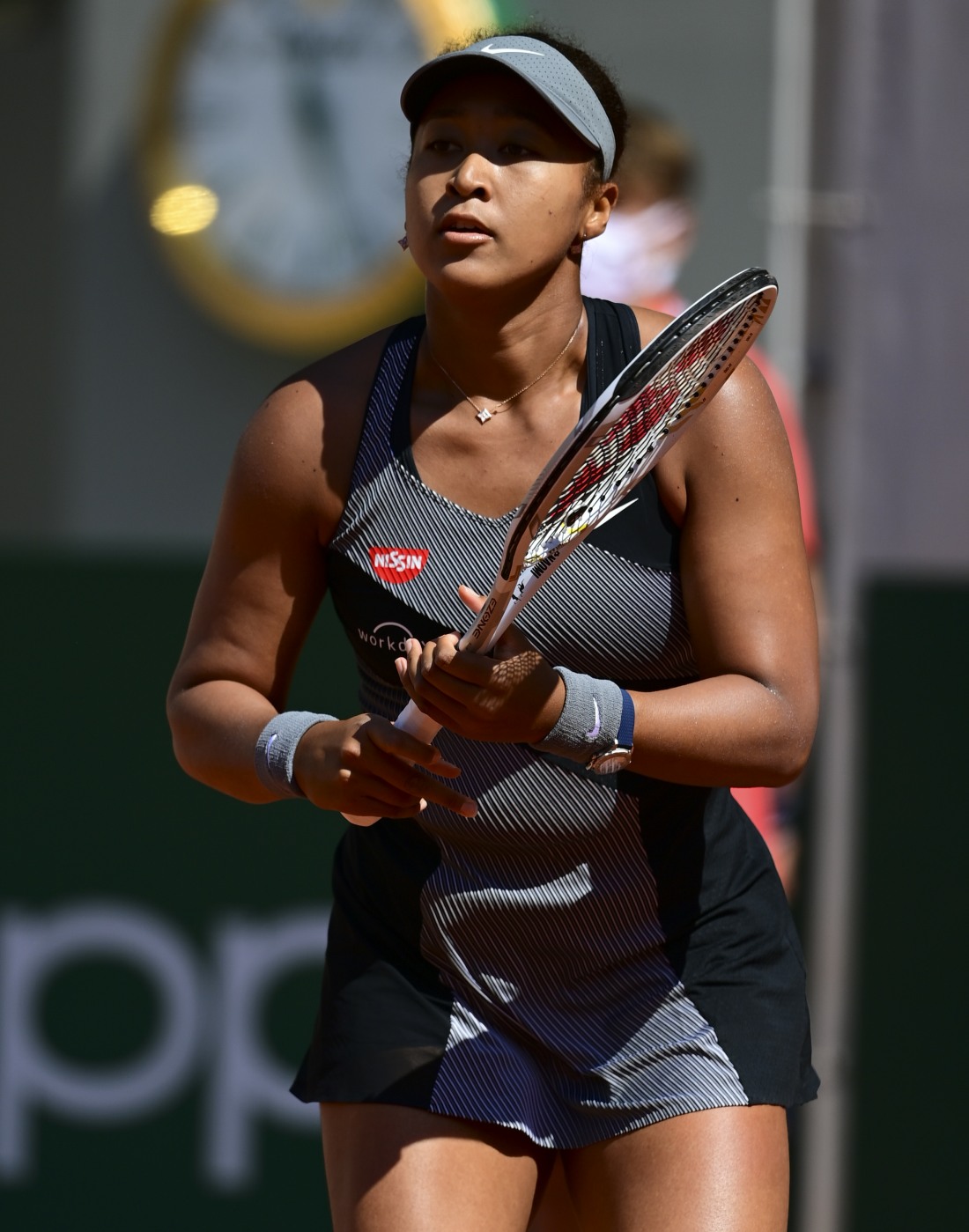 Photos courtesy of Avalon Red, cover courtesy of Time.