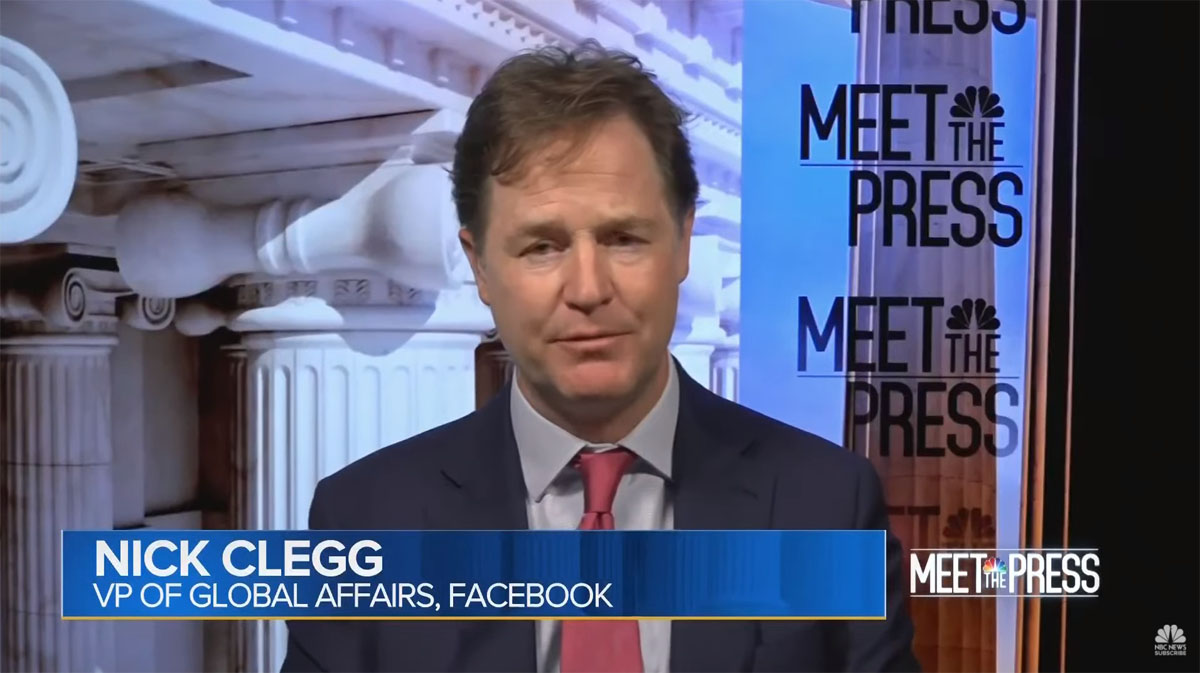 Last week, Facebook whistleblower Frances Haugen spoke to 60 Minutes and testified in front of Congress. She had worked in the civic integrity department, which was dissolved after the election, paving the way for the January 6th insurrection. Haugen handed over internal documents to the government, detailing how Facebook favored growth, profit and engagement over truth and mental health. Facebook knows that Instagram can be damaging to mental health for teens, particularly girls, and that was part of the reason they planned to put out a version for teens, which they've since put on hold. Facebook, Instagram and WhatsApp experienced a six hour outage last Monday as well, which they claim was due to an update gone wrong. Founder/CEO Mark Zuckerberg issued an explanation for the outage with a defensive and wordy response to Haugen. He refused to admit to any issues and claimed they've done everything they can, basically.
Facebook has now sent their VP of Global Affairs, Nick Clegg, out to do damage control. I watched his segment on Meet The Press (here's a link to that) and surprise – he's an old white British man. Like Zuckerberg he doesn't admit to any problems whatsoever and uses a "we can't please everyone/both sides" argument. He listed off the things that Facebook has done to curb hate speech as if they haven't been enabling white supremacy, racism, vaccine misinformation and frankly genocide for over a decade. It's ok because they're going to implement a "please take a break" notification like Netflix though. Here's CNBC's report on some of the things Clegg said on Sunday. He talked to other news outlets as well, this isn't all from his NBC interview.
Facebook will implement new tools to divert users away from harmful content, limit political content and give parents more control on teen Instagram accounts, the company's vice president of global affairs, Nick Clegg, told several morning news shows Sunday.

Though Clegg did not elaborate on the specifics of the tools, he told ABC's "This Week" that one measure would urge users who are on Facebook's platform Instagram for long periods of time to "take a break." Another feature will nudge teens looking at content harmful to their well-being to look at something else, he said.

Clegg also said the company's planned Instagram Kids, a service for children 13 and younger the company recently paused, is a part of the solution.

"We have no commercial incentive to do anything other than try and make sure that the experience is positive," Clegg said. "We can't change human nature. We always see bad things online. We can do everything we can to try to reduce and mitigate them."

Clegg's media appearances come in response to the Senate testimony of whistleblower Frances Haugen on Tuesday. Haugen, who leaked internal Facebook documents to The Wall Street Journal and Congress, told a Senate panel that the company consistently puts its own profits over users' health and safety.

The leaked documents spurred a series of stories by the Journal that revealed that the company is aware of several problems — including that it knows Instagram is detrimental to the mental health of teenagers — but either ignores or does not resolve them.

The company will begin sending data on content it publishes every 12 weeks to an independent audit, Clegg told ABC, because "we need to be held to account."

As congressional leaders call for more transparency from the tech giant on user privacy, Clegg urged lawmakers to step in.

"We're not saying this is somehow a substitution of our own responsibilities, but there are a whole bunch of things that only regulators and lawmakers can do," he told NBC's "Meet the Press." "And at the end of the day, I don't think anyone wants a private company to adjudicate on these really difficult trade-offs between free expression on one hand and moderating or removing content on the other."
The article goes on to say that Haugen is set to speak to Facebook's oversight board, which is a start. It's surely not going to be adequate with a-holes like this running the company. Zuckerberg has surrounded himself with people who will uphold his vision of making boatloads of cash at the expense of humanity. He's got the unique perspective of a privileged white man who doesn't care about "politics" because it has never affected him.
In his Meet the Press interview, Clegg threw out numbers showing that Facebook has allegedly worked on the issue of "hate speech." He stated that Facebook has over 40,000 employees reviewing content (watch this video for more on how that's run, but trigger warning) and that they spent 13 billion on moderating content which is "more than Twitter's total revenue for the last four years." Twitter has its own issues and their new "this discussion may get heated" warnings tend to target people of color, but it's infinitely better at not spreading deadly misinformation during a pandemic. Also, and I'm just shooting from the hip here, maybe Twitter has gauged their growth more carefully and decided not to provide a platform for hate just to make a handful of people obscenely rich.
As for the the quote in the title, Facebook can't "change human nature," but they can certainly predict it and not capitalize on it to the detriment of society.
Also did you see this?