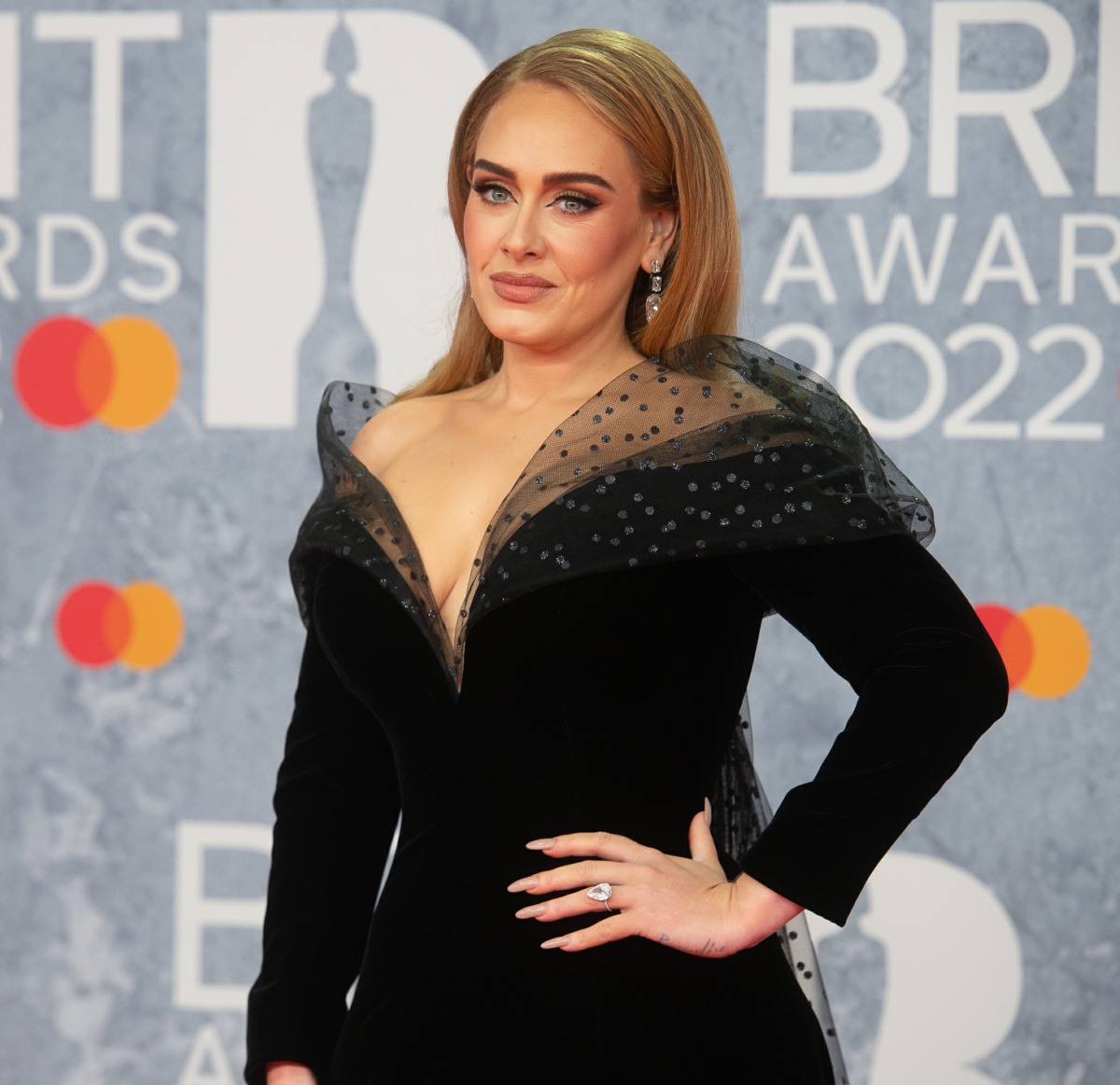 Some of us have been saying that the vibe is weird around Adele these days. She doesn't seem happy, and it feels like she's about to make yet another big life change. Over the past month, she canceled her Las Vegas show at the last minute, she was reportedly sobbing on the phone to Rich Paul constantly when she was in Vegas, she escaped Vegas to go back to LA, and then she turned up at the BRIT Awards wearing a huge pear-shaped diamond ring. After the BRITs, Adele stopped by Graham Norton's show and she was still wearing the same diamond ring on her left-hand ring finger. Graham even asked her about it and Adele was basically like "as if I would ever tell anyone if I was or wasn't" engaged. When Graham said "as a casual observer, it looks like you are!" Adele laughed and said "alright!" She also said she wants to have a baby next year.
So the vibe is that she wants everyone to think that she's very serious about Rich Paul, that they're likely engaged and she wants a baby next year. Crash-cut to the NBC All-Star game this past weekend and Adele and Rich were sitting courtside. She wasn't wearing that pear-shaped diamond ring, replacing it with what looked like a simple diamond band on her left-hand ring finger. She looked somewhat glum. I honestly & truly believe that Rich has told her to cool it with the ring games and all of that. She has been way too melodramatic about it!
Meanwhile, Adele did reschedule her Vegas show – people will now be able to see her June through September.
Chuck wants a duet with @Adele 😂#NBAAllStar pic.twitter.com/5byAoC5b9I

— NBA on TNT (@NBAonTNT) February 21, 2022
Adele can't wait to get out of Cleveland https://t.co/DIgpK4PK7B

— warriorsworld (@warriorsworld) February 21, 2022
.@Adele and @RichPaul4 at #NBAAllStar pic.twitter.com/uHLJx8fUi8

— GQ Sports (@GQSports) February 21, 2022
Adele and Rich Paul pose for the camera at the All-Stars game in Cleveland, Ohio.

📸: Nathaniel S. Butler pic.twitter.com/di1WJMlHNp

— Adele Photos (@PhotosofAdele) February 21, 2022
Photos courtesy of Avalon Red, Instar.