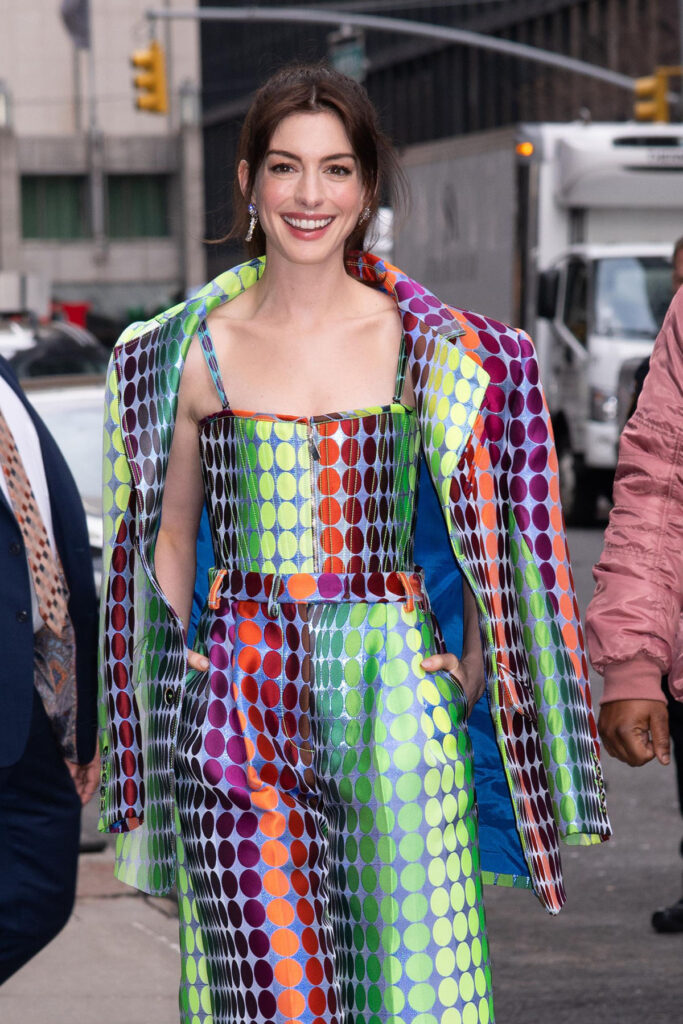 Apple TVs limited series, WeCrashed premieres tomorrow. It's about Rebekah and Adam Neumann who founded WeWork. Anne Hathaway plays Rebekah opposite Jared Leto's Adam and she's out doing the press rounds for it. She's been killing it sartorially, too. The rainbow three-piece suit above is from Christopher John Rogers 2022 Resort collection. It's so fun. Anne wore that to The Late Show with Stephen Colbert. She wore an equally colorful skirt set to speak with Hoda Kotb on TODAY. They were so excited to have an in-person interview together, it was sweet. During their discussion, Hoda and Anne talked about the series, of course, but they also talked about the pandemic and being a mom and how each has shaped her life.
On the pandemic and confidence
It's so significant to be back with people. In moments like this I used to let my nerves get the best of me. During the pandemic [I learned] you can't give your life away anymore. You've got to get through that. You've got to be OK with whoever you are during that moment. You don't want to miss anymore. [Confidence] is something you have to learn. You have to figure out how to be at peace with yourself.

On being a mom and how that affected her professional life
Logistics – how are we doing, what are we doing, who needs what and do we have a sandwich? There's so much joy. I feel like they bring an innate purpose to everything. I could go on about it, but it also leaves me a little speechless. We're really lucky, it's something I've always wanted and I'm so lucky that it happened to me.

On working with Jared Leto and if he ever broke character
Not once [did he break character]. I've never seen anything like it. I was fascinated by his process. We had to build a connection. If that's what worked with him then it worked for me. Whenever we had to discuss [a scene] I wouldn't call him Jared I would [call him by his character's pet name]. I was really inspired working with him.
I understand what Anne is saying about not letting nerves getting the better of us. Unfortunately, since the pandemic, it's the opposite for me. I'm more unsure of myself around people than ever. I very much feel Anne's comments about not wanting to "miss anymore." I do feel like so much passed by and I need take in everything that's safe to do so. As for the kid stuff, I'll be completely honest, I didn't totally understand what Anne was saying with "kids bring an innate purpose to everything." Hoda does, if you watch it, so I recognize this is on me. And it's clear Anne is speaking to her experience. I did understand the logistics comment, however, and yes, I wholly agree. I kind of thrive on logistics, though. That saved me, especially when mine were babies and nothing else made sense (which I guess explains why I don't understand their innate purpose to everything).
Like many of you, I am not a big Jared Leto fan. And it sounds like he was ultra-Jaredy on the WeCrashed set – staying in character the entire time. But from the clips he looks like he'll be amazing in it. Both he and Anne do. My husband is fascinated with the WeWork story, so he wants to see this, and I've been drawn in by the trailers. I've been let down with the biopocs I've watched lately so I hope this one holds up to my expectations.
This dress is from SXSW. Not loving Anne's hair but the dress is lovely:
Embed from Getty Images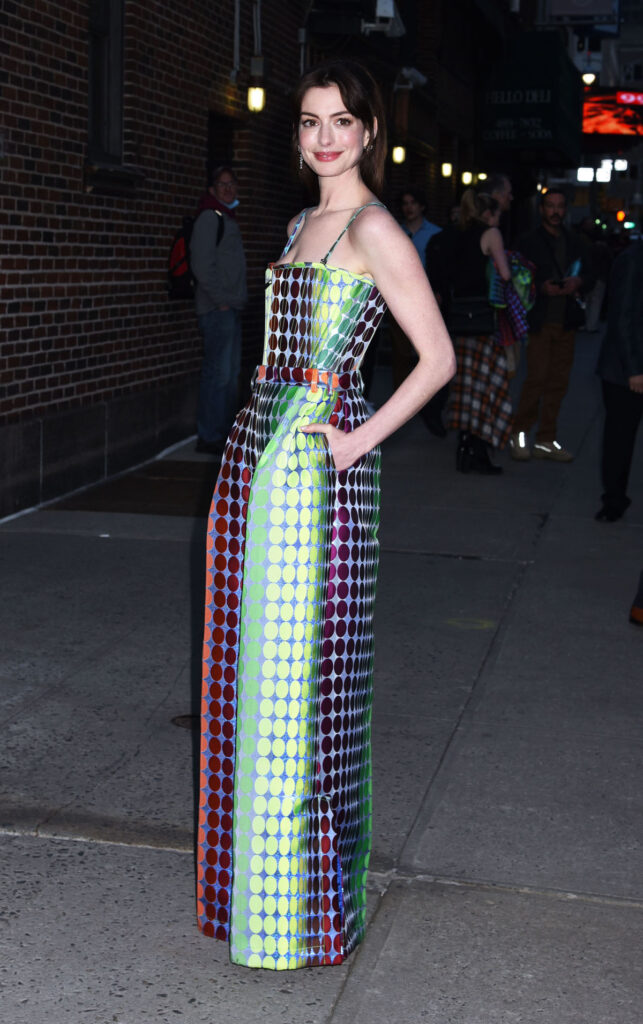 – New York – NY – 20220315 – Anne Hathaway Arrives to Late Show with Stephen Colbert Show Ed Sullivan Theater, NY – Anne Hathaway – Janet Mayer/Startraksphoto.com – – This is an editorial, rights-managed image. Please contact INSTAR Images for licensing fee and rights information at sales@instarimages.com or call +1 212 414 0207. This image may not be published in any way that is, or might be deemed to be, defamatory, libelous, pornographic, or obscene. Please consult our sales department for any clarification needed prior to publication and use. INSTAR Images reserves the right to pursue unauthorized users of this material. If you are in violation of our intellectual property rights or copyright you may be liable for damages, loss of income, any profits you derive from the unauthorized use of this material and, where appropriate, the cost of collection and/or any statutory damages awarded
Anne Hathaway at The Late Show With Stephen Colbert on March 15, 2022 in New York city.,Image: 671050228, License: Rights-managed, Restrictions: , Model Release: no, Credit line: Darla Khazei / Avalon
Anne Hathaway at The Late Show With Stephen Colbert on March 15, 2022 in New York city.,Image: 671050232, License: Rights-managed, Restrictions: , Model Release: no, Credit line: Darla Khazei / Avalon
Photo credit: InStar Images and Getty Images