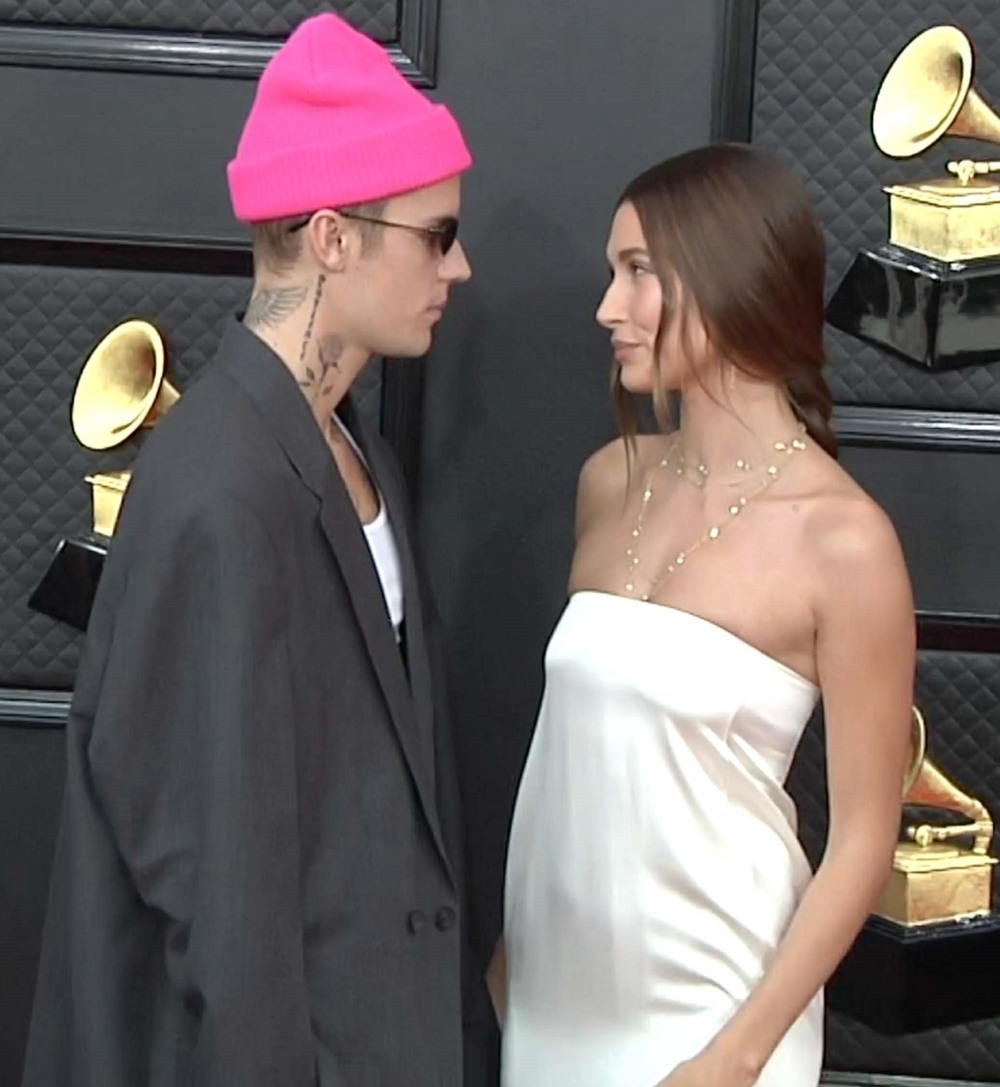 I was genuinely surprised to see so many people "bump watching" Hailey Bieber at the Grammys on Sunday. She wore a slouchy Saint Laurent sack dress which was droopy and unflattering. Plus, Hailey's posture sucks. All of that added up to Hailey looking like she had a small bump. People then started asking her if she was knocked up, and her reaction was completely normal:
Hailey Baldwin wants fans to know she's not pregnant. The model took to Instagram on Monday to slam rumors claiming she's expecting her first child with husband Justin Bieber after the two attended Sunday's 2022 Grammys together.

"I'm not pregnant leave me alone," Hailey commented on an Instagram post from Radar, which was headlined, "FANS ARE CONVINCED HAILEY BIEBER IS PREGNANT AFTER SHE WALKS GRAMMYS RED CARPET IN FLOWING GOWN WITH HUSBAND JUSTIN BIEBER."

In addition to speculation that Hailey's loose-fitting Saint Laurent dress was selected to conceal a potential pregnancy, some fans also believed that a post on her Instagram Story hinted at a possible bun in the oven.

"So proud of you and the Justice album," Hailey wrote atop a photo of her kissing Justin at the MGM Grand Garden Arena in Las Vegas. "What an incredible year it's been! So much to celebrate."
Yeah, y'all know that I get pregnancy vibes with celebrities as much as the next person, but I'm trying to not scream "pregnant" at every sack-dressing woman. GROWTH! No, but seriously, I don't think she's preg. I think the Saint Laurent didn't fit her properly and maybe she's a little bit bloated or something. I believe her and I believe we should leave her alone! She just got out of the hospital three weeks ago because of a blood clot too.
Also, a few months ago, Hailey covered an issue of WSJ. Magazine and they asked her about when she wants a Bieber baby. Hailey was super-noncommittal:
Whether she's thinking about getting pregnant this year: "I think ideally in the next couple of years we would try. But there's a reason they call it try, right? You don't know how long that process is ever going to take…. Definitely no kids this year; that would be a little bit hectic, I think. There's this thing that happens for women when you get married. Everybody always assumes it's: First comes love, then comes marriage, then comes the baby. Well, what about all the things I want to accomplish in my business? I think I had it ingrained in my head that I was going to want to have kids right away and I was going to want to have kids super, super young. Then I turned 25 and I'm like, I'm still super, super young!"
[From WSJ. Magazine via previous CB post]
I was surprised at the time that she was so firm on "no babies in 2022" but hey, good for her for knowing that she's not into it this year. I do think so much of this is because there were so many expectations that she would get pregnant right away after she and Justin married.
Some photos of Hailey at the Vanity Fair Oscar party, nine days ago.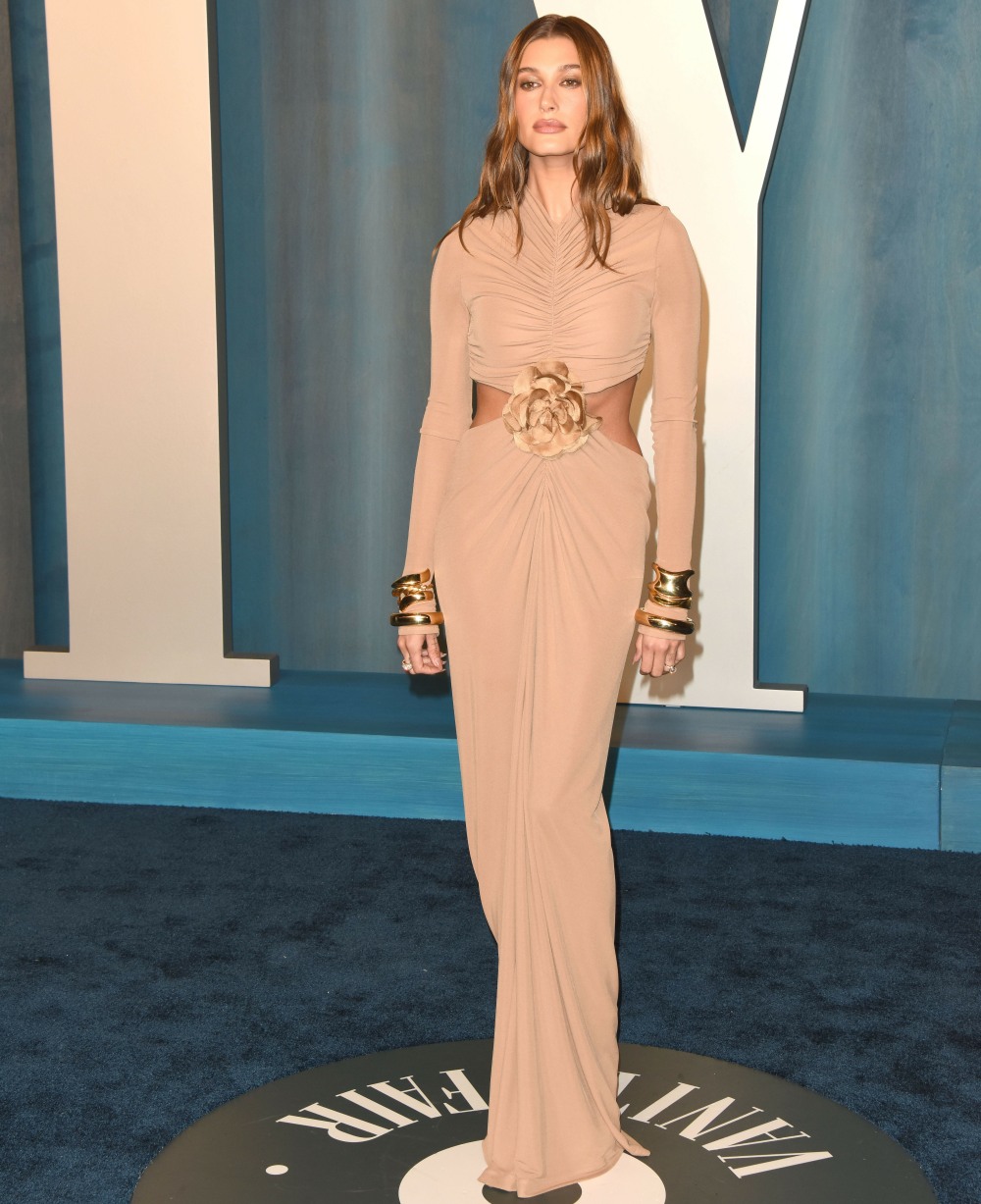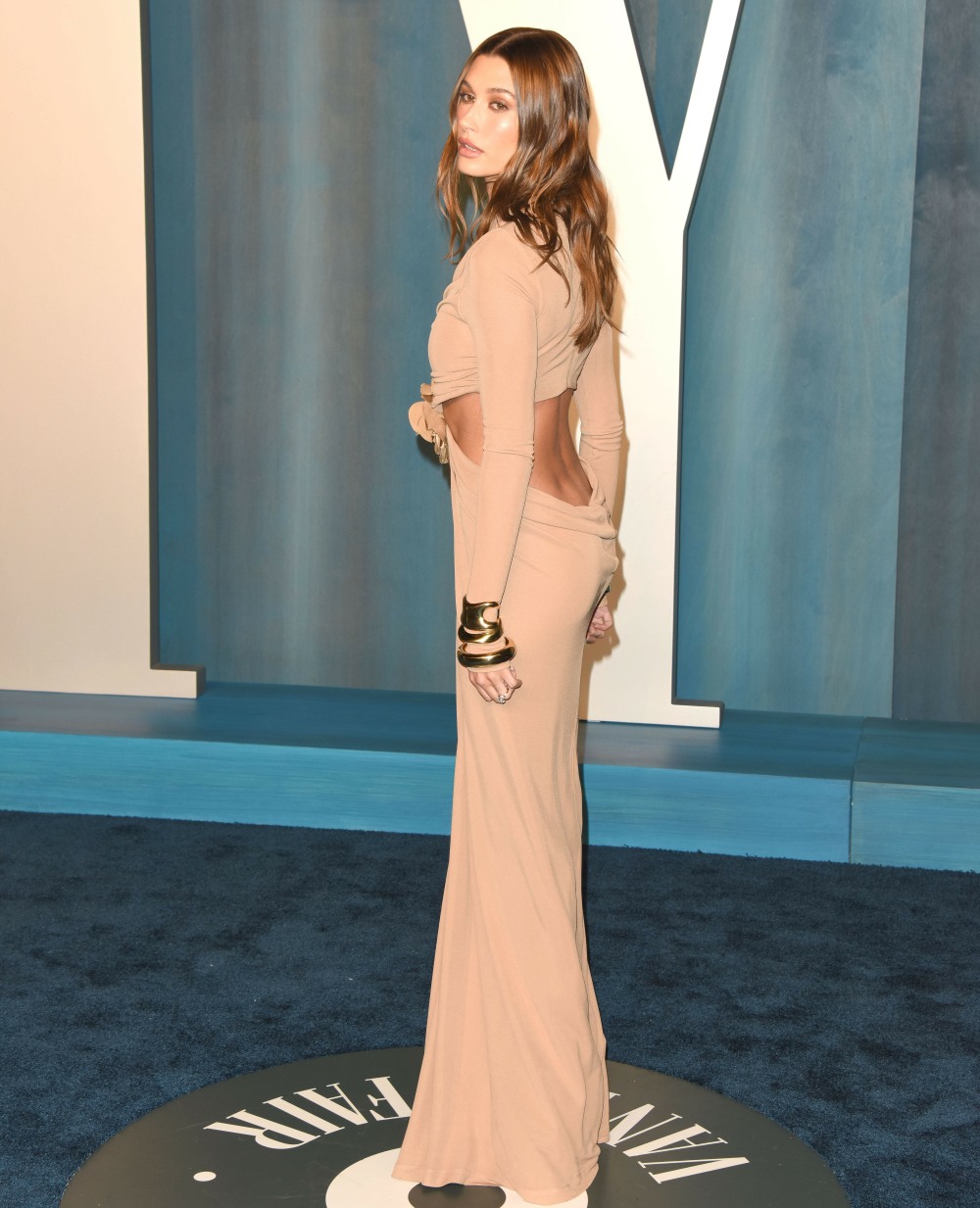 Photos courtesy of Backgrid, Getty, Avalon Red.