Tessa Thompson is starring as Valkyrie in Thor: Love and Thunder, which requires zero promotion. It's fun to see her on talk shows anyway and she's also in season four of Westworld. Tessa was on Jimmy Kimmel Live, guest hosted by Sean Hayes. A lot of the conversation was about Thor stuff, which was fun. They had a great rapport and kept it light. Full disclosure: I watch all the Marvel movies but my memory and background knowledge are limited. On Kimmel they played a clip featuring Chris Hemsworth, Natalie Portman and Tessa, and I didn't even recognize Natalie until they talked about her afterwards! I honestly mistook her for a blonde Queen Maeve on The Boys, played by Dominique McElligott. (Of course I know Natalie is in it but it didn't compute.) Tessa talked about how she and Natalie got buff and how they used CGI and special platforms/"decks" to make Natalie's character seem like she was taller. As mentioned in the title, they opened by talking about their dogs. This is one of my favorite subjects. Here's some of what they said.
On her Buzzfeed puppy interview
I had one interview in NY that was really fun. I wish I could make that a prerequisite for all interviews, it was with puppies. Buzzfeed does these things and they bring puppies. They were really big and they were peeing and they were pooping. I have scratches.

On her dog
I have a dog named Coltrane. He's part chihuahua… and Australian kelpie. My issue is I like big dogs, but the size of the poop is relative to the size of the dog. If I had a husband he would just do the poop.

On Natalie Portman's transformation
We all worked out together. [Natalie] got so buff. Also in the film they make her like 6'3″. Movie magic but also they have to build these decks for her so when she would have walking scenes there'd be risers that she would be on. Deck in a New Zealand or Australian accent sounds like something else. It was six months of deck jokes.

On taking ice baths and being competitive on set
It's invigorating. You body goes into kind of shock, but once you get out you feel awake. I'm a competitive person. The guys were in the gym and they'd talk about how hard it was [to take ice baths]. Chris was like 'I finally got up to three minutes.' I was like 'I'm going to get up to four.'
[From Jimmy Kimmel Live on YouTube]
Tessa's puppy interview is not yet available but Chris Evans' puppy interview is out! (Just FYI, and I'm sorry Hecate.) I'm finally moving somewhere I can have a dog so I'm trying to figure out what kind of dog I want. I'm like Tessa in that I want a larger dog but not one whose poo is so big it's a pain to pick up. Kaiser and I talked about this on the podcast in March. I want a dog that's medium sized, somewhat protective and doesn't shed too much so I'm looking into different breeds. Luckily my mom and my aunts are also doing research for me. I'm not kidding they will talk about dogs all day.
Here's Tessa's interview!

This outfit is bonkers! She's so cute.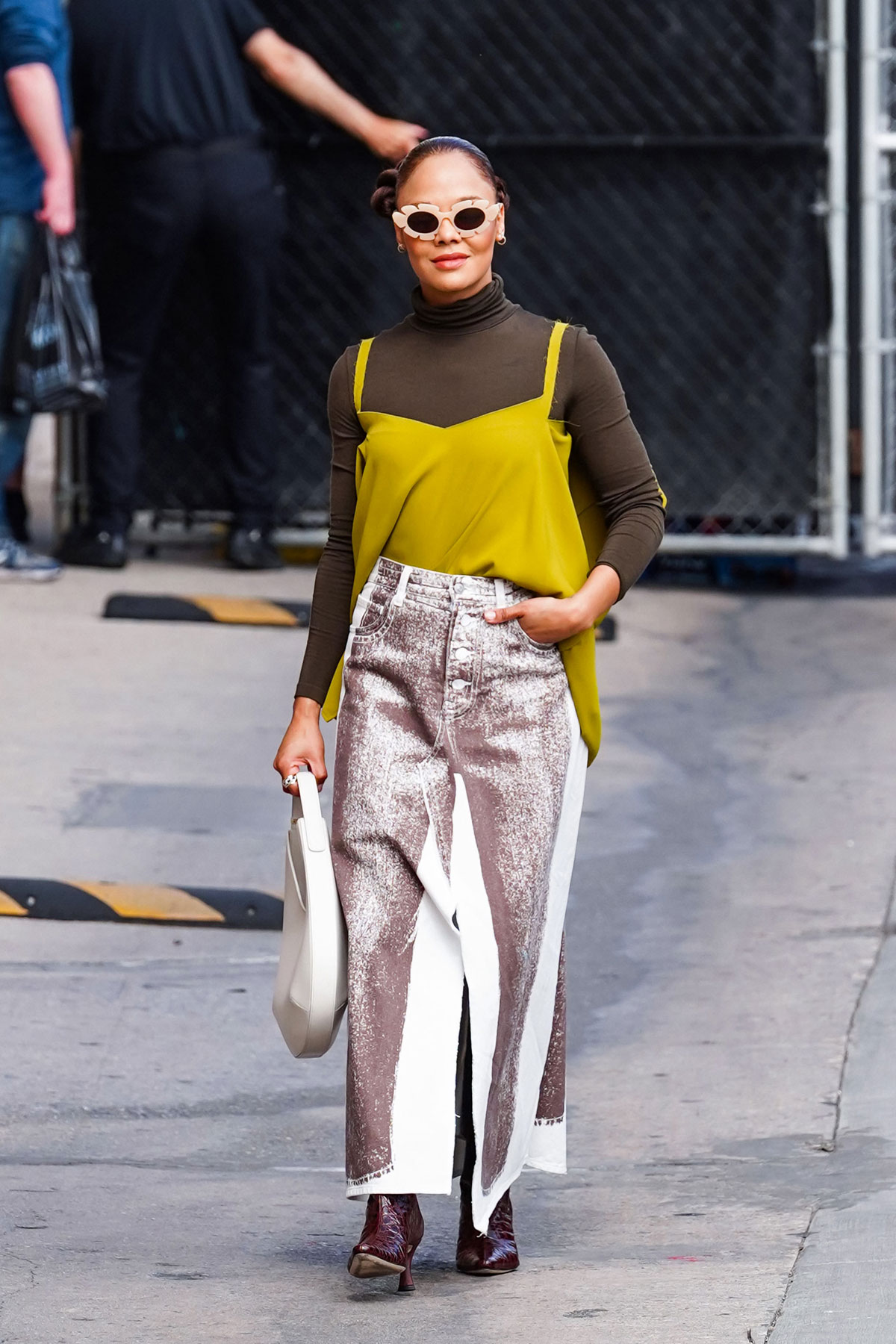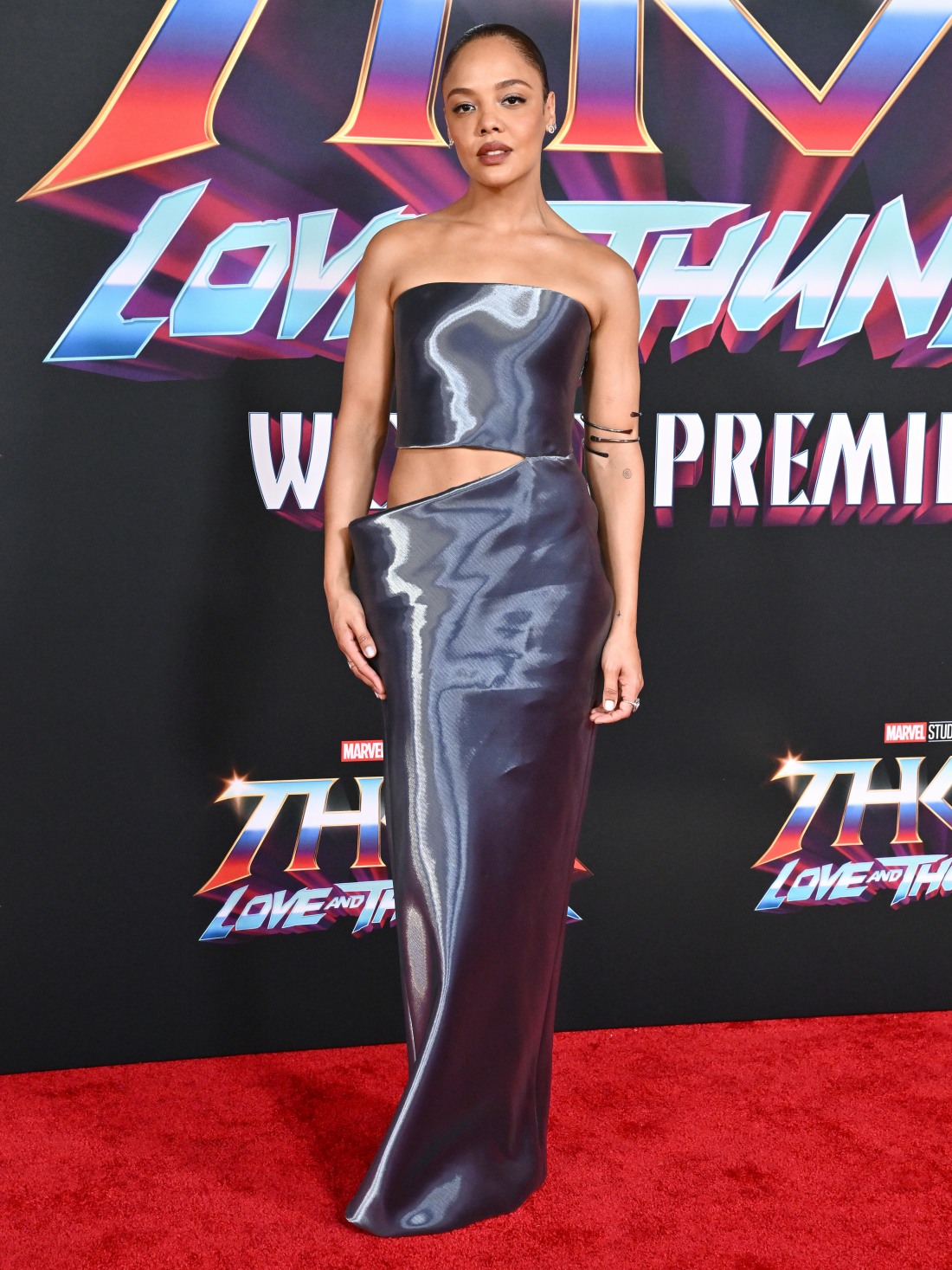 -Los Angeles, CA – 20220623 – `Thor: Love And Thunder` LA Premiere At El Capitan Theatre. -PICTURED: Tessa Thompson -PHOTO by: BauerGriffin/INSTARimages.com This is an editorial, rights-managed image. Please contact INSTAR Images for licensing fee and rights information at sales@instarimages.com or call +1 212 414 0207. This image may not be published in any way that is, or might be deemed to be, defamatory, libelous, pornographic, or obscene. Please consult our sales department for any clarification needed prior to publication and use. INSTAR Images reserves the right to pursue unauthorized users of this material. If you are in violation of our intellectual property rights or copyright you may be liable for damages, loss of income, any profits you derive from the unauthorized use of this material and, where appropriate, the cost of collection and/or any statutory damages awarded For images containing underage children: Be advised that some Countries may have restricted privacy laws against publishing images of underage children. Inform yourself! Underage children may need to be removed or have their face pixelated before publishing.


photos credit: Instar, Avalon.red and via Instagram