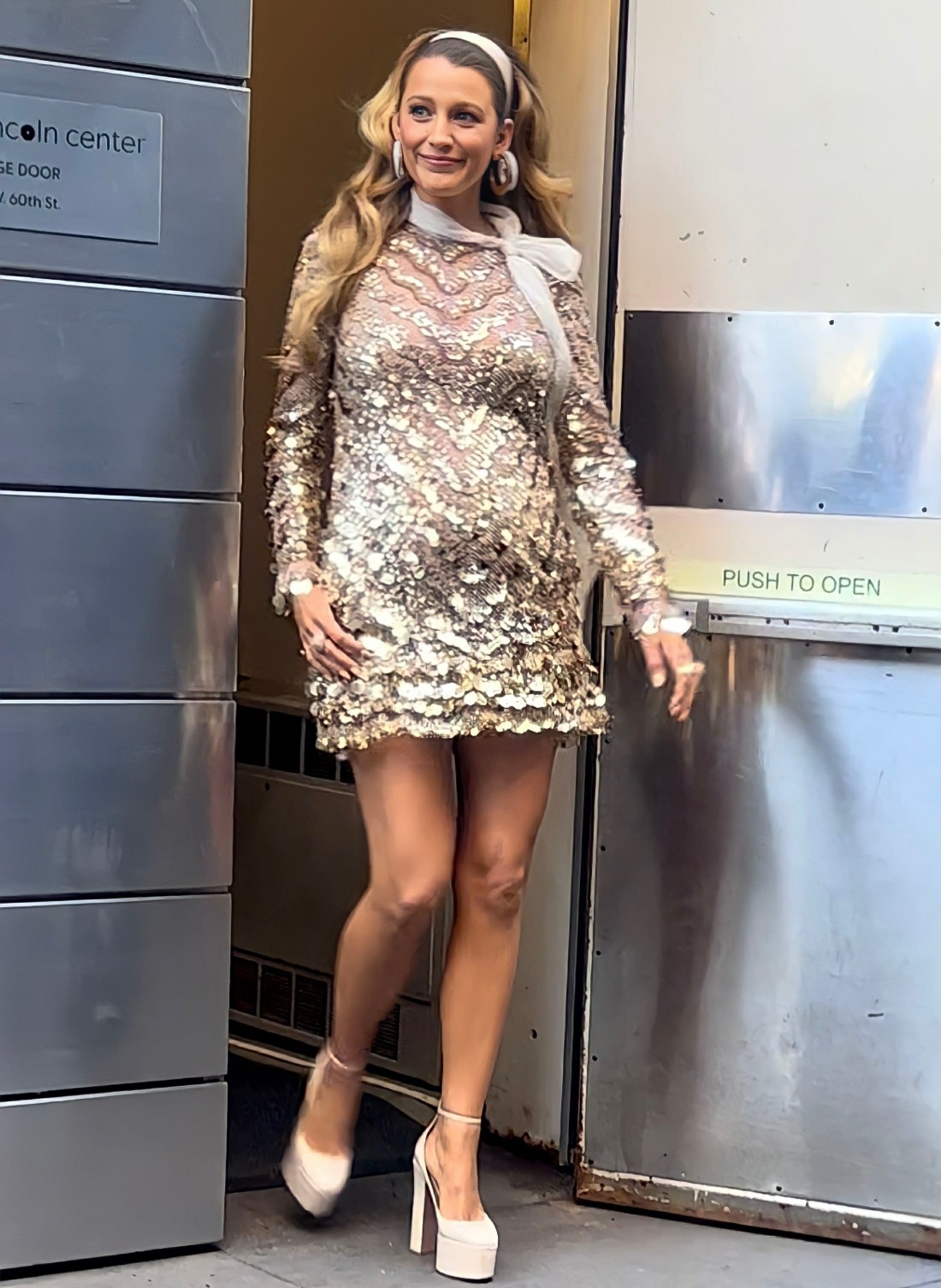 I've never really been into Blake Lively as a person and the "Allure of Antebellum" mess was probably the end of any warmth I had for her. I actually thought about the "Allure of Antebellum" debacle recently, because the Duchess of Sussex has a similar obsession with alliteration when it comes to naming her Archetypes podcasts. I've joked on Twitter that if Blake ever turns up on Archetypes, Meghan should for-real name the episode Allure of Antebellum and they can sit there and deconstruct the "archetype" of the Confederacy-loving, Old-South-glorifying, plantation-wedding-having clueless white racist woman trope. Blake would never.
The one thing Blake WILL do is have babies. Blake and Ryan Reynolds already have three children: James, 7, Inez, 5, and Betty, 2. Blake is pregnant again with their fourth. She's got a nice-sized bump and we saw Blake and her bump for the first time in months. She attended the 10th Annual Forbes Power Women's Summit on Thursday, and she wore a shimmery mod-style gold dress. I imagine Blake draping that white ribbon loosely across her neck and whispering "I've never had a stylist, you know." Congrats to them – they spend most of their time in upstate New York, raising their children and trying not to remind people of their plantation wedding.
Photos courtesy of Backgrid, Getty.

Manhattan, NY – Blake Lively is pregnant! The Gossip Girl alum shocked reporters at the 10th Annual Forbes Power Women's Summit today by showing off her baby bump on the red carpet. Pictured: Blake Lively BACKGRID USA 15 SEPTEMBER 2022 USA: +1 310 798 9111 / usasales@backgrid.com UK: +44 208 344 2007 / uksales@backgrid.com *UK Clients – Pictures Containing Children Please Pixelate Face Prior To Publication*
Manhattan, NY – Blake Lively is pregnant! The Gossip Girl alum shocked reporters at the 10th Annual Forbes Power Women's Summit today by showing off her baby bump on the red carpet. Pictured: Blake Lively BACKGRID USA 15 SEPTEMBER 2022 USA: +1 310 798 9111 / usasales@backgrid.com UK: +44 208 344 2007 / uksales@backgrid.com *UK Clients – Pictures Containing Children Please Pixelate Face Prior To Publication*