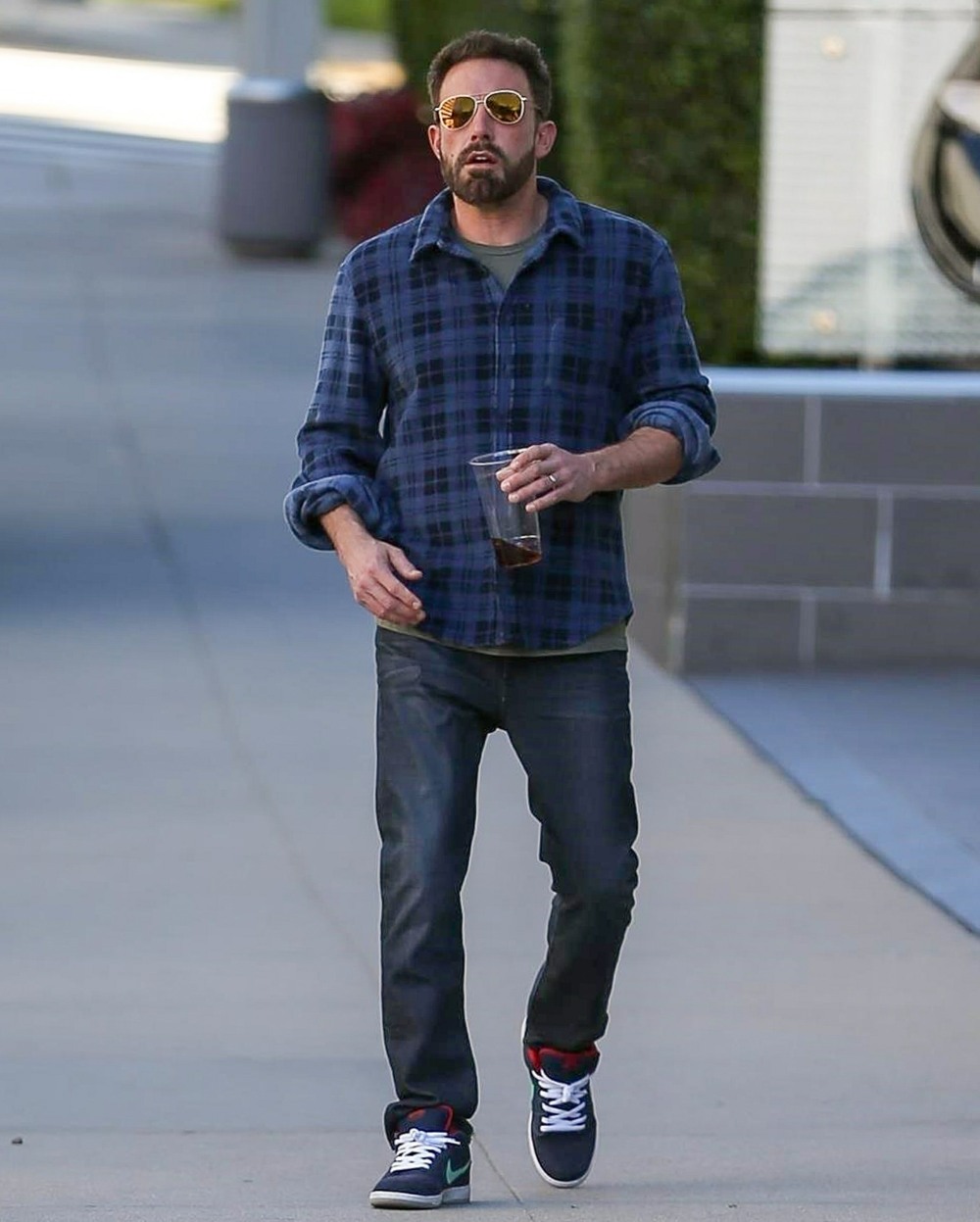 Here are some photos of Ben Affleck on Monday in Santa Monica, just hours after his misery at the Grammys alongside his wife Jennifer Lopez. People are still talking about Ben's openly miserable vibe and there is all kinds of analysis. What does it mean, is Ben already over being married to J.Lo, is there already trouble in paradise? My take is that he was in a foul mood for various reasons, but not specifically about J.Lo. I think he didn't want to be there and/or he only went because Jennifer asked him. Keep in mind, we didn't see any cutaways to Ben snapping at Jen or treating her or anyone else badly – he just looked bored and indifferent for the most part. Hell, maybe he even had an inkling that Beyonce was about to snubbed for Album of the Year and he was like "this f–king sucks preemptively."
Something else I've been thinking about is… this was actually the first big awards show Ben and Jen have attended together since their reunion. I suspect J.Lo is angling for an Oscars invite and this was the dry-run! She hasn't been to the Oscars since 2019, back when she was with Alex Rodriguez and he was her date. She did go to the 2020 Golden Globes too. Come on – J.Lo has been dying to walk a big awards-show red carpet with Ben, to put a bow on this whole reunion and the fact that she finally got him down the aisle. Jen and Ben didn't walk the Grammy red carpet either, which says to me that she's "saving" that exclusive for the Oscars (she hopes).
J.Lo posted this to her IG – "Always the best time with my love, my husband." LOL. That's their dynamic though – she's upbeat, positive, optimistic, crazy in love. And he's a misery-guts.
Okay I kinda feel bad for Ben Affleck, I can't lie pic.twitter.com/OWWiErOkdC

— Meech (@MediumSizeMeech) February 6, 2023
Every time the camera pans to Ben Affleck #Grammys pic.twitter.com/3jeiQS3woq

— wine mom yor forger🍷 (@autumnvelvets) February 6, 2023
Photos courtesy of Backgrid.

Santa Monica, CA – Ben Affleck is joined by two colleagues for a day at the office in Santa Monica after attending the Grammys last night with his love, Jennifer Lopez. Pictured: Ben Affleck BACKGRID USA 6 FEBRUARY 2023 BYLINE MUST READ: 305shock / BACKGRID USA: +1 310 798 9111 / usasales@backgrid.com UK: +44 208 344 2007 / uksales@backgrid.com *UK Clients – Pictures Containing Children Please Pixelate Face Prior To Publication*
Santa Monica, CA – Ben Affleck is joined by two colleagues for a day at the office in Santa Monica after attending the Grammys last night with his love, Jennifer Lopez. Pictured: Ben Affleck BACKGRID USA 6 FEBRUARY 2023 BYLINE MUST READ: 305shock / BACKGRID USA: +1 310 798 9111 / usasales@backgrid.com UK: +44 208 344 2007 / uksales@backgrid.com *UK Clients – Pictures Containing Children Please Pixelate Face Prior To Publication*
Santa Monica, CA – Ben Affleck is joined by two colleagues for a day at the office in Santa Monica after attending the Grammys last night with his love, Jennifer Lopez. Pictured: Ben Affleck BACKGRID USA 6 FEBRUARY 2023 BYLINE MUST READ: 305shock / BACKGRID USA: +1 310 798 9111 / usasales@backgrid.com UK: +44 208 344 2007 / uksales@backgrid.com *UK Clients – Pictures Containing Children Please Pixelate Face Prior To Publication*