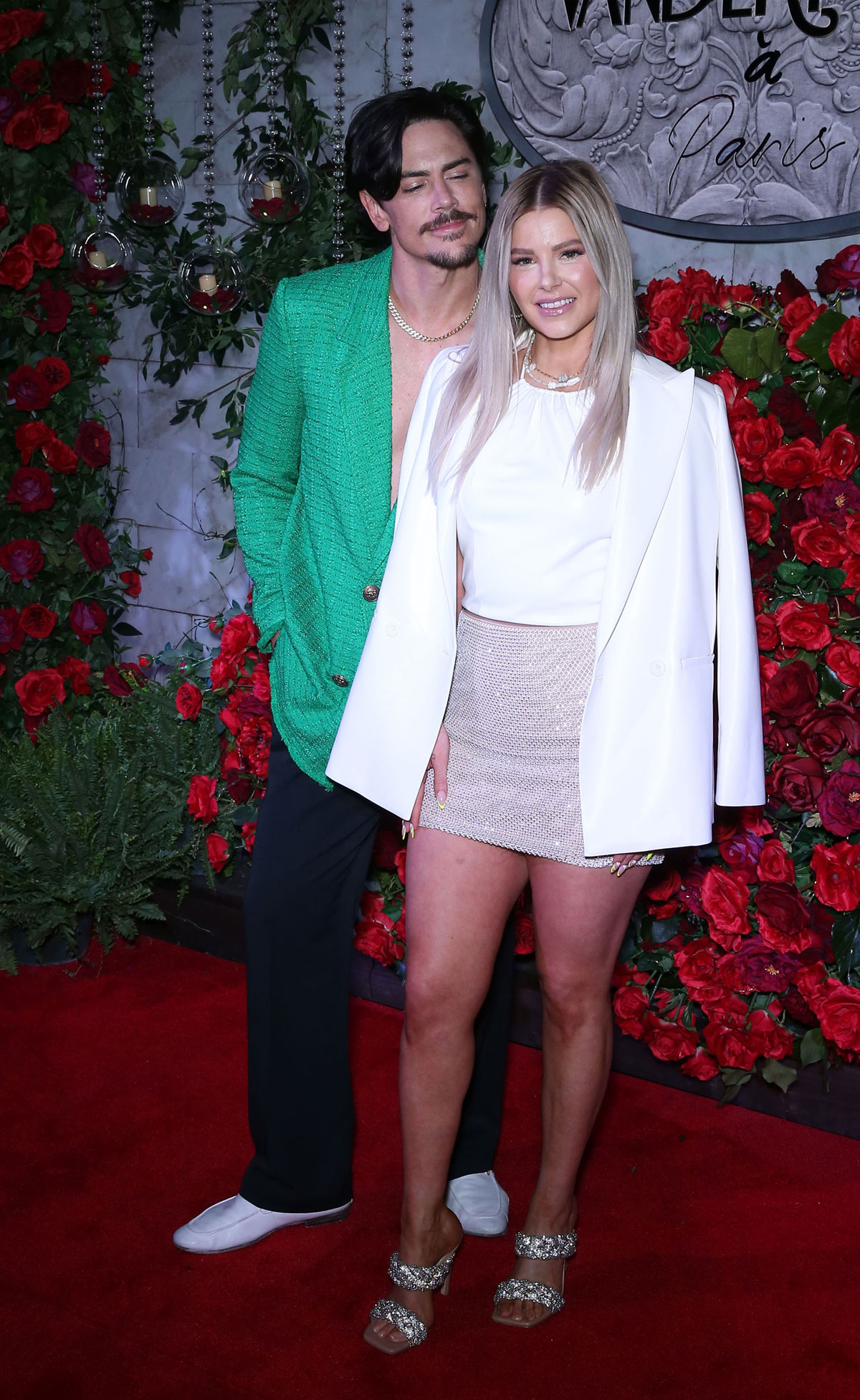 The Vanderpump Rules multi-part reunion has begun airing and oh boy is it some intense television. Ariana Madix has been making the interview rounds and lots of public appearances since last week's insane finale, and she sat down for a two-hour interview with Alex Cooper of the "Call Her Daddy" podcast. It seems like they did the interview and got it up on Spotify within a day, just in time for the finale, and Ariana speaks very candidly about Scandoval. I didn't get the hype about this podcast when it first came out, but I do appreciate a good interview and this definitely was one. Some highlights:
On if she would still be together with Tom if the affair wasn't made public: Ariana shared, "Still together? I would say no, given what I know about this plan. The plan was to break up with me without any sort of mention of an affair or cheating, whether that was pre-reunion or not or pre-going to film Winter House or not. And then they would just start dating."

On Tom traveling with Raquel: "There was something he was getting away with that I just learned about in the past month… like bringing [Raquel] home to St. Louis. He was putting her up in a hotel," Ariana claimed, adding that Tom would use other people's credit cards to cover it up.

On trusting Tom fully: "I trusted in him so much… that I trusted his perspective on things, and I think I was caught up. I'm a smart girl and I could have dug deeper, but I didn't," she said of not seeing the warning signs. Some of the warning signs included going out with his friends instead of going home to hang out with her. "Everything was coming before me and before the relationship," she shared.

On going to couple's therapy: Tom is the one who allegedly wanted to engage in couple's therapy with Ariana, but he was already having his affair with Raquel at the time. Ariana said on the podcast that she now believes it was a way for him to end their relationship."There was a session that got really intense, and it felt like maybe we were ending. And at the end of the session [the therapist] was like, 'OK, so, is this a break-up?' And he was like, 'No,'" she said.

On if Tom might miss her: Ariana said, "As someone he would go to for advice on mostly everything up until that moment, I just think there's no way he doesn't [miss me], because he's been making a lot of questionable decisions over the last two months."

On her response to Tom's attempts to call it quits: Tom did a separate podcast interview where he claimed he had attempted to end things with Ariana. Ariana is clearing up what actually happened. "I said, 'If we break up, I'm probably going to quit the show, I will probably leave Los Angeles, I will probably deactivate my Instagram.' And he found that to be very offensive. I was never saying that I was going to kill myself. I was saying that this life will be over for me, because I'll go do something else… I'm not talking about physically harming myself."

On Tom and Raquel having sex in her home while she was there: "They had sex in my guest room while I was sleeping in my own bed that he and I went into bed in together and then he left the bed and went to the guest room and f**ked her," Ariana alleged.
We'd heard bits and pieces of this before, but Ariana confirms a lot that was just rumored. For instance, Tom's family initially snubbed Raquel, but they supposedly did eventually meet her and Ariana had confirmed on Watch What Happens Live that she hasn't spoken to them since the break up. Ariana says she doesn't think they would still be together if Scandoval hadn't happened because he had that plan, but what she says about Tom's direct refusal to break up during couples' therapy lends credence to my theory that he was still waffling a bit. He had a plan, he was putting it into motion, but I don't think he was 100% and could have pulled the plug at the last minute. Men like to do what's easy and what he was planning — extricating himself and dating Raquel with his reputation and brand and finances intact — was anything but. Anyway, he definitely misses her and their life together and is floundering now. The guest room sex while Ariana was sleeping is especially terrible and really just hammers home how much she trusted Tom and Raquel both that she didn't wake and wonder where he was. Ariana also completely debunks the theory that they were in an open relationship and confirms that Tom twisted the "suicide threat" to suit his narrative. Saying "my life [as we know it] is over" is dramatic for sure, but it's a far cry from threatening to hurt yourself and regardless it's really gross that he shared that info.
photos credit: Wes Eddy/startraksphoto.com, Getty and via Instagram