Brad Pitt is such an asinine person. He's still trying to sue Angelina Jolie because she legally sold her half of Chateau Miraval. Jolie tried to sell her half, Nouvel, to Brad Pitt but he not only tried to low-ball her on what Miraval was worth, he also tried to attach a gag order to the sale. Jolie walked away and sold Nouvel to Tenute del Mondo, a subsidiary of Stoli. Since the sale went through, Pitt's life has been hellish, because Stoli and Tenute del Mondo are seasoned professionals and they know that Miraval's operations are, at best, completely chaotic. At worst, Pitt is committing massive financial crimes. Yuri Scheffler – owner of Stoli – has been using the French courts to his advantage, and the French authorities have conducted raids on Miraval to get their hands on Miraval's dodgy financial records.
Brad Pitt's financial messes are being reported on quite openly in the French media, but none of that has filtered down to the American media. The American media is still publishing whatever Pitt's crisis management team gives them, which is how Page Six got their hands on "legal documents" where Pitt accuses Angelina Jolie of being super-mean to him when he bribed a judge for a favorable custody ruling, a ruling which was quickly overturned by the California Supreme Court.
Brad Pitt says Angelina Jolie "secretly" plotted to sell her share of their French estate, Château Miraval, to get back at him amid their bitter custody battle. According to legal documents obtained by Page Six, the "Bullet Train" star claims that he and Jolie agreed they would never sell their share in the $30 million property — which they bought in 2008 — without the other's approval. Yet when they got divorced in 2019, Jolie decided she wanted out and started to negotiate a buy-out option with Pitt, 59.

The 47-year-old allegedly even agreed to divide the business up 68 percent to 38 percent in Pitt's favor because he had invested more money and time into the project.

Yet in the summer of 2021, Pitt found out via press release that the "Maleficent" actress had sold her 50 percent stake to a "Russian oligarch," whom Pitt had previously turned down.

Pitt claims his "vindictive" ex-wife "collaborated in secret" with Yuri Shefler, who also owns Stoli Group, to ensure he would be "kept in the dark."

The new filings claim that Jolie "no longer wanted to sell to Pitt" in the "wake of the adverse custody ruling," in which he was granted joint custody of their six children. (The decision was later overturned.)

"Her decision to terminate negotiations with Pitt was intentional and pretextual," the document filed in LA Superior Court states. "As will be demonstrated at trial, Jolie's actions were unlawful, severely and intentionally damaging Pitt and unjustly enriching herself."

Not only that, but Pitt believes his ex-wife specifically chose Shefler because she knew it would be bad for business given his ties to Vladimir Putin — specifically his "invasion of Ukraine and homophobic legislative agenda."

"Stoli and Jolie have sought to force Pitt into a partnership with a stranger, and
worse yet, a stranger with poisonous associations and intentions," the document alleges.

Now that half of the property has been sold to a third party, Pitt says it defeats the purpose of buying Miraval as a "loving home for their six children" in the first place.

The latest filings come nine months after Jolie filed a $250 million counter-suit against the "Fight Club" actor for trying to "seize control" of the French winery to "ensure… [she] would never see a dime" of its vast profits. The suit — which Jolie's company, Nouvel, brought — also claimed that Pitt tried to force Jolie to sign a "hush-clause" that would silence her from discussing the circumstances of their divorce. It adds, "In retaliation for the divorce and custody proceedings, Pitt embarked on a multi-faceted, years-long campaign to seize control of Chateau Miraval and appropriate the company's assets for his benefit and that of his own companies and friends.
He found out via press release, you guys! BELIEVE HIS STORY! Nevermind that Angelina has extensive documentation that she negotiated with Pitt and his team in good faith before he tried to attach the gag order to the sale. Nevermind that she and her lawyers organized the sale while keeping Pitt in the loop entirely. Nevermind that Jolie and Pitt never had a "secret agreement" that she could only sell Nouvel to him. God, I hope Angelina and her lawyers take Pitt to the f–king cleaners.
Update: The Today Show had a story about this today and they have Jolie's statement, which calls out Pitt as an abuser and once again points out that Pitt wanted to attach a gag order to the sale.
An on-going lawsuit over a French vineyard has escalated between former couple Brad Pitt and Angelina Jolie. @ErinNBCNews shares the details. pic.twitter.com/mvxSYT8VOl

— TODAY (@TODAYshow) June 2, 2023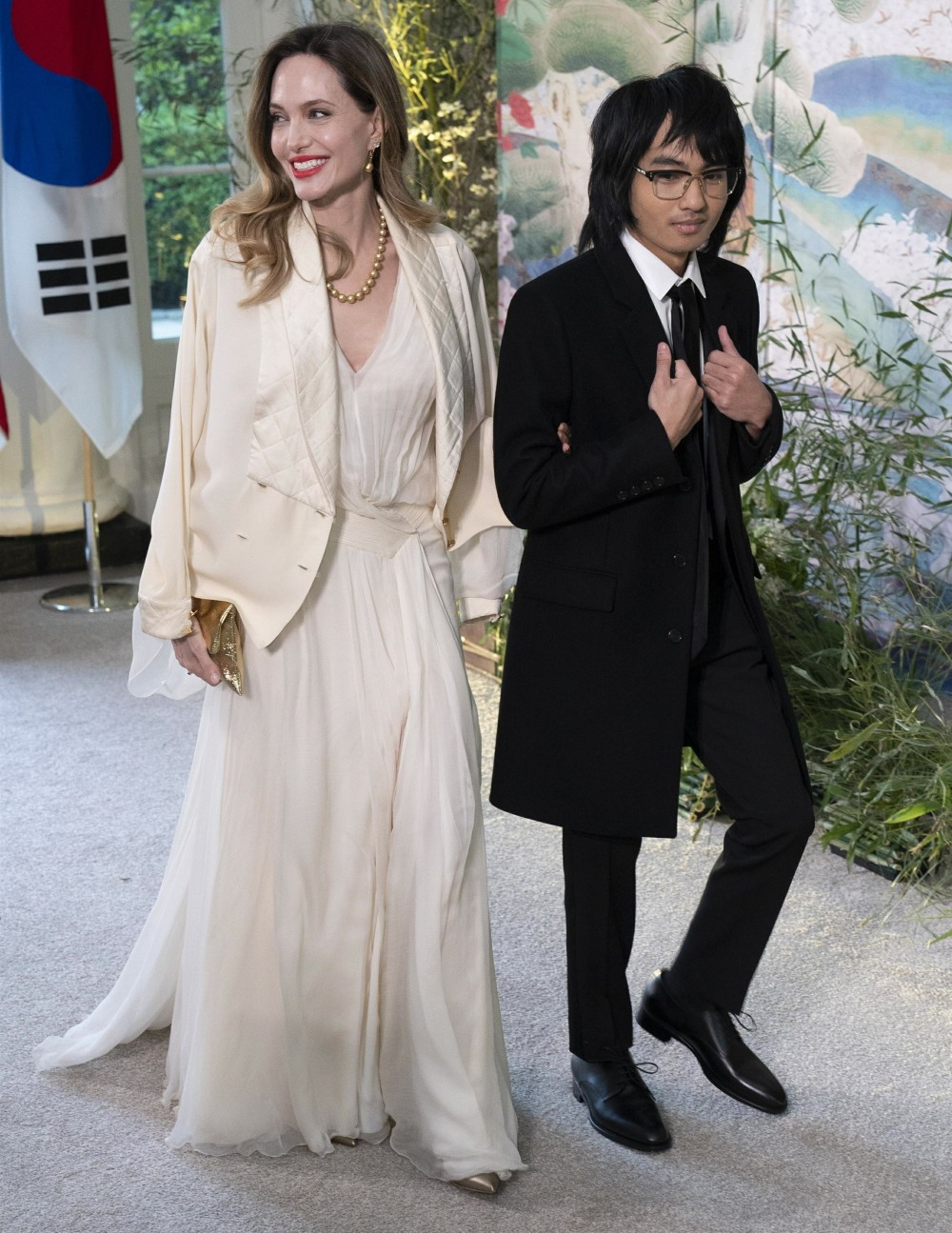 Photos courtesy of Backgrid.