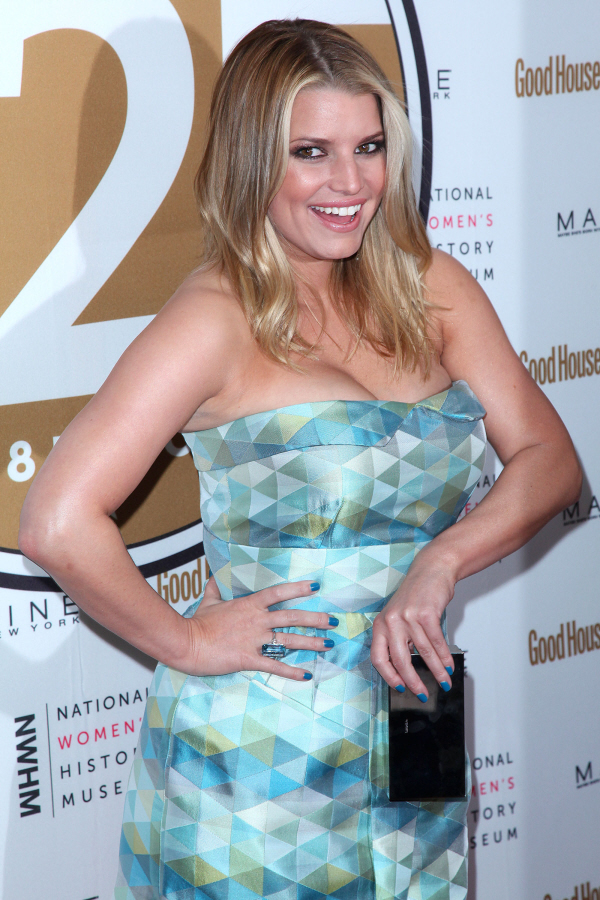 The National Enquirer has a not-so-interesting piece about Jessica Simpson this week. Apparently, and at long last, Jessica has learned how to "embrace her curves". Because that seems to be the euphemism everyone has agreed on for "Not knowing how to dress for your body type so you don't look like a stuffed sausage." Or, "not wearing the correct dress size." Of course her unnamed friends have nothing but lovely things to say about Jessica's "transformation" from "uncomfortable" big-boobed girl to a curvy phenom who will throw her boobs into whatever low-cut cocktail dress she can find. Yay?
Jessica Simpson is busting out with pride over her curves – she's begun to wear red-hot outfits with plunging necklines for all of her outings, proving that she's bounced back from the embarrassment of John Mayer's "sexual napalm" boasting.

"Jessica used to be very self-conscious about her curves," a pal told the Enquirer. "She occasionally wore low-cut tops, but she was never one for advertising her natural assets. In fact, she was downright uncomfortable."

After John Mayer's "sexual napalm" comments, Jessica initially claimed to be shamed by John's crude remarks, saying "It's more embarrassing, I'll walk into a restaurant and I notice that more men are looking at me… undressing me."

But she's become proud to be well-endows. The insider says: "It took Jess a while, but she's finally grown into her body. She feels empowered to walk into a crowd and fell all eyes on her. Her new attitude is, if you got it, flaunt it!"
[From The National Enquirer, print edition]
Um, did it ever occur to Jessica that maybe everyone is staring at her because they can't get over how asinine her style choices are? I'm not even joking. Plus, how weird is it that Jessica is 29 years old and she's only NOW "grown into her body"? Don't get me wrong, I feel differently about my body now than when I was 19 years old too – and I had a much better body when I was 19, so I think a lot, "God, I really should have been happier with that." But I didn't really have much confidence in myself until my twenties, so I guess Jessica is the same way. I guess I found the wording strange – "she's finally grown into her body" as a euphemism for "she now believes her boobs are her best feature, so she's going to show them to everyone on the red carpet."
Header photo: Jessica Simpson on April 12, 2010. Credit: WENN.