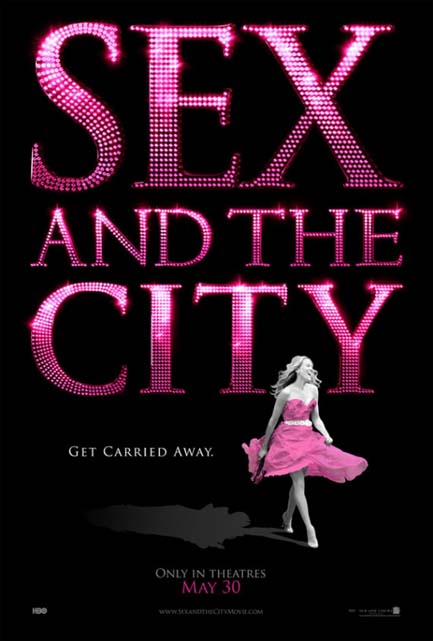 I'll bet the stars of the "Sex and the City" movie can't wait for this film to open so they can move on. The last few months have been non-stop gossip about all four of them, and there are no signs of the rumors slowing down. The latest word is that Sarah Jessica Parker, fresh from being voted Maxim's Unsexiest Woman, is making demands that the movie posters for "Sex and the City" only feature her character.
Kim Cattrell might be in for a little competition for her title of Most Demanding SATC Cast Member. Sarah Jessica Parker may not be the only star of Sex And The City, but you'll have a hard time telling her that. According to new whispers from the Rumor Mill, SJP has irritated film bosses with demands that she be the only star featured on promotional materials for the May 30th, 2008 film Sex And The City: The Movie.

"She fought to have the movie poster feature only her," Star Magazine writes.

"They planned to sell luxury T-shirts and shoes to coincide with the movie's release, but Sarah demanded that the merchandise be sold only through her Bitten line. This way, the focus will still be on Sarah and she'll profit from the sales."
[From Pop Crunch via Gossip Rocks]
Sarah Jessica is also listed as a producer of the film, and was an executive producer of the show. I suppose if she's taking the largest share of the business risks for the movie- which, based on the trailer I saw, looks terrible- she should reap the benefits. Even though the actresses all insist that everything was hunky dory on set, Sarah should have known that appearing solo on the movie poster would cause people to talk.
Note by Celebitchy: Sarah Jessica Parker might be taking business risks by producing the film, but she's also cashing in big time. She's making $10 million for playing Carrie and another $5 million for producing the film. Kim Cattrall will take home a reported $6 million for being the hold out and negotiating a larger share, but Cynthia Nixon and Kristin Davis are only said to have made $2 million each. It hardly seems fair that they're not featured on the posters too, since it's the ensemble cast and the friendships between the women that were the focus of the show, not just Carrie. It looks like her fellow cast members are getting screwed out of the publicity too.
A lot of people think it's only fair that Sarah Jessica Parker is getting paid so much more than the other actresses since she's the lead, but $10 million is 5 times the amount some of her equally-important co-stars are getting. Maybe that's common in the industry.