Tobey Maguire's fiance is pregnant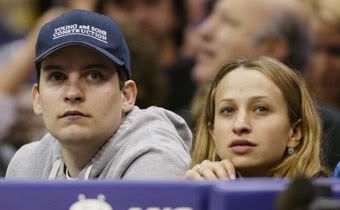 Star Magazine is reporting that Tobey Maguire's fiance and girlfriend of three years, Jennifer Meyer, daughter of Universal head Ron Meyer, is pregnant:
Tobey Maguire and his longtime love Jennifer Meyer are getting ready for their first baby. "Jennifer is pregnant," a source tells Star. "It's still early, so they aren't talking about it publicly yet, but they are really happy." Spider-Man star Tobey, 30, and Jennifer, 29, a Los Angeles-based jewelry designer and the daughter of Universal Studios executive Ron Meyer, began dating in 2003. The couple, who share a home in Los Angeles, got engaged in April, when Tobey gave her a ring from Tiffany. "Tobey said right away she was the one, and looks like he was right," says the source.
"The big question for them now is do they get married now, before the baby is born, or do they wait so Jennifer can fit into the wedding dress of her dreams!" Tobey's rep, Kelly Bush, told Star, "I do not comment on his private life."
We reported six weeks ago that Maguire and Meyer were recently engaged, as reported by Page Six. They were said to have visited an ObGyn together at the end of March, so Meyer is probably further along than this article suggests.
Written by Celebitchy

Posted in Babies, Engagements, Tobey Maguire

- The Blemish interviews Carmen Electra [The Blemish]
- Rumer Willis joins Pretty Little Liars [Lainey Gossip]
- Morgan Freeman falls asleep during interview [D-Listed]
- Fug or fab: Isla Fisher [Go Fug Yourself]
- Tamra Barney confirms spinoff [Reality Tea]
- Movie franchises that rebounded [Pajiba]
- Why Dylan McKay is the perfect boyfriend [Buzzfeed]
- Saoirse Ronan could have been a Lohan [Evil Beet]
- GIFs from Cannes [Popsugar]
- Cat massages a dog [CDAN]
- Heather Graham is so pretty [Celebslam]
- What is Lucy Hale wearing? [Moe Jackson]
One Response to "Tobey Maguire's fiance is pregnant"