Star Magazine had an exclusive report yesterday that I thought was bullsh-t, but now I'm having second thoughts. Allegedly, at one of the MTV Movie Award after-parties, Lindsay Lohan's SCRAM bracelet went off. According to witnesses, it was around 1 a.m. and "…all of a sudden, her SCRAM ankle bracelet started flashing furiously — bright red, fast flashes — right through her boot! I couldn't hear anything, like if there was an alarm that went off as well, but you could definitely see the flashes. She wasn't drinking or doing drugs that I saw…She didn't seem phased whatsoever. I mean it was very obvious. But she was just hanging out, standing right in front of me, acting like it was totally fine." Star goes on to claim that it could just be a technical issue with the bracelet, or the bracelet could just be processing information. But now Radar says that Lindsay's judge is getting involved:
Judge Marsha Revel will receive a report on Lindsay Lohan's alcohol-detecting SCRAM bracelet going off, RadarOnline.com has learned exclusively.

The bracelet went off after the MTV awards.

Now the company that monitors the bracelet will send a report to the court that is overseeing Lindsay's DUI probation case. Judge Revel will see the report and prosecutor Danette Meyers is also expected to review it.

"The judge will get a report from the SCRAM company and it will detail Lindsay's alcohol level," one source familiar with the situation told RadarOnline.com.

If Lindsay had alcohol in her system that would be a violation of Judge Revel's order to abstain from drinking.

A probation violation hearing is already set for next month. And Lindsay is undergoing random drug testing at least weekly. RadarOnline.com broke the story that she passed her first two drug tests.

It is possible the SCRAM bracelet malfunctioned but some people close to the situation say that's highly unlikely. The company's report should settle that debate.
[From Radar]
Did Lindsay have a drink? Did someone spill some vodka down her boot (does it work like that?)? Or was it nothing and we're all getting hyped up, waiting for Lindsay to fail? Eh. I don't know. It wouldn't surprise me if Lindsay had a drink and set the thing off. But it also wouldn't surprise me if it was a technical glitch. The jury's still out on this cracked out shenanigan.
UPDATE: Well, some commenters corrected me – I guess it's not possible to set off a SCRAM bracelet immediately after having a drink. I didn't know that, so thanks! Anyway, in addition to the technical improbability of the thing, Lindsay also furnished us with a flurry of crack sober tweets about how we're all horrible people for thinking that an alcoholic crackhead might have problems staying sober for two weeks straight: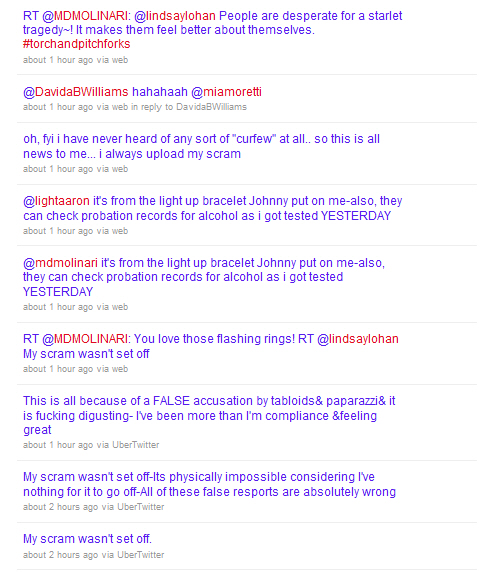 [From Lindsay's Twitter]