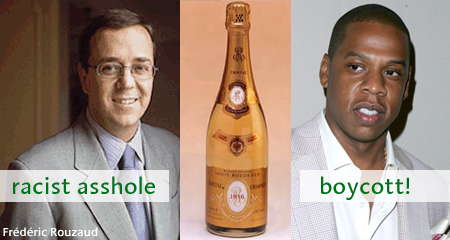 The hip-hop community has given Cristal champage tons of free publicity by consuming it by the case, mentioning it in songs, and opening their fridges on the MTV show "Cribs" to show chilled bottles. As a result, Cristal has become a household name: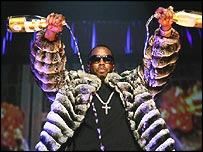 Rapper Biggie Smalls (a.k.a. the Notorious B.I.G.), who was gunned down in 1997, is believed to have been the first performer to mention Cristal. He started off elegizing Moet & Chandon Champagne, then switched to "Cristal forever" on the song "Brooklyn's Finest" on Jay-Z's album "Reasonable Doubt." References to Cristal started popping up in the lyrics of Lil' Kim, Snoop Dogg, P. Diddy, Jay-Z and 50 Cent. The latter has apparently launched what sounds like an inner-city sampling campaign with his hit song "Rotten Apple," in which he's "teachin' the hoodrats what Cristal taste like."
Jay-Z, who opened 40/40 last year, proposes trading his Cristal for extreme intimacy with a young woman in the video, "I Just Wanna Love You" — the camera zooms in on a designer refrigerator full of the bubbly. In another video, "Big Pimpin'," he brandishes his drink on a yacht — just the kind of "livin' large atmospherics" that brand managers love. (In fact, so many rap videos feature Cristal that Dr. Evil, the archrival of Austin Powers, both played by Mike Myers, did a hilarious parody of them in the movie "Austin Powers in Goldmember.")
Critics charge that whatever the image benefits — rappers have given Cristal street credibility (and sales) that advertising could never buy…
Cristal is made by Champagne producer Louis Roederer from the best grapes from 500 acres of vineyards in northern France, and is aged in oak for five years. Even in a good year, only 65,000 six-bottle cases are made; in bad years, it's not produced at all. That happened three times during the 1990s.
That scarcity is a source of consternation for hip-hop stars who like to take Cristal along when they travel. P. Diddy spent $80,000 on four methuselahs (the equivalent of eight 750-ml bottles) of Cristal while chillin' in St. Tropez, according to the British newspaper the Observer, and for his 29th birthday at New York's Cipriani restaurant, he set up six free-flowing Champagne bars — the tab was $500,000. Jay-Z even takes Cristal onstage.
Such antics have an impact. New York-based Scarborough Research found that people who have attended a hip-hop concert are 77 percent more likely than the general public to buy Champagne. And a recent study by New Media Strategies, a research company in Washington, D.C., showed that 60 percent of consumers who consider themselves hip-hop fans are likely to buy products mentioned by rappers.
The managing director of Cristal, Frederic Rouzaud, expressed misgivings about rappers endorsement of his brand in a new article in The Economist, stating that he views the attention with "curiosity and serenity." Nevermind the fact that hip hop stars are his biggest customers. He's afraid they could damage the brand's precious blue blood image, and said that rappers can go drink another kind of champagne:
Asked by the Economist about whether associations with rap stars could affect the marque, new managing director Frederic Rouzaud said: "That's a good question, but what can we do? We can't forbid people from buying it. I'm sure Dom Perignon or Krug would be delighted to have their business."
Powerful rap mogul Jay-Z has called Rouzaud on his snotty racist remarks and is refusing to drink Cristal or sell it at his 40/40 sports bar.
"It has come to my attention that the managing director of Cristal, Frederic Rouzaud views the 'Hip-Hop' culture as 'unwelcome attention,'" said Jay-Z. "I view his comments as racist and will no longer support any of his products through any of my various brands including The 40/40 Club nor in my personal life."
The head of Cristal is such an asshole and if he doesn't issue a retraction soon we hope the hip hop community will call an all out boycott on the drink. He's new so maybe the board of directors or the company will fire him for making such a stupid comment. We hope Diddy will speak out next. If those idiots at Cristal don't want all the business and free publicity then they can go back to selling the shit to country clubs and estate parties and see how their exclusive attitude makes sales tank.