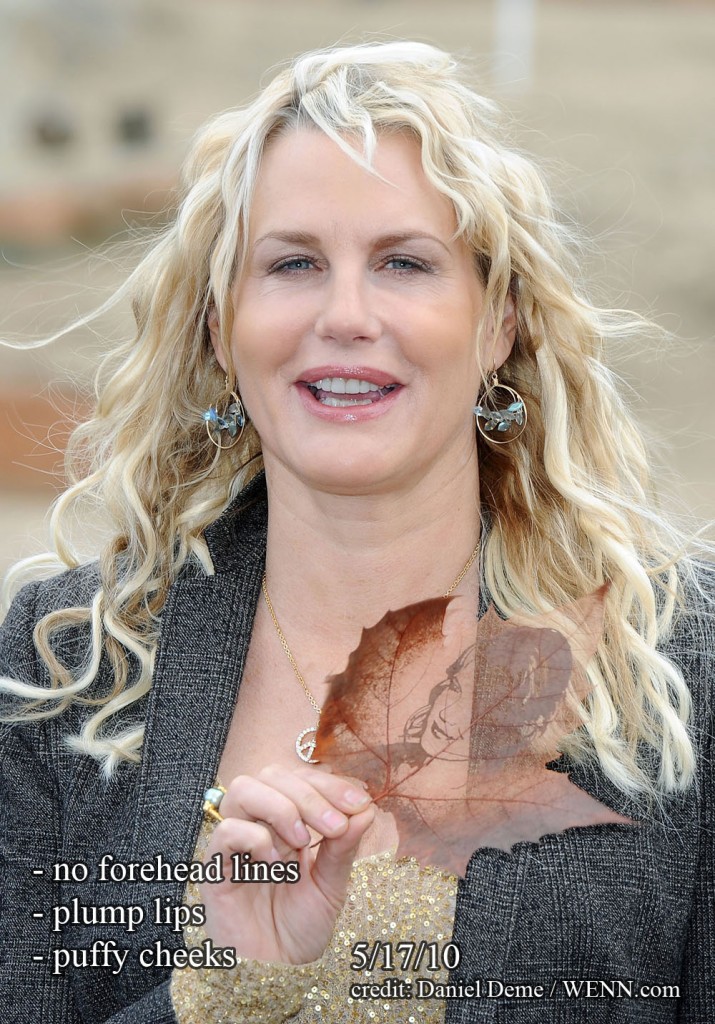 Last year, In Touch ran some before and after photos of Splash actress Daryl Hannah, 49, that showed how dramatically she'd altered her face. Even if you didn't know who she was, the work she's had done is painfully obvious in Hannah's chipmunk cheeks, puffy lips, and cat-like eyes. Hannah is an activist with several causes she campaigns for, including awareness of sex trafficking, biodiversity, and ecological preservation. Although she's obviously committed to saving the planet, she really comes across as hypocritical and sanctimonious in a new interview with The Daily Mail. She just sounds so damn snotty and self absorbed. She denies getting plastic surgery despite the evidence all over her face and she calls women who have face lifts "muppets."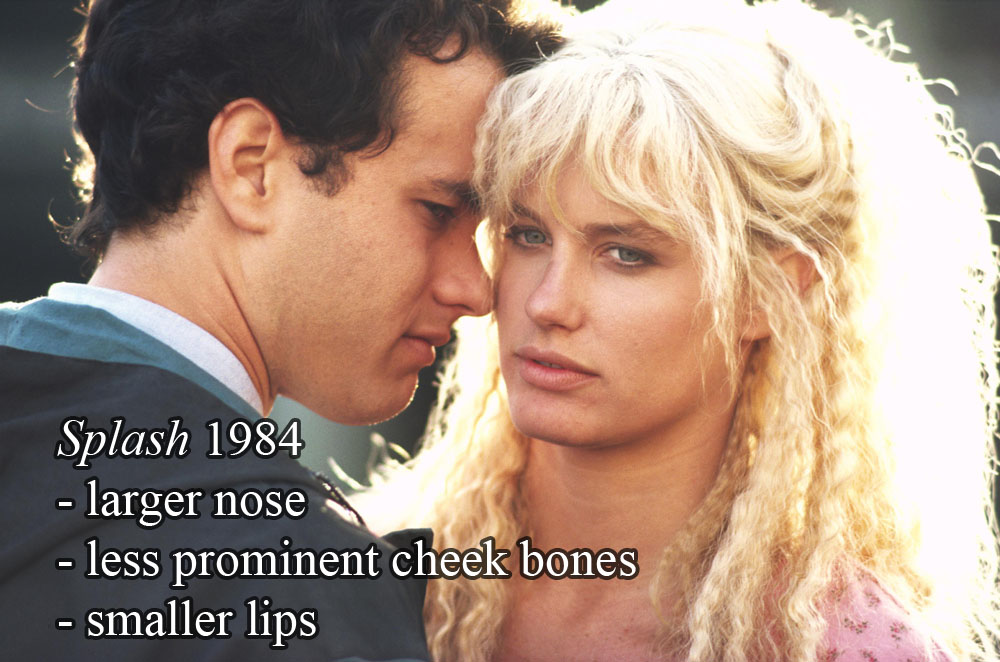 Does not approve of nannies or having more than two biological children
I gently mention reports that she is hoping to adopt a child. She rolls her eyes and explains that an off-the-cuff remark has been blown out of all proportion and she has no such plans.

'All the same, I do believe that anyone with two children who wants more should adopt the rest, because there are so many out there who desperately need a home. As for those actresses who adopt babies, I only approve of the ones who aren't employing someone else to raise them,' she says with surprising tartness.

Criticizes moms working as actressees
'I know how long it takes to make a movie. If you look at their schedule, you can see how little time they spend at home. It comes down to priorities and I believe there are times when you have to put your personal life first.'

Denies plastic surgery
Having put it off, I finally broach the subject of cosmetic surgery. Daryl emphatically denies it (although, later, it occurs to me that Botox isn't strictly speaking cosmetic surgery and maybe I asked the wrong question). 'There are so many people in LA who have had cosmetic surgery and they all look like Muppets,' she says, firmly. 'There was a picture taken a while ago of me emerging from the ocean, with my hair slicked back and no make-up on. I looked as though I had puffy, squinty eyes and the rumour went round I'd had work done; I lost jobs because of it and I thought about suing, but in the States you have to prove malicious intent.

'I've got a little jowly, and sometimes I look in the mirror and think, "Oh my God", but I am too much of a coward to go under a surgeon's knife for something that wasn't life-saving. I've had knee and elbow operations, and I've broken my back three times, riding and performing movie stunts, and that gives you an appreciation of your body. When I was three years old I had an accident that still influences my attitude.' Daryl holds up her left hand to reveal one finger is missing two joints. 'I lost the top of my finger playing on my grandma's mobility stair lift. It was terrifying, but could have been so much worse – and it has bestowed on me an ability to be a more compassionate person.'
[From The Daily Mail]
She goes on, and when she talks about her commitment to the environment you can tell she cares and tries to make a difference.
Let's give her the benefit of the doubt and assume she's telling the truth about "surgery." As in, maybe she hasn't had a face lift. We've included some older photos of her. She's had obvious lip plumping and facial injections that probably include fillers and botox. What's more is that the photo she's referring to where she'd just emerged from the ocean isn't the one that In Touch used to illustrate their story on how altered she looked in April of last year. They used just a simple photo with her hair pulled back and perfectly dry, and quoted a plastic surgeon who said she'd had obvious Botox, fillers, and probably a face lift. Dr. Stephen T. Greenberg is quoted as saying "It looks like she [had] injections of fillers… in the face, causing that puffy appearance around her nasolabial folds, lines running from the side of the nose to the corners of the mouth. She also looks as though she had a face-lift, lip injections and Botox on her forehead and around her eyes."
There's nothing wrong with getting some good work done when you get older. If a celebrity has obvious plastic surgery, they either should skirt around questions about it or own up to it. Daryl had bad work done, from a needle and/or a knife, and she's either lying or splitting hairs by denying it. Plus she's bashing other women who opt for surgical intervention. There's just no excuse for that.