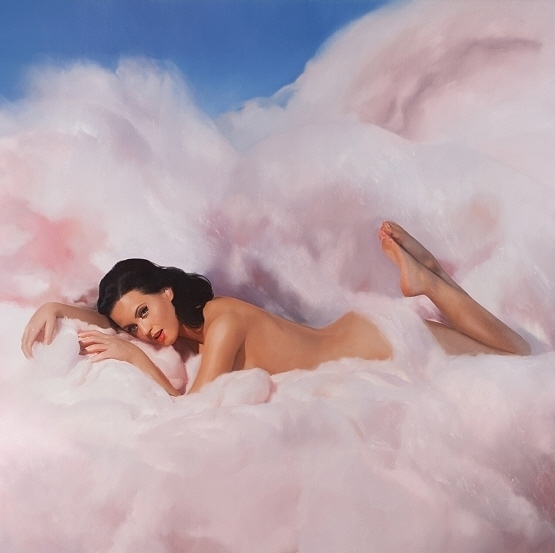 First of all, I was just going to make fun of Katy Perry for doing another topless photo shoot (for Jesus!), this time for her Teenage Dream album cover art. But I can't – this is a painting! Damn, this is a really good painting, y'all. I truly thought it was a photograph. Of course, it's still cheesy as hell. Pink clouds/cotton candy? Barf. A little wisp of pink covering her ass? Ugh. Who does this appeal to other than tween girls and pedophiles?
In other Katy Perry news, she's making poor Russell Brand sell his shagging pad in London. All because he thinks he wants to build a life with Katy (because he's addicted to their drama, perhaps?):
Russell Brand's £2.5 million London pad has too much "history" for his fiancé Katy Perry so he is putting the property on the market, according to reports. The comedian is selling his four-bedroom, five-storey home in Hampstead and is reportedly planning on moving to New York to start married life.

The 2000 square foot home boasts modern gothic-inspired fireplaces, a giant yoga room, kinky mirrors and the supposedly infamous "hot-tub, with a built-in flat screen TV and overhead canopy, offering complete privacy'.

'Now they are getting married, Katy didn't feel comfortable with the amount of girls who knew where Russell lived – and of course all the history it carries," a friend told the Mirror.

'And Russell has moved on now. He wants to make a home for them to romp in. When he has been in London recently he had been staying in Claridge's instead so that he could sell the house.'

Some reports suggest the house has already been snapped up. One thing the soccer-obsessed Get Him to the Greek Star won't be leaving behind? His West Ham United cat bowl.
[From Monsters and Critics]
All I can think of is how much regret Russell is going to have when he and Katy split. He's going to be heartbroken he sold his shagging pad, he really is. Oh well – maybe Katy and Rusty will make it work. Ha!