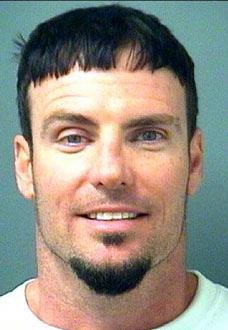 Vanilla Ice, aka Robert Van Winkle, is off the hook for beating up his wife. Winkle hit and kicked wife Laura on April 10th, leading her to call the cops. However when they got there, Mrs. Van Winkle had a lot less to say to them – citing a desire to avoid media attention. Vanilla Ice was forced to spent the night in jail to "cool down" – and now prosecutors have declined to press charges against him.
Prosecutors in Palm Beach, Fla., have dropped a charge of simple domestic battery against Vanilla Ice, citing lack of evidence, E! News has learned.

"There was no likelihood of conviction," said a spokeswoman for the state attorney in Palm Beach County. According to the "no file" declaration, officials declined to press the battery charge against the 40-year-old "Ice Ice Baby" purveyor (real name: Robert Van Winkle) after wife Laura Van Winkle retracted allegations that he had hit and kicked her during a spat at home.

"There is insufficient credible evidence to prove the charge beyond a reasonable doubt due to the victim recanting her original statement and lack of an independent witness," the document reads.

The county clerk and sheriff also rescinded a restraining order barring Ice from having contact with his missus and only allowing him monitored visitation with their two children, 8-year-old Dustee Rain and 10-year-old Keelee Breeze.
[From E! News]
Domestic abuse victims recanting their stories isn't exactly unheard of. Some counties have rules stating that charges must be filed, even if the victim refuses to cooperate. Many counties have a rule that someone must be arrested – or at least leave the scene – after a domestic dispute. Vanilla Ice's temper was on full display when he was a costar on VH1's The Surreal Life a few years ago. The guy is nothing but a loser with serious issues. Laura Van Winkle told police she wanted a divorce – hopefully they'll get one – quickly.
Here's Vanilla Ice in January, 2004. Images thanks to PRPhotos.