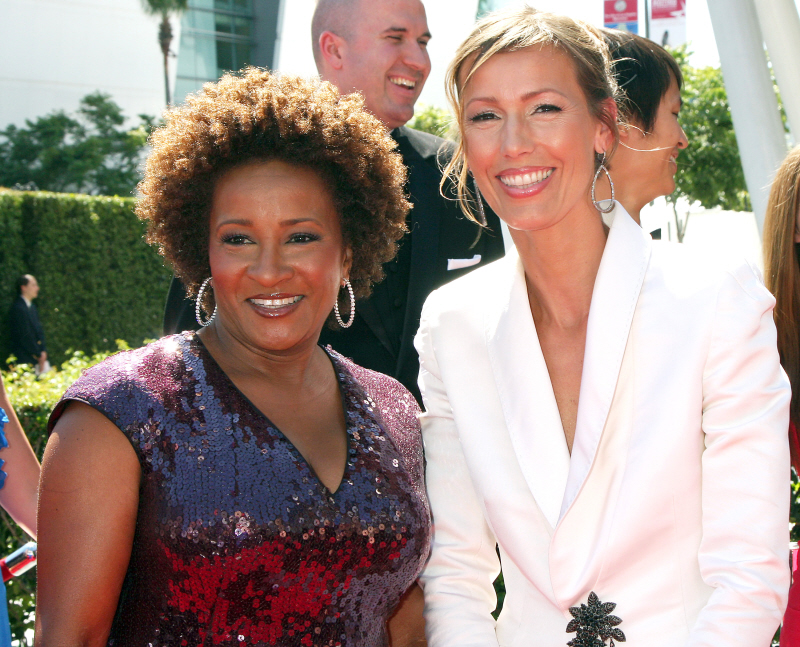 I knew that Wanda Sykes was a lesbian – I've known that since she came out publicly in 2008, during the Proposition 8 rallies. I also knew that Wanda had a longterm partner/girlfriend/wife, who she's been with for many years. I also knew that Wanda and her partner had twins last year – little Lucas and Olivia. What I did not know was that Wanda's wife Alex is a gorgeous, tall drink of blonde water. Get it, Wanda. Day-um.
Anyway, I think this might be the first time Wanda and Alex walked the red carpet together – they went to the Creative Arts Emmys on Saturday. Wanda was nominated for several awards, some of which haven't been announced yet, so Wanda will probably be bringing Alex to the real Emmys next Sunday too. Hopefully, Alex will pull out yet another fantastic white pantsuit, because her suit is rocking my world. She's stunning!
By the way, does anyone else think that Alex looks like conservative pundit Laura Ingraham? Right?
Header: Wanda and Alex on August 21, 2010. Credit: WENN.