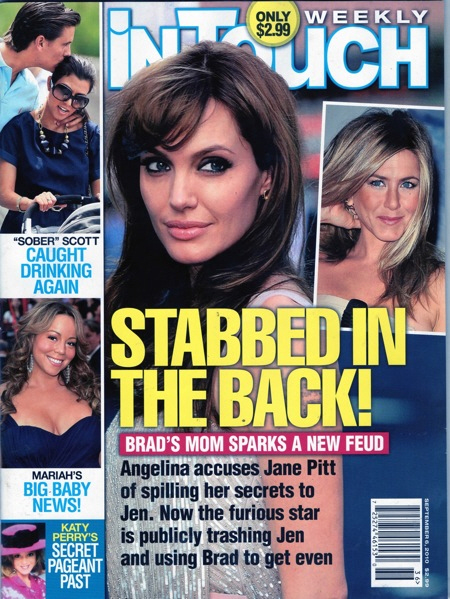 In Touch Weekly's cover story this week seems extremely dated. I'm pretty sure In Touch and other tabloids have done the same story many times over the past five years, and ITW just changed the dates and a few specifics. The basics: Angelina Jolie is pissed off because… does she need a reason? Sigh. She's always pissed off, in Tabloidville. She's a very angry, bitter, nasty, contemptuous person, in Tabloidville. Anyway, Angelina's "reason" for being angry this week is that Jane Pitt, Brad's mother, still has an ongoing friendship with Jennifer Aniston. Because of this – and because Jane Pitt might be telling Aniston all about what's going on in Brad and Angelina's relationship – Angelina has decided that Jane should not babysit her children. Here's an excerpt from ITW:
Angelina Jolie had initially planned to take a solo trip to Budapest to scout locations for her upcoming film — leaving all six of her kids at home with her partner, Brad Pitt, and his parents, Bill and Jane. Yet when Angelina was spotted in the Hungarian city on August 21, she had her twins Knox and Vivienne, 2, in tow. Posing for photos with the toddlers, she looked happy as could be.

But behind the scenes, a friend says, Angelina, 35, had other things on her mind. According to the friend, the main reason she took the twins to Eastern Europe was to upset Jane — whose ongoing friendship with Brad's ex-wife Jennifer Aniston has Angelina seeing red.

"Angie strongly thinks that the past is the past, and Jennifer and Jane should let each other go because their friendship is disrespectful," the friend explains. "Angie had been complaining to Brad that it's weird for his mom to talk to his ex-wife, but Brad just brushed it off. So she decided she didn't want Jane watching over the twins."

Very close to Jen during her marriage to Brad, Jane seemed to take the place of Jen's estranged mother. And that apparently hasn't changed since the divorce. Another pal says Jane and Jen still talk at least once a month and maintain a very strong bond.

"Jane still thinks of Jennifer as a daughter," says a pal. "She knows that Angelina isn't happy about the friendship, but that doesn't stop her from keeping Jen in her life."

Jen, in turn, "consults Jane on everything from major purchases to romance to her career." And Jane confides in Jen, as well. To Angelina, who has not always seen eye to eye with Jane, the friendship is like a slap in the face. Angelina feels that she — not Jen — should take precedence with his parents.

Blaming Brad's ex even more than his mother, Angelina is intent on sending Jen a message: Keep away from my family. And she's been sending that message through Jane. It's making it very difficult for Jane, who "cherishes her friendship with Jennifer," Jane has known Jen for more than 10 years and resents being asked to stop talking to her.

"They care about each other," the friend says. "Jane has never kept it a secret. She doesn't see why she has to cut off that connection." And Brad tends to agree with his mother. "He thinks Jane is a grown woman and she should be able to do what she wants."
[From In Touch Weekly]
First of all, I don't buy this dynamic AT ALL. I think Jane probably does still talk to Jennifer, and whatever, you know? I also think that Brad's parents probably get along with Angelina very well – Angelina has spent a lot of time with the Pitts, and everybody seems to adore the kids/grandkids. But, for argument's sake, let's say that ITW is on to something and that Angelina is disturbed by Jane and Jennifer's relationship. I think that Jane has every right to still have a relationship with Jennifer. But I also think Angelina has every right to say who looks after her kids. Sure, it sounds like Angelina is using the kids as leverage with Jane… but if Jane is a blabbermouth, I could buy it. Eh.