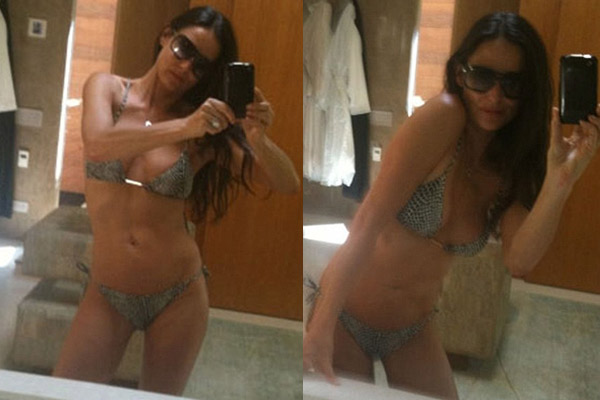 Yesterday we heard that Star Magazine was claiming that Ashton Kutcher was spotted outside the bathroom of a popular LA restaurant making out with an unknown blonde woman. Ashton and his wife of five years promptly denied that story through the Twitter accounts they're glued to, with Ashton threatening legal action against Star and Demi Moore retweeting and agreeing. Then at some point Demi tweeted two photos of herself in a bikini, taken with a cellphone camera in the bathroom like the true 16 year-old seeking online approval she is. Many outlets picked up the story, but when I went to Demi's Twitter account and Twitpic to find those specific tweets/photos they were gone. Did she realize what a desperate move that was and try to take it back? It was too late as the damage was already done. She looks hot of course, but it's not about how she looks for once. Here's more:
Demi Moore is hot and she wants the world to know it! The 47-year-old actress shared some bikini photos of herself on Twitter just to remind everyone how sexy she is. The timing of the photos comes amid reports that husband Ashton Kutcher was caught cheating with a "mystery blonde." Who would want to compete with the near flawless Demi?

Ashton already debunked the rumors over Twitter, writing "I think Star magazine calling me a 'cheater' qualifies as defamation of character. I hope my lawyer agrees."

"STAR magazine – you don't get to stand behind 'freedom of the press' when you are writing fiction."

Demi wholeheartedly supported her hubby's Tweets and sent out a little message of her own!

The actress donned a snakeskin-print string bikini and dark sunglasses, striking a pose in her bathroom.

Her Tweets accompanying the self-portraits — "Maybe this is more like summer!" and "Finally a day off."

The happy couple attended a Snoop Dogg concert over weekend in Las Vegas, where Demi also showed off her young side doing a dirty dance in front of the audience.
[From OK! Magazine]
Just this once and just for today – I feel sorry for Demi and Ashton. I feel sorry for them if the story is true, and I feel sorry for them if it's not. They're insufferable fools but they don't deserve this. It was a lame and obvious move for Demi to respond with a bikini pic, as if to say Ashton wouldn't cheat on her because she's hot. It doesn't matter what their wives look like, cheaters are going to cheat. I don't know if Ashton did it, and as many of you said yesterday I doubt he would be stupid enough to do it in a public place like that where he would be seen. I wouldn't put it past him, though, just as I wouldn't put it past anyone really. I've been very surprised by some of these cheating scandals. Demi is still hot, we get it, but that isn't enough to address this maybe-scandal and has the whiff of sad desperation. Maybe she'll start to rethink her use of Twitter when impulsive moves like this may come back to bite her in the tight ass. She hasn't been tweeting as much lately.
You've probably already seen the video of Demi dancing onstage with Snoop Dogg like a fool at a show in Vegas over the weekend. Here's another video of that, taken from the audience, and Ashton looks embarrassed to me. It's hard to tell though.
Update: Many outlets are getting this story wrong by saying that Demi tweeted these pics and that she did it in reaction to the cheating scandal. She put them up on her "daily booth" account, not her Twitpic, and she didn't link to them from Twitter as far as I can tell. She didn't delete them either, they're still up with dates of August 15th which means they were made and posted well before this news about the alleged scandal broke. It doesn't make this less desperate, she just had other motivations at the time. (Validation, attention, etc.) [Thanks David for the link!]