Drew Barrymore involved in hit-and-run accident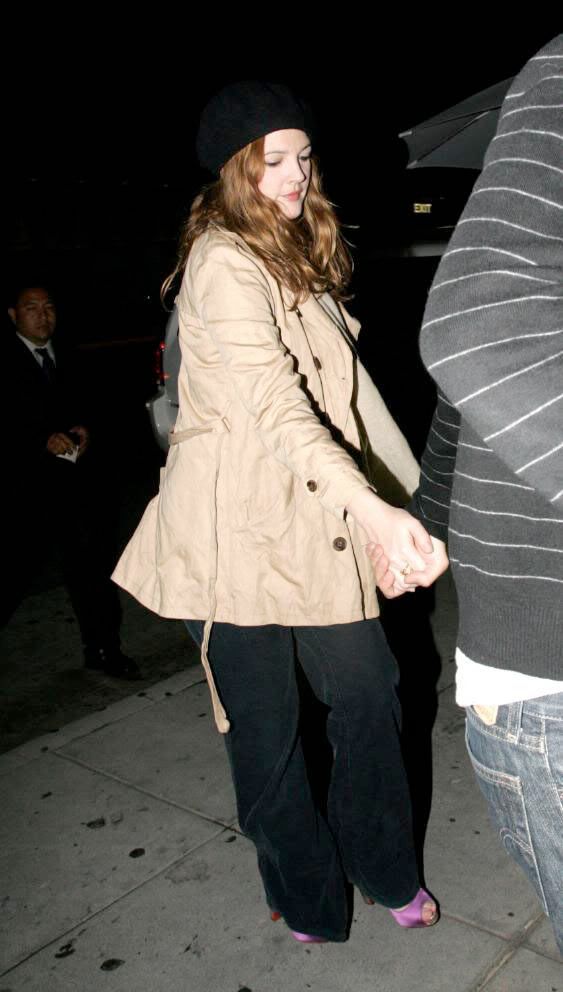 Drew Barrymore was involved in a hit-and-run accident on Monday in Los Angeles, but was unhurt. She also chased down the runaway driver and got his digits – license plate digits –for police.
The collision occurred shortly before noon as Barrymore was driving near Gardner Street and Santa Monica Boulevard, said Sgt. Kristin Aloma of the West Hollywood Sheriff's Station.

Barrymore followed the hit-and-run vehicle after her car was rear-ended and got its license plate number, Aloma said.

Police are trying to track down the driver, Aloma said.
While I'm sure that Drew didn't chase the driver on foot, she was rear ended so the car was probably okay to drive, they don't have engines in the back. I think engines are in the front – I'm not a car person. But I love the imagery of her sprinting off down the road, Charlie's Angels style, leaping onto the car in question, ripping off his license plate and delivering it to police like the Holy Grail. Sometimes I have a problem separating actresses from their parts.
Hopefully the car wasn't stolen, so that the driver will be easily identified by the plate number. While the accident may have been minor, hit and runs should be prosecuted to ensure that people don't think they can get away with it.
Picture note by Celebitchy: Drew Barrymore and Justin Long are shown leaving Mr. Chow on 5/4/08. He does not look like he should be driving. Thanks to WENN for these photos.
Written by Helen

Posted in Accidents, Drew Barrymore

- Friends reunion on Ellen [Popsugar]
- Lindsey Vonn watches Tigers kids [Lainey Gossip]
- George Michael fell out of a car going 70mph [D-Listed]
- Real Housewives of Orange County recap [Reality Tea]
- New Man of Steel trailer [Pajiba]
- Jared Padalecki's hot bod [Buzzfeed]
- Doctors confirm Taylor Swift's new boobs [Evil Beet]
- Catherine Zeta-Jones finished treatment [CDAN]
- Anna Paquin hates the paps [Celebslam]
- Lance Armstrong is gross [The Blemish]
- What is Barbara Palvin wearing? [Moe Jackson]
- This is Petra Nemcova? [SVC]
2 Responses to "Drew Barrymore involved in hit-and-run accident"