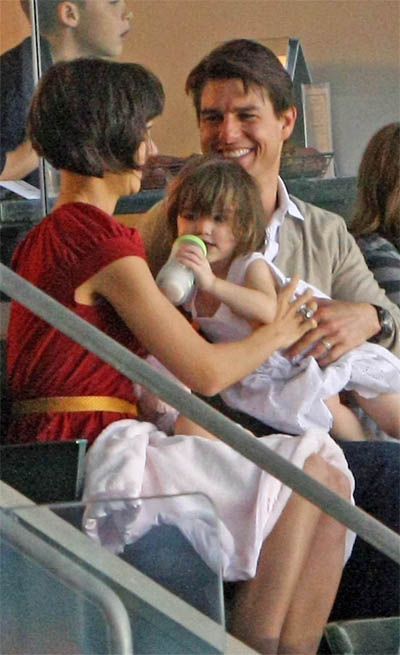 The Cruise-Holmes at an LA Galaxy game with Suri and co. on 5/10/08, thanks to Splash
Tom Cruise and Katie Holmes sent upscale baby boutique Petit Trésor a cease and desist letter asking them to no longer use their names in promotional materials or leak any alleged details of their shopping habits at the store to the press. The Holmes-Cruises took issue with an "on the record" quote from representatives of the store to Life & Style that they spent $350,000 to $400,000 there in the two years since Suri was born. Lawyers for the cult-loving couple say that claim is false and that it also violates their confidentiality. The letter demands that no further details be leaked to the press:
This firm represents Tom Cruise and Katie Holmes. It has come to our attention that representatives of Petit Trésor falsely informed Life & Style – on the record – that Mr. Cruise and Ms. Holmes have spent $350,000 – $400,000 at your stores on their daughter in the past two years. Not only does this statement violate our clients' confidentiality, but it is simply false. We also understand that you have informed other tabloids that our clients have purchased various items at your stores that they have not in fact purchased, and that they have shopped there at times that they have not.

It appears that Petit Trésor has "leaked" this false information to the tabloids for the purpose of enhancing its image and obtaining a commercial advantage. This conduct violates our clients' rights of privacy and rights of publicity. Accordingly, we hereby request that you no longer use our clients as part of your public relations and marketing efforts.

Please do not say anything (whether true or false) about Mr. Cruise and Ms. Holmes' shopping habits.
[Excerpt of letter sent to Petit Trésor from Cruise's lawyers, posted on TMZ]
Although I hate to admit it, I have to side with the Holmes-Cruise Suri team on this one. How's a girl to escape mind-numbing auditing sessions and hours spent holding metal cylinders if she can't even shop in privacy for the toddler she fears losing? Stores should be content to have Katie and Tom spend tens to hundreds of thousands on clothing and accessories their child will wear for a fraction of a day in her well-documented life. Petit Trésor is just ruining it by getting greedy and trying to rope in more customers by using them for publicity. You think they would know better than to talk constantly about their celebrity customers, but maybe the resulting upturn in business more than makes up for the occasional nasty letter and one or two big-spending customers lost.