Porn star Devon James is trying to sell a Tiger Woods sex tape to Vivid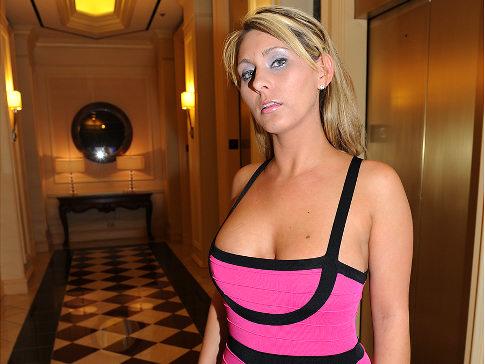 One of Tiger Woods' many random hookups, porn star and escort Devon James, is allegedly in possession of a sex tape co-starring the golf great. She told Radar Online that she was headed to the offices of Vivid in LA to discuss selling the tape. James previously claimed that Tiger was the father of her nine year-old son, which was shot down in court. It's interesting that James is telling Radar that she first met Tiger when "she was 19 and working on a Christian charity project in Hawaii," later hooking up with him when she turned sex pro. She already admitted on the Bubba The Love Sponge radio show that the first time she met Tiger was when a friend convinced her to join her for a paid threesome with him. It's clear that this woman has a slippery relationship with the truth, something her own mother has stated.
Here's Radar's report:
Tiger Woods' porn star mistress Devon James is meeting porn star producer Vivid in the hope of selling an 'explosive' sex tape of the golfer, RadarOnline.com has exclusively learned.

"The tape is 62 minutes long and 37 minutes of it is us having sex," James told RadarOnline.com, before boarding a flight from Tampa Bay to Los Angeles, Wednesday.

"We are flying to Los Angeles today to meet with Vivid about selling the tape."

It's perhaps the most explosive — yet hard-to-believe claim — being made by James, who has a history of telling lies, according to her mother Sandra Brinling.

Brinling has said: "My daughter is nothing but a pathological liar… there was no relationship with Tiger Woods."

But James — real name Melinda Janette — has claimed otherwise and even asked a Florida judge to rule Tiger was the father of her nine-year-old son.

That motion was denied.
James claims she was 19 and working on a Christian charity project in Hawaii when she first hooked up with Tiger.

She later reconnected with the philandering golfer when she was working as a hooker and allegedly had a "dirty" threesome, which earned her and another prostitute $2,000 each.

James told RadarOnline.com she filmed the sex tape with Tiger in 2008.

"This sex tape is worth at least $350,000," James said, exclusively.

"If Vivid won't pay enough, we're going to self-release the tape… It's going to be the bomb."

When asked about the impending meeting, Vivid's head honcho Steve Hirsch told RadarOnline.com: "We can't comment at this time."

RadarOnline.com has not seen the tape and cannot confirm if it exists, at this time.
[From Radar]
Back when James was claiming that Tiger was her son's father, her mom told E! that "My daughter is nothing but a pathological liar… all she is trying to do is to get Tiger Woods to pay her some money to shut her up." Of course you assume that's the case here too. Even if a sex tape exists, Tiger's lawyers will quickly shoot it down before it can be released. From what I understand, sex tapes require a sign off from both parties before they're publicly released so you know Tiger is not having it.
This is someone out for money and maybe she'll be successful. If Tiger can pay out $10 million to Rachel Uchitel for canceling a press conference he can shell out $350k to stop a cell phone sex tape. This chick is probably bluffing though, or else she wouldn't have waited until now to come out with this news. She must not have been making enough money stripping on the "Girls from the Hottest Scandals" tour.
Oh and when I was watching Greg Giraldo's hysterical standups for the story on how he passed I was in stitches over his jokes on the Tiger Woods scandal and I'd like to quote him. (Here's a link to the video of that, the Tiger jokes are at 4:15)
"What was [Tiger] supposed to do? How is he supposed to communicate that problem?
'Elin, I think we really need to communicate. I really really want to have sex with other women, it's really hard not to… I'm a really successful celebrity and women throw themselves at me…
I was a loser nerdy little golfer guy for years and now I have access to all these women. It's really hard to just turn that button off…
I know you don't understand, because men and women are different like that. I don't understand a lot of things about you, like I don't understand how much you love shoes.
But if hundreds of free pairs of shoes showed up at your hotel room every night. I guarantee you'd keep a pair every once in a while.'"
Written by Celebitchy

Posted in Devon James, Tiger Woods

- Harry Styles & Kimberly Stewart going strong [Lainey]
- Demi Moore's new man is gross [D-Listed]
- Fug or fab: Emma Stone [Go Fug Yourself]
- Arrest warrant issued for Jenelle Evans [Reality Tea]
- Only God Forgives review [Pajiba]
- Hugh Jackman, scooter master [Buzzfeed]
- Who does Drew Barrymore call her sister? [Evil Beet]
- Cannes couples past and present [Popsugar]
- Arrested Development supercut [CDAN]
- Lea Michele's see through skirt [Celebslam]
- Cheating wife's lover escapes out of window [Movin925]
- Joe Francis is crazy [Starcasm]
15 Responses to "Porn star Devon James is trying to sell a Tiger Woods sex tape to Vivid"