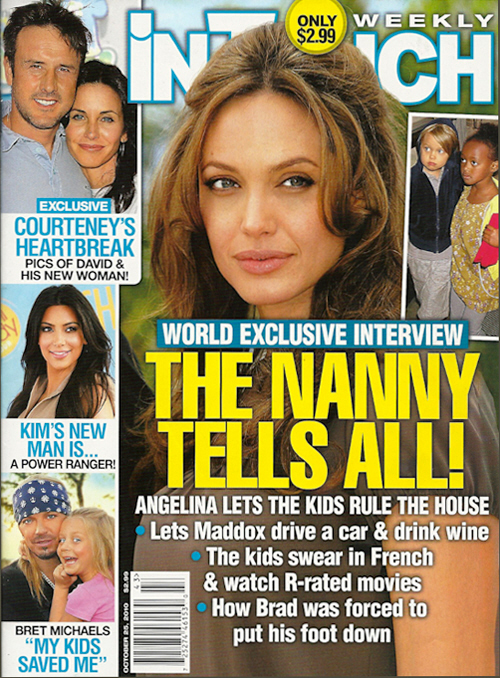 Usually, the In Touch Weekly people send us excerpts of their big stories before they are released online. I kept waiting for this week's In Touch cover story to come, but it never did. Just as well – I love Jezebel's recaps. Well, it seems that much like that talkative maid who managed to witness so many fights, drinking, brawling and bawling from Angelina and Brad, this unnamed nanny has some intense dirt on the Family Jolie-Pitt. Dirt like… the kids curse. And they watch R rated movies. And Empress Zahara "strokes the bodyguard's face like a pet cat." How much do you f-cking love that image? We are all Empress Zahara's kitties. She will herd us at her will.
The sensationalist cover lines are pretty hilarious: "Lets Maddox drive a car and drink wine." At the same time?!?!

"The kids swear in French & watch R-rated movies." Who doesn't?

Anyway: What you find reading the story, of course, is that an unnamed nanny reports that Maddox was allowed to steer a car — on private property in France. Also, he once had a sip of wine that his mom was drinking.

Brad has collections of valuable artwork, that the kids touch with their greasy hands after they eat chips and ice cream.

When they watch R-rated movies, "Angelina lets them repeat the salty dialogue. She thinks it's funny when Maddox curses."

And! "Learning French has afforded Maddox and his siblings the ability to swear in a foreign language." Are we supposed to be outraged by this? Because it sounds awesome.

Zahara was seen stroking a bodyguard's face "like he was a pet cat." But Zahara was also overheard screaming "merde!" at one of her bodyguards while playing in the pool.

"In many ways, all of the kids are acting out beyond their years," claims the mag. "For example, at just six years old, Pax already has a 'girlfriend' whom he holds hands with at school."
[From In Touch Weekly, via Jezebel]
What do I know? When I was six years old, my favorite movie was Beverly Hills Cop. And I learned how to cuss like a sailor from my parents, who are two of the most obscene people you'd ever want to meet. And giving a kid a sip of alcohol is a good way to de-mystify alcohol for kids – because most alcohol tastes like crap to younger taste buds, and you're not treating it like something epic that they should never, ever touch. But, whatever. It's all Angelina's fault. She's to blame. She was too busy being a bossypants at work and she forgot to be a bossypants at home.